Managing your boss
Managers may be higher up the corporate hierarchy but you can still influence their decisions. David Mascord explains how.

Download this free guide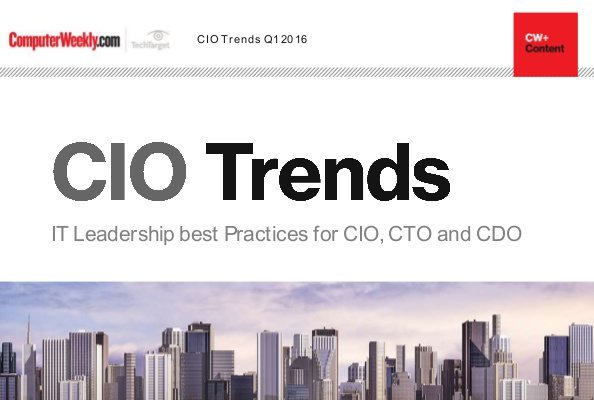 Your exclusive guide to CIO trends
A collection of our most popular articles for IT leaders from the first few months of 2016, including: - Corporate giants recruit digitally-minded outsiders to drive transformation - Analytics platforms to drive strategy in 2016 - Next generation: The changing role of IT leaders.
By submitting your email address, you agree to receive emails regarding relevant topic offers from TechTarget and its partners. You can withdraw your consent at any time. Contact TechTarget at 275 Grove Street, Newton, MA.
You also agree that your personal information may be transferred and processed in the United States, and that you have read and agree to the Terms of Use and the Privacy Policy.

Managers may be higher up the corporate hierarchy but you can still influence their decisions. David Mascord explains how.



Bosses: can't live with them, can't live without them. The challenge is to find out what they are like and build a good working relationship.

When you join a team, or if a new boss is appointed, there is always a brief period of what some management consultants call "ritual sniffing".

"Working out what kind of boss you have is a bit like going on a date. You are finding out what makes them tick," says Sandi Mann, senior lecturer in occupational psychology at the University of Central Lancashire and author of Managing Your Boss.

Types of manager range from the boss who wants to follow every stage of a task to the leader who is happy to be kept generally informed and brought in to activities only to troubleshoot. Others thrive on juggling many tasks at once in a climate of organised chaos. But whatever type of boss you have it is important to find out what they expect of their team.

Mann believes that establishing this "psychological contract" is the key to creating a sound working relationship. "It is not about what is in the employment contract. It is all the unwritten things like what form of communication they prefer or what working patterns they expect from you," she says.

"A psychological contract helps to set up a partnership with your boss. And it does not only have to be set out at the start of a new job. It can begin any time - just make a list of areas to cover in your meeting."

Of course, this type of activity works best where there is already a culture of consultative management. Many managers welcome constructive, thought-provoking questions or alternative ideas.

"You need to question your boss when they have an idea you think is flawed; or when you feel they do not have enough information to know what they are talking about," says Darren Jones, software support manager at international law firm Richards Butler.

As a manager himself, Jones says he needs to find out what makes his boss tick in the same way that he needs to understand what motivates his staff.

However, it is more of a challenge in offices where there is a feeling of insecurity. Corporate hierarchies are becoming flatter and managers increasingly lead teams of technical experts. Less secure managers - especially those new to a role - might not be comfortable with staff questioning their decisions.

Angela Baron, adviser at the Chartered Institute of Personnel and Development, suggests putting yourself in your manager's shoes. "What you have to remember is that it is just as difficult for bosses to consult. In spite of changes in approaches to management, a lot of managers have baggage. Some are comfortable with consultative discussion but plenty see criticism as an assault on their authority," she says.

"You need to be astute when you talk to them so as not to undermine their authority. But you should not be afraid of offering constructive suggestions."

Sometimes it is just a matter of timing. A manager's motivation and focus will vary according to the work pressures they are under. You can make an educated guess as to when to tackle some subjects based on your knowledge of what is on their desk at the time.

For example, it is no use asking for new equipment when you know they have been asked to trim costs. But you could make a case for investing in a new project when a manager is working on new budget proposals.

Also, think about how you could remove the potential barriers that a boss might see. "A great success of mine when trying to manage upwards was when I wanted to introduce a new Web-based trading system," says one financial sector IT professional.

"The company liked the idea, but not the cost. My boss was disparaging about the concept. I needed £100,000 just in consultants' fees to design the system. No budget was being released.

"I encouraged my existing team to begin the design - a challenge they relished. When I had a concrete strategic and technical plan I went back to the boss and managed to get some development budget by showing how prepared the team was for this project."

Another tack is to reduce the number of problems your boss has to deal with. Present them with options or solutions for resolving situations rather than a "to do" list. They have plenty of e-mails, phone calls and meetings to cope with, so do not simply barge into the office and say, "What are we going to do about this?"

A far better strategy is to walk into the office, brief your boss on the problem, and follow up by offering a couple of possible solutions.

While these approaches can work with a manager who does not always share your point of view, it is a different story when it comes to dealing with the "boss from hell".

If you cannot get on because the boss is a bully, sexist or a glory stealer, there are few answers. But do not feel powerless. Just trying to address an issue can make you feel better.

"The worst thing that can happen in these situations is when seething resentment builds up," says Baron. "Instead of sorting it out, people try to duck a problem. If you have had a disagreement with the boss, ask the personnel manager to deal with it and coach you through."

Luckily, the average manager is not as difficult to deal with as David Brent in BBC comedy The Office, so do not judge them too harshly. "The IT profession can make you very cynical about other people's competence," says Eric Pinkerton, European network manager at international recruitment consultancy Korn Ferry. "But you can learn from good and bad managers."

Learning to live with your boss is an important skill to develop. Bear in mind that they are human too. After all, one day the person in charge could be you.

How to manage your manager
Detail-conscious boss: Give them information in bite-sized chunks, plus regular written updates
Boss who sees the big picture: Provide an overview, not detail; update them on long-term plans
Methodical boss: Do not ask about too many tasks at once, present ideas clearly and logically
The multi-tasker: Give them gentle reminders of deadlines and offer help
Reactive boss: Give them time; help them to think through the consequences of decisions
Fan of new ideas: Suggest ideas and think laterally; take over tasks that bore them
Tried and tested: Show how new tasks are similar to old ones; suggest gradual change.

Source: Managing Your Boss in a Week, Sandi Mann, Hodder & Stoughton