Managing the service for business
The development of technology continues at a breathtaking pace. The intensity of competition in the e-business world dictates...
This Article Covers
RELATED TOPICS

Download this free guide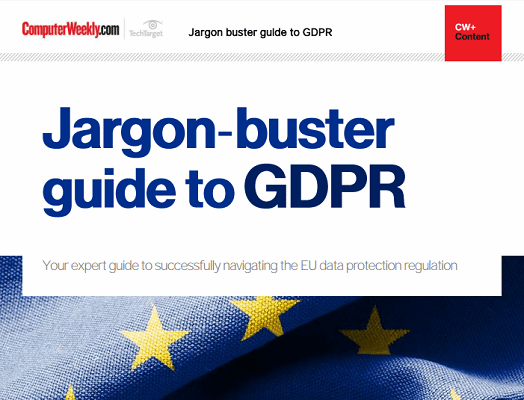 Jargon-buster guide to GDPR
The 10 most important things you need to know about GDPR, and a jargon-buster explanation for some of the key terminology.

By submitting your personal information, you agree that TechTarget and its partners may contact you regarding relevant content, products and special offers.

You also agree that your personal information may be transferred and processed in the United States, and that you have read and agree to the Terms of Use and the Privacy Policy.

The development of technology continues at a breathtaking pace. The intensity of competition in the e-business world dictates that no enterprise that values its future dares to ignore the enhanced techniques. Not all enterprises will wish to be a leader in exploiting new technologies, but neither will they wish to be too far behind in adopting new methods in case they miss out on opportunities that their competitors take advantage of.



E-business requires that enterprises adopt a different business model that is global, innovative, and fast changing. The advances in technology, including IT, telecommunications, wireless mobility, and connectivity, mean the ways in which we share information has changed. Information can be shared with colleagues, suppliers, customers, and partners so much more easily, resulting in an improvement in business efficiency.

Business and technology have become inextricably linked through e-business so that any issue with an organisation's technology has become a business issue. Technology has become so much more complex. It is continuously evolving and it is interdependent. To cope with these issues, there is an increasing need for enterprises to deploy powerful management tools to control and monitor their systems and networks.

Most large enterprises have invested heavily in their management infrastructures for IT systems and networks. These manage the technology but do not relate this to the business of the enterprise. These companies quite often operate a number of management systems to control their technology. This can result in a number of control workstations and a number of staff required to drive these systems.

The demands of agile e-business companies dictate that they need a system and network infrastructure that is managed end-to-end to ensure reliability and maximise productivity. Historically, most management tools are dedicated to controlling
Agile e-business companies need a system and network infrastructure that is managed end-to-end to ensure reliability

Source: Butler Group
individual technologies and functions rather than the complex, interdependent infrastructure.

Most IT skills are scarce and with the pace of change the management of systems and networks becomes increasingly complex. The skills to manage them will become ever more scarce. This applies at every level of organisation, including Small to Medium-sized Enterprises (SMEs). In a true enterprise computing environment, the complexities of the infrastructure, together with the demands upon it, means
An enterprise needs to evaluate and manage technology at a business process level

Source: Butler Group
an automated management solution is essential. Even if the enterprise is able to recruit the skills, it knows that it is going to have to pay a premium to retain them for any length of time.

Technology problems very quickly become business issues in today's fast-moving commercial environment. The enterprise cannot afford to lose part of its infrastructure for a time without it impacting its performance. However, it is a fact that management tools have grown up focused on individual technologies and functions, and not business processes.

Technology in Business Terms
In order to provide a better service to its customers and users, an enterprise needs to evaluate and manage technology at a business process level. This will provide a business-oriented view of the enterprise's information systems that translates the traditional metrics familiar among IS professionals into demonstrable measures that make sense to the company's senior executives.

As already mentioned, organisations are being forced to establish new business models through e-business. They have to strengthen their relationships with suppliers and customers. Executives need a business view of the enterprise's infrastructure where IT is mapped to business processes. This means if there is a problem with one or more elements of the infrastructure, any effect on business services is brought to the attention of designated enterprise management when it occurs.

Key business services supplied by an enterprise to its customers will quite often rely on a number of business processes. For example, to accept an order for a product from a customer will probably entail the delivery of product information to a company's Web site, the checking of stock availability and the process of credit authorisation. Each of these three processes will rely upon combinations of multiple technology resources, including network devices, system platforms, applications and databases.

For an organisation to ensure its product ordering is functioning correctly, it has to collect and relate a large amount of availability, fault, status, and performance information that extends across the whole array of management systems. The information then has to be put into context across the relevant business processes and this has to be consolidated across business units and possibly companies.

Most management tools on the market are concentrated on individual technologies or specific management functions, and are unable to provide business-oriented views of the infrastructure. They only indicate the status of one group of components, such as the network. The administrator has the task of interpreting this information to determine what effect it may have on the service to the customer.

A Strategy for Business Service Management
In order to be truly accountable for the delivery of the business service, IT needs a BSM Strategy that is flexible and easy to implement. It needs to allow focused, bi-directional monitoring, reporting and control of elements, systems and services that are critical to all the enterprise functions. Such a system should be able to generate subset views of specific line-of-business assets and provide a single point of control for operations and line-of-business management.

It should also be able to leverage information from all the management systems deployed and integrate and consolidate all management information in real-time. Most importantly, it should provide a holistic view of the entire environment that is being managed.

In order to implement such a strategy, the enterprise IT function needs a management platform that enables:


The integrated monitoring and management of public Internet Protocol services that are required to support end-to-end e-business applications.


Comprehensive, accurate, real-time views, and control of service availability and performance through the integration of enterprise, network, and service provider management data.


The shared monitoring of all elements involved in providing e-business services. This will include everything from applications to network devices, irrespective of whether the services are supported by the enterprise or an external service provider.




The growth in the service provider market means that the provider faces many challenges. They need to be able to provide a flexible array of services to their clients that can be remotely managed, combining both internal and outsourced infrastructures. Real-time management data, from a variety of distributed sources, needs to be aggregated and shared, while maintaining security. In order to overcome these challenges, service providers require a scalable management platform that quickly develops a partnership between them and their customers through the sharing of performance information.

Management Tools
There are many management products on the market that administer and monitor the components that make-up the infrastructure for e-business. Some service management products have only been able to define the concept of service at the level of device, application, or transaction-specific. They monitor the availability and performance of specific management domains such as the network, Web resources, systems platform, or applications.

These tools allow the organisation to determine how the network is behaving, what response time is being achieved on the Web site, but they do not enable the impact of an outage of an element to be assessed at a business process level. Enterprise management systems extend the availability and performance monitoring across multiple management systems, but they normally lack the ability to easily associate management data with the business processes that it affects.

Some products focus at the business process level, but supply little or no information on the behaviour of the underlying infrastructure. Few of these solutions offer a secure way for management information to be shared across enterprise boundaries so that they are unable to supply a comprehensive view of critical services that span multiple business units.

Infrastructure management vendors have tended to offer solutions that do not interoperate with other systems or that can only exchange limited types of information with other management systems. This has further complicated matters for the IT administrator who is then presented with a proliferation of data from various sources that give their own narrow view of what is happening in the infrastructure.

While there may well be a vast amount of data showing volumes, events, faults, availability, status, and performance, these cannot be related to the services that they combine to provide. When problems do occur, it is difficult to prioritise their seriousness in order that remedial action can be taken in a logical and most effective manner.

The Integration of Management Systems
Some vendors have responded to these problems by marketing solutions that integrate or consolidate event streams from different management systems. These solutions are supposed to align the infrastructure with the goals of the business, although they can be expensive. Many require the replacement of existing management systems or an upgrade to the latest version of the vendor's system. Some are based on proprietary technology that limits co-operation with competitive management systems.

Integration solutions are limited in their functionality, as most are not able to integrate or correlate data from disparate infrastructure components. This means that they are unable to relate network data with applications data.

Most integration solutions are also not designed to work across multiple organisation boundaries. So the overall picture of service management is of domain-specific performance and availability reports, rather than a reflection of how the entire infrastructure is delivering the business service.

For it to be accountable for the delivery of service, IT must manage simultaneously across business processes, management systems, and different business units, enterprises, and/or organisations. As the IT infrastructure has become so important to the conduct of the enterprise's business, so its complexity has increased dramatically. This has meant it is imperative that the technology issues involved must be understood by the business, as must their consequences.

To gain this understanding, enterprises must view the infrastructure from a business service perspective. In order to achieve this, each line of business must be accessible with a degree of granularity that allows access to each individual technology element for diagnosis and repair. Lines of business services now tend to cut across the traditional management systems and business processes. They can also span organisations and divisions. An application such as supply chain management can range across the functional organisations of sales, marketing, purchasing, manufacturing, and customer service.

This requires that in order to be truly responsible for service delivery, it is necessary to manage simultaneously the delivery of management systems, business processes, and the various business units, enterprises, and/or organisations. A BSM system complements an enterprise's existing management systems to achieve this level of management sophistication. It operates as a top layer and provides a single, centralised method of command and control for the entire IT infrastructure.

A Platform for BSM
Managed Objects, a company based in McLean, Virginia, recognised there was a need for a product in the BSM space in the market. It calls its vision Business Service Management3, which recognises that service delivery must be simultaneously managed across three dimensions:


Management systems.


Business processes.


Business units, enterprises, and/or organisations




Based on this vision, Managed Objects developed its formula V2 product. It enables organisations that have made large investments in proprietary management systems to understand how their infrastructure supports the business. It provides a standard architecture that is vendor-neutral and links multiple, disparate management systems across corporate boundaries.

Formula provides a model that is built with Internet-driven technologies, including Java, Common Object Request Broker Architecture (CORBA), eXtensible Markup Language (XML), and the Web. It is an Object Integration Model that can talk the same language as all the popular management tools. It creates a layer that enables the enterprise to organise transparently and share information across management systems, business processes, and companies.

The product is built in Java and it enables IT professionals to build business-oriented groupings of the IT infrastructure's components. These groupings unify the status, availability, and performance data that is supplied by different underlying management systems. Formula unifies this data by integrating and consolidating it dynamically into a Web-enabled Object Integration Model. Its Integration Engine is not visible to the underlying management systems, as they regard it as an extension of their consoles.

The functionality of all the underlying management systems is available through formula's bi-directional access. This means a real-time representation of the business is created where all system and network management functions can be carried out from the formula console. Likewise, all information from the management systems is available to formula. As the Integration Engine is Web-enabled, management console views can be distributed anywhere through the use of a browser.

Formula users can construct focused Business Service Views of selected assets using a simple drag-and-drop procedure. The command and control of the infrastructure of the entire enterprise, or of any focused view, is available at the central console or through a standard browser.

While transactions and processes can be managed in real-time for the whole infrastructure, each user can have a unique view of the information that they require.

This eliminates the need for managers and technicians to utilise multiple consoles or applications in order to establish whether business processes are meeting their expected service levels. There is also the powerful facility to drill-down on any object to see the status of the underlying resources related to the object.

Formula builds on an enterprise's existing management systems through non-intrusive software adapters that permit fast, simple integration. Their information elements are encapsulated in CORBA-compliant 'object wrappers' so that the disparate information is turned into a seamless and manageable, integrated whole. Users of the system can view and control the enterprise's infrastructure of interacting objects, including services, applications, databases, networks, and devices. Every element of the enterprise can become a managed object.

With the global information of the system, the IT department can create focused Business Service Views by selecting subsets as required. These can be tailored for individual requirements and permissions so that users are only supplied with the information that they are authorised to see. Management data is converted into business intelligence through these views for use by business executives, line managers, customers of service providers, and those responsible for specific services, customers, and regions.

The relationships and data flow between interconnected applications can be viewed by users, as well as the dependencies between applications and physical resources. This enables problem identification and resolution to be carried out more quickly. Formula supports XML which simplifies the customisation of Business Service Views and ensures future flexibility.

BSM in Action
Although Managed Objects is a relatively young company, with a new product aimed at a new space in the market, it has already achieved the adoption of formula by a number of high-profile clients.

Amazon.com uses it as an enterprise-wide service management console that monitors and helps troubleshoot the delivery of critical business services worldwide. It enables Amazon.com to enhance further the availability and performance of its business processes, as well as the efficiency of its IT operations.

Bank of America uses formula to provide end-to-end Business Service Views of its IT infrastructure. It enables it to understand the health of its overall services, as well as how resources combine to deliver specific services to specific customers. It also enabled it to integrate and consolidate its many management tools following a complex merger with NationsBank.

BellSouth uses formula to provide Business Service Views of its Message Broker Bus, which is a large enterprise application that enables anywhere, anytime, customer access to customer and product data. With formula, BellSouth maps resources to supporting services, and enables the company to understand performance across the enterprise.

Computer Sciences Corporation (CSC), Dell Computer Corporation, Fidelity Investments, Merrill Lynch, and WebLink Wireless are other major companies that have recognised the benefits of using formula to manage their infrastructures, and are realising those benefits.

The Benefits of BSM
The overriding benefit of BSM is that it is future-proof. It can cope with technological advances because it operates at a level above the system and network management systems that control the infrastructure of today and those that will control the more advanced infrastructures of tomorrow.

Because it operates at this level, if enterprises merge or acquisitions take place, BSM can be deployed to interface with an expanded architecture. As a result, forecast savings and efficiencies through consolidation of resources can be achieved much more quickly.

BSM can also enable IT management to be much more focused on the business. New services can be introduced earlier as the management challenges of roll-out are made simpler. As a consequence, the enterprise can be more innovative due to the increased responsiveness of IT in providing the new and changed infrastructure that can lead to growth of the business.

The information available from a BSM system can improve customer service. By supplying views of the business services and the details of where problems occur, it can enable responses to be prioritised in line with business goals. It can also reduce the time needed to resolve service problems through enhanced isolation and diagnosis of the elements involved. Performance information can be used to aid management planning of the network infrastructure.

BSM can reduce costs because it obviates the need to replace current management systems and builds on these existing investments. BSM interfaces and interworks with existing management products. The skill level required to manage the infrastructure can be reduced and productivity of staff increased. With expansion of the environment, additional staffing requirements are contained due to the increased productivity levels. As it has a consistent user interface, BSM empowers staff who require a minimal amount of training in the use of the system.

BSM improves management flexibility in that its functions are independent of existing management platforms and customised views can be created for each user of the system. Users of the system can have its facilities, and those of its underlying management systems, available to them anywhere: throughout the corporate network; through the Internet; or via a laptop on the road or at a customer site.

Increased scalability is supplied by BSM, as the management information can be integrated and consolidated from the underlying management tools. Additional proprietary management tools can be incorporated as underlying objects, and the BSM system can be adapted to future integration requirements in case of intra-enterprise co-operation.

Through BSM, IT has the tools to be accountable for business services. Time-to-market for new products and services can be reduced and rapid innovation and growth of the business is made possible. Existing investments in management technology and people skills are preserved, thereby minimising the costs associated with the deployment of the BSM system.

IT staff are empowered as their productivity is increased and they are able to improve the levels of service to customers. Management costs are reduced and risks are managed, as the BSM platform will be open to the adoption of new solutions when they are required.

Conclusion
BSM is a logical extension of management of the enterprise infrastructure. The demands on enterprises to provide near 100 per cent availability will continue to increase. The number of components to be managed will expand, and the interdependencies between those components will increase. The skills needed to operate them will become even more scarce.

True command and control of the whole IT infrastructure, in business terms, is something that more and more companies will feel is necessary to drive their businesses.

About Butler Group Research and advisory services
This Concept Paper is reproduced from Butler Group's Research and Advisory Service. For more information on these and other technology focused services, contact Mike James on +44(0)1482 586149, email mike.james@butlergroup.com or visit http://www.butlergroup.com/ras/
Read more on E-commerce technology