Living in CIM
Want a cosier relationship with your supplier? With the Computers in Manufacturing show just around the corner, Nadia Damon...
This Article Covers
RELATED TOPICS

Download this free guide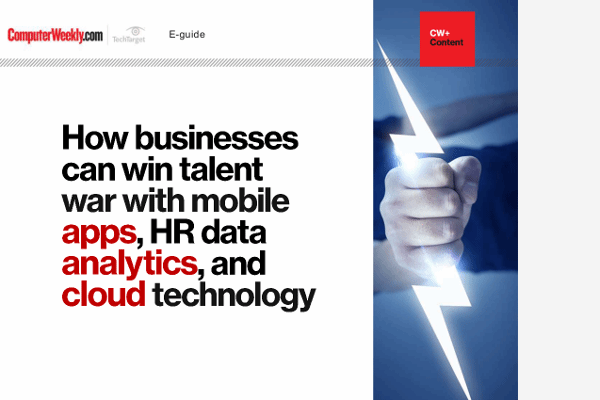 How businesses can win talent war with mobile apps, HR data analytics and cloud technology
Latest articles on HR best practices: mobile apps disrupting the annual staff appraisals; reasons for and against open-source software; and Rolls-Royce case study.
By submitting your personal information, you agree that TechTarget and its partners may contact you regarding relevant content, products and special offers.
You also agree that your personal information may be transferred and processed in the United States, and that you have read and agree to the Terms of Use and the Privacy Policy.

Want a cosier relationship with your supplier? With the Computers in Manufacturing show just around the corner, Nadia Damon explains how improving the supply chain could be a fulfilling experience.



With customers and suppliers demanding rapid access to information, the pressure to handle ever-increasing amounts of business information has led to many manufacturing companies looking to automate their business processes, and incorporating e-business applications to offer customers and suppliers access to information via the Web.

Manufacturing companies have to process large volumes of data on a daily basis. They are faced by an increasing need to speed up supply chain processes to fulfil customer demand and get information to suppliers more efficiently. According to the Computers in Manufacturing Survey (November 2000) of ERP and related markets, which looked at companies' plans for 2001, organisations were planning to allocate just 19 per cent of IT spend on e-business applications. In the coming year, 88 per cent planned to have built a Website promoting products and services; 73 per cent were looking to use e-mail to confirm orders with suppliers and customers; and 65 per cent wanted to exchange purchase and sales orders by e-mail. While the retail sector has been charging ahead with supply chain developments, manufacturing appears to have been taking things at a relatively conservative pace.

Damon Thompson, show director of the 2001 Computers In Manufacturing exhibition, which takes place at the NEC Birmingham from October 30 to November 1, claims that unlike retail and finance, the manufacturing sector is somewhat reluctant to really go for it with e-business applications. 'Although the estimated spend is £670m this year, it's clear manufacturing is slow to adopt the latest techniques, because the sector is not convinced that e-business is going to bring marketable benefits to them.'

In its Apps for Dynamic Collaboration paper, analyst firm Forrester states that 72 per cent of firms regard supplier collaboration as being 'critical to their product development success'. Meanwhile, research group Gartner estimate less than 1 per cent of manufacturing companies are actually capable of monitoring and measuring online supplier performance.

Biggest challenge
Justin Vaughan-Brown, European marketing director of data integration specialist Acta Technology, claims companies are looking to automate their manufacturing processes wherever possible, and believes e-business applications can complement this. 'There is pressure from suppliers and customers to bring in e-business applications,' said Vaughan-Brown. 'But the biggest challenge is, they have a lot of information in different areas such as ERP and legacy systems. Companies are trying to put this all in one place.'

Acta Technology conducted a Web based survey of the manufacturing sector, interviewing 500 IT professionals. Asked to score their organisation's ability to satisfy customer enquiries via the web, 32 per cent of respondents rated them 'very poor'. Some 41.5 per cent also claimed the technical challenges their organisation face in providing information to customers via the Web is integration of disparate information sources.

Thompson agrees that improving supply chain processes is about integrating computers in a manufacturing firm's ERP system. Similar to the retail sector, e-business implementations rely on good middleware linking disparate systems within an organisation. Whilst larger companies like Ford, BAE Systems and Vauxhall might be able to invest for the long-term in this marketplace, Thompson claims that smaller firms will be looking at quicker integration solutions for manufacturing. 'Research shows that if you do adopt a long-term strategy with e-business procurement and run your supply chain efficiently then you do see benefits such as collaborative working within manufacturing - between suppliers, customers, partners. Right from front to back-end, integration is the key issue in manufacturing.'

Supplier relationships
According to Mark Mahara, European vice president at Windsor based Silvon Software, which produces business intelligence tools for the supply chain, e-business applications are positive for both suppliers and customers, which see them as a way of improving the gap. 'Customers are coming online and looking at previous sales, and suppliers can look at which their best customers are. People haven't really collaborated, but different sectors are now looking at how they can. I think the end result will be collaboration, with organisations having tighter communications and online systems, better forecasting and information on trends and analytics from 12 months ago. Sharing that information with suppliers will be key.'

Achieving visibility across a supply chain means not only being able to track the performance of a supplier, but also that of your supplier's suppliers as well, said Mahara. Visibility of key metrics enables more agile demand planning, and production and quality issues can be addressed much more quickly. Mahara cites a Gartner presentation, Optimising Fulfilment Through Supply Chain Execution, which states: 'Through 2004, enterprises that provide customers and trading partners with visibility of orders, shipments and events across the extended supply chain will experience up to a 15 per cent increase in profitability, because they will be able to reduce inventory while increasing customer satisfaction.'

Companies operating within the manufacturing sector are using ERP and ERP2, integrating it into systems with products from leading suppliers such as Minerva, K3, M2 and SAP. According to Thompson, the supply chain element is key, with the advent of XML providing compatible systems for online collaboration with suppliers and customers. The main e-business applications operating in this sector are: Intershop, Siebel, I2, Manugistics, Mercier, Commerce One, Ariba, and other e-business supply chain products.

Case studies - Hunter Douglas
Hunter Douglas is a major supplier of window coverings and architectural products. It comprises 62 manufacturing and 83 assembly plants across 145 countries, employing 15,000 people. Aart Van Leeuwen, manager of information systems service at Hunter Douglas Europe, is responsible for e-business strategy and implementation. He began to look at incorporating e-business applications into the company's existing infrastructure in order to improve efficiency and return on investment.

Order placement, confirmation and supply between the component manufacturing plant in Holland and the assembly plants throughout the world, relied heavily on manual communications. Faxes were re-keyed into the order processing system. Orders and delivery information would be passed to an account manager and in turn another manual process would be triggered to notify the assembly plant of expected delivery times.

The firm wanted to by-pass the fax machine and deliver orders across the internet directly into the SAP ERP system. By using a Web based front-end, it was anticipated that the assembly plant would gain faster access to order status information and estimated delivery details. 'Overall we were looking to cut out the majority of administration time spent on this part of our process from hours to minutes,' said Van Leeuwen. 'This would only be achievable if we could find a way to integrate requests coming across the Web with our live ERP environment.'

Hunter Douglas initially looked at SAP's Internet Transaction Server (ITS), but decided it would not be a suitable fit. Said Van Leeuwen: 'We could not tolerate anything that would interrupt or cause a slow down in our production environment, which depends totally upon SAP maintaining its high levels of performance. ITS was not the answer - neither was developing an in-house solution, which would be far too costly in both money and time.'

The company then looked at Acta's Data Integration Platform and eCache product. Acta acts as an information storehouse, providing the first stage of handling and responding to queries made via the Web. Queries are usually batch updated overnight extracting information from any combination of ERP, Supply Chain Management, or other dynamic application.

Customers submit a file via the Internet, receiving confirmation that the order has been accepted. 'Within minutes, rather than hours our customers can use our Web front-end to check their order status, they can confirm delivery times and even pick up an order status report in a spreadsheet format,' said Van Leeuwen. 'We have removed much of the administrative burden placed upon us by receiving orders by fax.'

'At the moment we have been marketing this capability to our larger customers,' explained Van Leeuwen. 'For those that place bulk orders, this has been a resounding success, since they have realised improvements in both service, speed and efficiency. We've removed the margin for error too, by being able to place the order straight into the SAP system. Our goal now is to launch it to our entire customer base and move further down the supply chain.'
Read more on Business applications