Knowledge management vendors create a stir
Ovum analysts explore recent developments in the knowledge management market as vendors try to adjust to the changing economic...


Download this free guide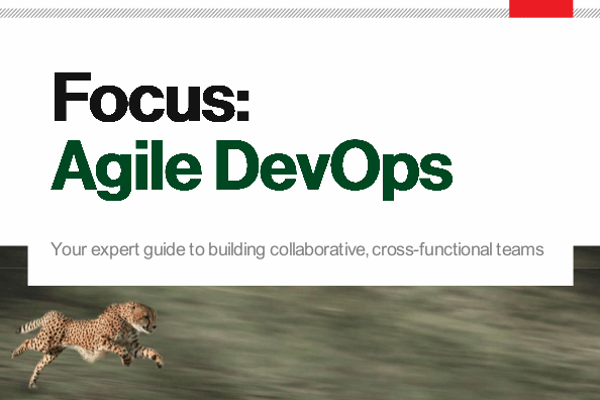 How can your business benefit from DevOps?
Let's take a look at six of the development practices that Disciplined Agile Delivery recommends for disciplined DevOps teams.
By submitting your personal information, you agree that TechTarget and its partners may contact you regarding relevant content, products and special offers.
You also agree that your personal information may be transferred and processed in the United States, and that you have read and agree to the Terms of Use and the Privacy Policy.

Ovum analysts explore recent developments in the knowledge management market as vendors try to adjust to the changing economic climate.



Autonomy and Verity: confident if wary
It seems that little of the technology market will now emerge unscathed from the market downturn. At one point Verity was a company that bucked the trend in a major way, with 51% growth in its fourth quarter 2001 (ending 31 May 2001), compared with the same period in 2000.

As late as July, the company was still bullish about its ability to weather the storm. However, in August Verity saw a restatement of its projected revenues for the first quarter of 2002 (ending 31 August) - with revenue estimates down to $20m-$24m (£14m-£17m) from an original $32m-$34m. The company is also projecting a loss for the quarter.

The announcement takes some of the gloss off Verity's recent product announcements concerning K2 Enterprise and, in particular, the company's new classification and personalisation tool, and the associated concept of "social networking". Overall, however, Verity's position remains strong. The recent announcement simply brings the company in line with the rest of the industry.

In comparison, Verity's main rival, Autonomy, had already served notice of tougher trading conditions with its first-quarter results (ending 31 March 2001). The second quarter saw a similar story, with more or less flat growth and significantly reduced profit. However, Autonomy sees little reason to change its strategy: it continues to position its technology as a core infrastructure component, extending its reach beyond traditional
"Vendors remain confident that current conditions are only a blip in the continuing growth of the knowledge management and search markets"

Source: Ovum
markets for search technology.

The company's latest release, IDOL (Intelligent Data Operation Layer), provides a layer on top of Autonomy's various technology components to enable developers to write applications, oblivious to the types of content they need to access - be it text, structured data, speech or images. A key aspect of IDOL is that it sees Autonomy giving more prominence to analysis and retrieval of both voice and image-based content.

As with Verity with its social networks, Autonomy realises that voice and image retrieval technologies will not become mainstream for at least a couple of years. Both see their new products as part of a long-term strategy. Despite short-term retrenchment, the vendors remain confident that current conditions are only a blip in the continuing growth of the knowledge management and search markets.

All change: IntraNet Solutions becomes Stellent
Content management vendor IntraNet Solutions announced in August 2001 that it was changing its name to Stellent. The re-branding comes from a desire to shed the image of focusing on intranet implementations. The company wanted to emphasise the range of services that it offers, including all types of business Web sites, including extranets and portals.

IntraNet has carried itself well during a downturn that has proved damaging for many of its closest and largest rivals. The company reported a quarter-on-quarter growth rate of 13% between the fourth quarter of 2000 and the first quarter of 2001. First-quarter revenue reached just over $22m and grew by a further 11% in the second quarter, with revenue of $24.6m. With these figures in mind, it is surprising that IntraNet is so keen to abandon a brand name that represents financial strength and reliability, replacing it with an apparently unrelated corporate identity.

While those in the industry may have anticipated the move, the expectation was that IntraNet would adopt the name of its successful central product, Xpedio. In fact, the company has abandoned this brand and renamed the product the Stellent Content Management System. This strategy also seems an odd move for a company in a state of healthy growth: the choice of name implies that Stellent intends to remain a one-product company, rather than take advantage of its financial stability to extend its product range within the e-business market.

In its hurry to escape the intranet-only tag, Stellent has set itself a difficult and expensive challenge: to convince the market that its new brand represents the same strong values as its old brand. It remains to be seen whether the company can maintain its financial growth and status while having to re-educate the market, particularly in such uncertain economic conditions.

Open Market: rescued by Divine intervention
Most content management vendors are having a rough time this year. One leading company that has appeared particularly fragile is Open Market. While having good content management and B2B/B2C software, and making some high-profile sales this year, it has struggled financially. A radical shake-up at the end of 2000 removed almost half the company's workforce.

Open Market's repositioning away from its Transact/Shopsite software and its subsequent sale to its original development team, which was finally completed earlier this year through a management buy-back, has hit revenues hard.

For the first half of the year, Open Market was trading at about 50% of revenue for 2000. Then came "Divine" intervention. The US company acquired Open Market in a stock-for-stock merger.

Divine is a relatively new company, formed in 1999 by Andrew "Flip" Filipowski, the founder of Platinum Technology, which he sold to Computer Associates in 1999. Much of the management team from Platinum Technology is now working at Divine, which has raised more than $350m in the past 14 months from its initial public offering and various additional funding. The company already has more than 3,000 employees and a turnover in excess of $70m in the first half of 2001 due to acquisitions.

To describe Divine's growth as meteoric is something of an understatement. During its short life, the company has acquired more than a dozen organisations, including MarchFirst and SageMaker, which provide Divine with its turnover.

Quite what happens to Open Market in this maelstrom of company acquisitions remains to be seen. We hope that its products do not disappear into a black hole, but that they continue to be developed and sold. The technology is too good just to disappear.

www.ovum.com
Read more on Software development tools