Improving communication will raise the IT director's profile
Boosting the perception of IT directors and their departments was a key aspect of the presentations at the IT Directors' Forum on...
Boosting the perception of IT directors and their departments was a key aspect of the presentations at the IT Directors' Forum on the Aurora last week. Karl Schneider and John Riley report
IT departments can transform their image and become real heroes in the business by boosting their internal communications, delegates were told at the IT Directors' Forum, writes Karl Schneider.

Download this free guide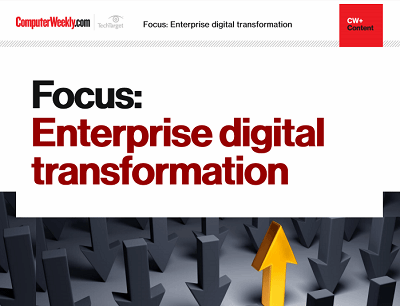 Are you digital to the transformation?
Digital transformation - the buzzword that we can't get away from. Enterprises need to accelerate their digital transformation journeys to avoid being left behind in an increasingly digital world. It's not an easy feat, but one that can be costly to get wrong. Join us as Computer Weekly takes a look at how businesses can stay on track through collaboration, innovation, and listening to user needs.
By submitting your personal information, you agree that TechTarget and its partners may contact you regarding relevant content, products and special offers.
You also agree that your personal information may be transferred and processed in the United States, and that you have read and agree to the Terms of Use and the Privacy Policy.
Jeremy Ashworth, from communications consultancy Wake Up, said many IT departments end up as the whipping boys of their organisations not due to their performance but because of the way they communicate with other departments, explaining what they are doing and managing expectations.
He said "dense", face-to-face communications techniques, such as having account managers to deal with internal customers and holding open days in the IT department, were central to turning around the perception of IT in the business.
"You are now potentially the rock stars of the business," Ashworth said, pointing to the central role IT now plays in the business strategy of most organisations.
But to grasp this opportunity, hesaid,IT departments cannotjust focus on improving their technical capabilities.
"You're working with perception, not facts," he said. "Communication manages expectations and perceptions. Your technical excellence will never do this."
Ashworth said there were three key elements to an effective internal marketing strategy:
Set out a clear vision of the role IT can play in the business
Ensure that the infrastructure is in place to deliver
A constant, proactive use of communications techniques to manage the way the business perceives IT and its performance.

About a third of the 150 IT directors at the presentation said they had held IT department open days. A quarter said they used account managers to deal with internal customers.

How to manage end-users' perceptions of the IT department
Conduct surveys of internal customers perceptions and gripes
Hold open days for specific IT plans and projects
Run focus groups to understand end-users' wants and views
Adopt an account management approach to key internal customers
Train IT staff in how to say "No"