IT savings drive bank mergers
Rationalisation of IT departments has emerged as a key factor behind a spate of financial institution mergers but, a new survey...
This Article Covers
RELATED TOPICS
Rationalisation of IT departments has emerged as a key factor behind a spate of financial institution mergers but, a new survey shows, there is no quick fix. Bill Goodwin reports
Banks and financial services companies are on the verge of a massive IT shake-up as the industry braces itself for a series of multinational mergers.

Download this free guide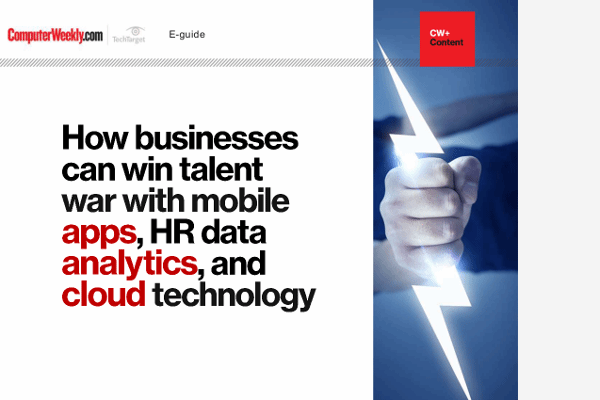 How businesses can win talent war with mobile apps, HR data analytics and cloud technology
Latest articles on HR best practices: mobile apps disrupting the annual staff appraisals; reasons for and against open-source software; and Rolls-Royce case study.
By submitting your email address, you agree to receive emails regarding relevant topic offers from TechTarget and its partners. You can withdraw your consent at any time. Contact TechTarget at 275 Grove Street, Newton, MA.
You also agree that your personal information may be transferred and processed in the United States, and that you have read and agree to the Terms of Use and the Privacy Policy.

The potential for businesses to dramatically cut costs by merging their IT departments will act as a major catalyst for consolidation in the financial services industry.
Overall spending by Europe's banks and financial services industry on IT will fall by about 8% (£12.6bn) within five years, as merged businesses rationalise their IT departments, research by Datamonitor predicts.
The findings illustrate a growing trend for businesses in all sectors of the economy to achieve efficiency savings by merging IT operations.
But mergers are not a quick fix for struggling companies, Datamonitor reveals. Companies will have to increase their IT spending by an average of 15% in the first few years after a merger as they struggle to merge their systems.
It will take five years before the IT budget falls to 70% or 80% of the combined budget of the merged companies.
Companies can achieve quick savings in spending on front-office systems, but merging back-office systems can often prove problematic. In some cases this can significantly reduce the cost benefits of a merger.
Daniel Mayo, banking and finance analyst at Datamonitor, said, "It is important not to underestimate the problems. When it comes down to merging IT, it is often a case of trying to hammer round pegs into square holes."
Lloyds TSB, for example, has been unable to combine the Lloyds and TSB back-office systems. Customers of each bank are unable to access the same banking services and the cost savings have not been as high as they could be.
The Bank of Scotland has predicted it can save £290m in its takeover battle with NatWest.
Key findings of the Datamonitor survey
Customer Relationship Management
Has become a top priority for banks and insurance companies over the past three years
Has a long pay-back time which is making it difficult for IT directors to secure funding. They are introducing CRM in a piecemeal way
Spending on front-office systems will occupy an increasingly large share of the CRM budget
Internet Banking
Move driven more by the desire to boost share price than demand from customers
Banks rushing Internet services into place without a fully thought-out strategy
Banks wasting money on Internet banking systems that become obsolete after two or three years
Customer loyalty on the Internet is much lower. Banks need to offer other services, such as online mortgages, insurance, and pensions, to keep their customers
Read more on Business applications