IT Blog Awards 2009: CIO / IT director
What are the best blogs written by and for CIOs and IT directors? This is the category for insights from senior management across the industry, including last year's winner, the Capgemini CTO Blog. Grab your badge now.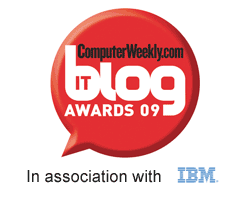 The shortlisted blogs:
---
About the Computer Weekly IT Blog Awards 2009
Computer Weekly's search for the best blogs in IT is now in its second year, and this year's competition, brought to you in association with IBM, promises to be bigger and better than before. The Awards will reward the best comment and insight that the UK's IT industry has to offer at an awards ceremony on 25 November.
We want to know who you think are the best bloggers and Twitter users in the UK IT industry, so to kick off the Awards we're asking IT professionals to submit their nominations to us. The nominated blogs will be listed on this site, and from all the nominations received we will draw up a shortlist for each category which will then be put back to the public vote.
Eligibility
Blogs do not need to originate in the UK, but they must contain some coverage of the UK IT industry.

Self-nominations are permitted, but the winners will be decided by a public vote.
Copy the code below and put it in your site for your shortlist badge:

Badge of honour

<a href="http://computerweekly.com/237819.htm"></a>
<object classid="clsid:d27cdb6e-ae6d-11cf-96b8-444553540000"  
codebase="http://fpdownload.macromedia.com/pub/shockwave/cabs/flash/swflash.cab#version=8,0,0,0"  
width="120" height="220" id="cw_badge09_CIO" align="middle">
<param name="allowScriptAccess" value="sameDomain" />
<param name="movie" 
value="http://www.rbicreativeservices.com/cw/121116_cw_badges_vote/cw_badge09_CIO.swf" />
<param name="quality" value="high" /><param name="bgcolor" value="#ffffff" />
<embed src="http://www.rbicreativeservices.com/cw/121116_cw_badges_vote/cw_badge09_CIO.swf"  
quality="high" bgcolor="#ffffff" width="120" height="220" name="cw_badge09_CIO" 
align="middle" allowScriptAccess="sameDomain" type="application/x-shockwave-flash" 
pluginspage="http://www.macromedia.com/go/getflashplayer" /></object>

Email Alerts
Register now to receive ComputerWeekly.com IT-related news, guides and more, delivered to your inbox.
By submitting your personal information, you agree to receive emails regarding relevant products and special offers from TechTarget and its partners. You also agree that your personal information may be transferred and processed in the United States, and that you have read and agree to the
Terms of Use
and the
Privacy Policy
.
This was first published in September 2009