How to negotiate the best deal
The role of the CIO increasingly includes procurement of IT goods and services, which can often result in multi-million-pound deals. Ron Condon takes a closer look at the process and how to get the best possible deal
People running computer departments carry huge responsibility these days, and their job titles tend to reflect this. Old-fashioned data-processing managers did just that: they processed other people's data. These days, that person carries the title of IT director or CIO, and his or her role is much more integrated with the strategy of the business.

Download this free guide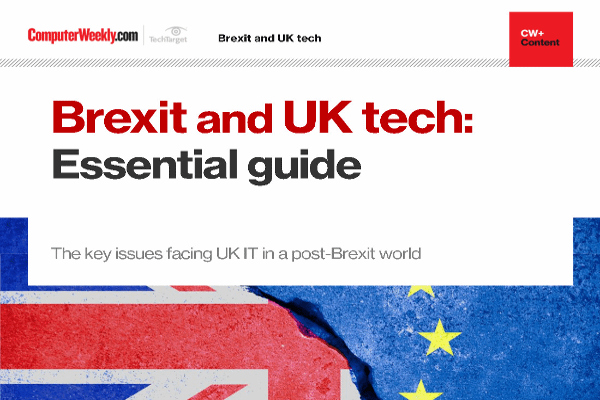 Brexit and UK tech: Essential guide
Find your way in the post-Brexit world and establish priorities in the face of uncertainty
By submitting your personal information, you agree that TechTarget and its partners may contact you regarding relevant content, products and special offers.
You also agree that your personal information may be transferred and processed in the United States, and that you have read and agree to the Terms of Use and the Privacy Policy.

This means that the CIO is likely to get involved in virtually every new investment decision in an organisation, and in many cases will be responsible for the purchase of large amounts of hardware, software and services.

So, how well do you handle the responsibility? And more importantly, how can you ensure that you get the best value for money when you are buying equipment and services?

Negotiating with suppliers can range from simply haggling over the price of PCs, to working through the finer details of a large outsourcing contract. The IT boss who has come up though a technical route will probably feel that they are on firmer ground when buying boxes, but they may start to struggle when it comes to dealing with complex software licensing arrangements. Outsourcing and offshoring will almost certainly take them into uncharted territory.

The obvious answer is to bring in the procurement department at some stage, as they have the skills for dealing with contracts and getting the best price. But when should this be done?

"IT departments tend to bring in the procurement guys too late in the process," says Bill O'Reilley, who heads up procurement advisory services within KPMG. "You need to involve procurement professionals at the very start of the procurement process to ensure you maximise value."

He says he has been disappointed by the amount of procurement that is done from within the IT team by well-meaning IT specialists who "dabble in sourcing because they understand the technical requirements and underestimate the sourcing process".

Professional procurement techniques have been adopted widely throughout most departments of business, but IT still seems to resist the trend, he says.

"The one area of business that still seems to be ring-fenced from solid, strong procurement influence is IT," says O'Reilley. He says this problem with IT procurement is widespread in all areas of industry, including financial services, retail and health and the public sector.

"I can think of examples in all of these where the procurement function struggled to climb over the wall that was built around IT. They were either not involved at all, or were brought in at the 11th hour to beat up the chosen suppliers."

IT professionals may counter this with the argument that purchasing professionals know nothing about technology, and are likely to make their decision based on price alone when there are many other factors to be taken into account.

"IT people can sometimes get frustrated with the procurement department, especially if they have developed a good working relationship with a supplier and feel they will do a good job," says Mike Fogg, a purchasing consultant at consultancy PMMS, and a teacher of the subject for the Chartered Institute of Purchasing and Supply.

That view is echoed by Ian Campbell, CIO for British Energy. He feels that procurement experts tend to be generalists rather than IT specialists. "They usually focus on price, while we will be looking at service. Over many years, a service can change dramatically, and if you cannot get your outsourcing supplier to adapt then it can be painful."

He says that the role of the CIO is changing fast. "CIOs need to be more commercially savvy. Our role is evolving we are not only managing the technology, but also trying to do the best deals for the organisation," he says.

"We are acting more as commercial managers. I find myself getting drawn into all sorts of discussions on an advisory basis. For instance, even if the company is outsourcing HR, they will be talking to an IT-service company, and so need input from the CIO."

He says he has no qualms about asking suppliers to raise their game on a regular basis, and will build that into the contract. "If I have to demonstrate performance and productivity gains for my management team, then an outsourcing supplier should be able to do that as well. We will be looking for like-for-like reductions from them."

In return, he will sweeten the pill by awarding more work to suppliers that show they are prepared to provide continuous improvement. "I give them more business, or make them a stronger partner with us, because they have shown themselves consistent with my objectives," he says.

But according to O'Reilley, those relationships can sometimes get too cosy, and need to be tested by a more rigorous approach. This is something the procurement professional can help with. "The procurement department can challenge current thinking," O'Reilley says. "They will ask why IT is closing down its options by choosing a certain supplier at such an early stage, for example."

A good procurement professional will get the IT people to question their first assumptions. They will ask what problems they are trying to solve, what service levels are needed, and so on.

"Procurement professionals can challenge what the IT people are doing. For instance, if they have always used IBM or HP then the easiest thing to do for IT is to write the specification so that the answer is HP or IBM. It keeps an organisation healthy to involve someone from procurement," says O'Reilley.

Once it gets down to the details of the contract, the procurement people may also be best suited to exploring the full cost implications - not only the up-front price, but also the continuing lifetime costs of the system or service. According to O'Reilley, sometimes the IT department can be so keen to get started on the project that contract negotiations are rushed through.

Alastair Grant, a former Marine who runs courses in presentation and negotiating, says that preparation and patience are key factors in negotiating well. The sales people you are dealing with will have done their homework and they will be trained in how to sell you have to be equally well informed and prepared for what can sometimes feel like a game of poker.

Grant describes negotiation in terms of three Russian dolls, each one inside the other. On the outside are the relationship skills, which allow you to work well with the supplier. "Most successful negotiators build up a relationship with the other side. It helps if you can build a high level of trust, and understand what the other party wants out of the deal," he says.

But do not get too friendly. "Sometimes people can be too keen to keep the relationship and put themselves in a weak position. Do not smile too much. You are in a game of poker, as is the other side."

The second layer deals with objectives. "Decide what you actually want. What is important to you, and not important, what is your final offer. Decide what you are prepared to trade or concede. And what they will be prepared to trade or concede."

The innermost doll deals with emotions. A weak negotiator may concede too soon or reveal their hand, he says. Grant says there are plenty of manipulative techniques that can be used, such as "the flinch" to indicate pained surprise at a supplier's first offer, or a poker face, which will convey that the current price is too high.

He also advises never to accept the first offer. "If someone pays the asking price, both sides feel dissatisfied. The buyer thinks they should have offered less, and the seller feels they could have asked more. Both sides feel more satisfied if the position has been tested."

Far better, he says, to indulge in a bit of give and take before arriving at an agreement. And do not be fooled into a simple compromise. "Splitting the difference is a sign of a poor negotiation where it has not been thought through properly. If the other person knows what they are doing they will have set the bar high so that a compromise favours them," says Grant.

If you have done your planning properly, you will know what you are prepared to concede. But Grant says you should never make a concession without asking for something back.

Finally, with sourcing becoming a more global process, Campbell underlines the need to think about local culture. He ran the Indian internal offshoring department for Citigroup and also worked in Eastern Europe, and found that it takes time for both sides to get to know each other.

Indian workers, in particular, have a culture of deference that could lead to them agreeing to things in negotiations that they are unable to deliver in reality. Campbell recommends a "get-to-know period", where the two sides can prototype a project and see how long it takes. "Once you get the balance right, it should not be a problem," he says.

Renegotiate your outsourcing deal >>

Tony Collins' IT projects blog >>
Against the current: exploring the challenges of complex IT projects

Comment on this article: computer.weekly@rbi.co.uk
Read more on IT outsourcing