HP and IBM turn up the heat in the Unix market
Competition in the Unix market is hotting up with both Hewlett-Packard (HP) and Sun making major announcements ahead of IBM's...
This Article Covers
RELATED TOPICS

Download this free guide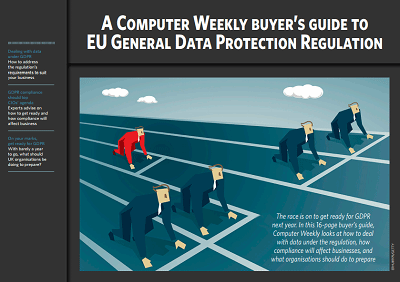 Computer Weekly's Buyer's Guide to GDPR
The race is on to get ready for GDPR next year. Computer Weekly looks at how to deal with data under the regulation, how compliance will affect businesses, and what organisations should do to prepare.

Competition in the Unix market is hotting up with both Hewlett-Packard (HP) and Sun making major announcements ahead of IBM's launch of its long awaited Regatta servers. IBM itself entered the fray first with the launch of the P660, but Big Blue is placing great store by its Power4 processor powered Regatta systems, which it believes will bolster its performance in the Unix market against its big rivals.



HP claims its new mid range offering, the HP Server rp8400, 'expands the mid range landscape into an area unoccupied by competitors' systems.' Utilising HP's own Unix variant HP-UK 11i, the new system can include up to 16 PA-RISC 8700 processors, technology which is now also available in its high-end Superdome server as well as its existing mid range rp7400 system. It says the new machine is leading the mid range Unix server market in the much touted TPC-C benchmark, which measures transaction throughput, and beats the newly launched IBM p660 6M1 by 'a commanding 33 per cent'. The entry for the rp8400 comes in at a transaction rate of 140,240 tpmC, and a cost of $16.28/tpmC. The P660 comes in on the TPC-C list at 105,025 tpmC and a cost of $25.33/tpmC. Duane Zitzner, president HP Computing Systems, says: 'The rp8400 provides high-end server capabilities to customers at mid-range prices.'

However, IBM says the eight-way, 750 MHz RS64 IV processor powered p660 beats the competition in Web-serving and Java performance, which are measured on the SPEC benchmarks. It features the recently introduced self-healing, self-managing technologies developed as part of IBM's Project eLiza, which Big Blue claims will ensure the system can automatically recover from errors. It also includes Chipkill, which IBM says is designed to virtually eliminate memory based system failures and believes is far more effective than traditional Error Checking and Correction (ECOC) technology. Val Rahmani, vice president, marketing operations, IBM Web Servers unit, says: 'We've packed a data centre's worth of reliability, performance, and availability into the server and made it an ideal platform for the most demanding applications.'

The HP rp8400 has an estimated entry price of $124,000, whilst the IBM p660 6M1 comes in at $61,995.
Read more on Data centre hardware