Good supplier links and early exposure to new products aid insight and experience
It is a pleasure here at Computer Weekly to profile the IT departments that have made it on to our shortlist of the Best Places...
It is a pleasure here at Computer Weekly to profile the IT departments that have made it on to our shortlist of the Best Places to Work in IT 2003.

Download this free guide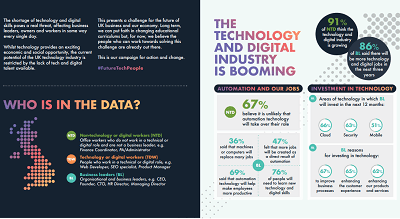 Infographic: Future-proofing UK technology
The shortage of technology and digital skills poses a real threat, affecting business leaders, owners and workers in some way every single day. Whilst technology provides an exciting economic and social opportunity, the current potential of the UK technology industry is restricted by the lack of tech and digital talent available. This presents a challenge for the future of UK business and our economy. Long term, we can put faith in changing educational curriculum but, for now, we believe the people who can work towards solving this challenge are already out there.
By submitting your personal information, you agree that TechTarget and its partners may contact you regarding relevant content, products and special offers.
You also agree that your personal information may be transferred and processed in the United States, and that you have read and agree to the Terms of Use and the Privacy Policy.
Through feedback from IT managers and their staff, our aim is to celebrate the best employers of IT professionals and highlight best practice for other IT departments to follow. This week we profile the high achievers in the IT hardware, software and services sector


Data Connection

Number of IT staff: 12

Annual staff turnover: 8 %

IT training budget per head: £6,700

Amount of new development work: 50%

Annual holiday: 25 days

Data Connection is a Middlesex-based software house that develops products for networking and internet communications.
The IT team often works with bleeding-edge software technologies and frequently takes part in beta test programs.
"This means we are 'on the ball' with new operating systems and applications like Windows 2003 Server and Office 2003," said one employee.
The department's activities are not confined to Windows, however, and they work with the latest releases of Linux (Red Hat, Caldera, SuSe), Solaris and HP-UX.
With offices in the US, the IT team can source a wide variety of equipment not yet available here - particularly in the field of wireless and Bluetooth technologies.

"We also have a state-of-the-art Alcatel phone system that supports IP telephony, soft phones and H.323," said another employee. "We have integrated the voicemail system with Microsoft Outlook so voicemail notifications are e-mailed to the desktop."
He said the company had also adopted HP Ultrium tape drives for back-ups and recently migrated the tape hardware to a rack-mounted LTO tape magazine from Dell.
Company outings have included trips to Monaco, a hot-air balloon trip and Christmas dinner at the Natural History museum.


IT Resource Management

Number of IT staff: 11

Annual staff turnover: 0%

IT training budget per head: £15,000

Amount of new development work: 40%

Annual holiday: 20 days


IT Resource Management (ITRM) is an IT services and recruitment company with its head office on Bond Street in central London.

Working in a technology-orientated business, members of its IT team are well aware of the need to understand all new major technologies that are released.

Each personal quarterly review contains a plan of action for training and IT knowledge development. This usually includes at least three training days and a trip to suppliers.

The department also holds weekly technology meetings where members of the IT team take it in turns to head the meeting on a chosen technology. ITRM also pays subscriptions to two IT-related magazines for each member of staff.

One member of the IT team said, "ITRM has the perfect working environment. Senior managers and directors work directly with all members of staff of different levels in order to gain a better understanding of the business, and are then able to address any problems or improvements that need to be made.

"ITRM has always been flexible with my working hours and workload."

Another colleague said, "Our IT department is ever expanding but still has that personal feel. The directors are not afraid to muck in and everyone works well as a team."


Kingston Technology

Number of IT staff: 11

Annual staff turnover: 0%

IT training budget per head: £1,000

Amount of new development work: 40%

Annual holiday: 25 days

Based in Sunbury-on-Thames, Kingston Technology is a designer and manufacturer of memory and storage products for PCs, servers and workstations, laser printers and electronic devices.

Founded in 1987, the company has grown from being the manufacturer of a single in-line memory module into an international company with more than 5,000 products and $1bn in sales.

"The company recognises the hours we have to put in to keep the business going from an IT point of view - after-hours and weekend work, in other words," said one employee.

"Kingston will always take care of us, by providing us with all kinds of benefits."

Another member of the IT team said, "Our IT department has a number of younger people who have been given the opportunity to work in a live environment, thus increasing their experience and knowledge.

"A great deal of trust is placed in the employee, making you feel a part of the department and the company.

"We are able to express ourselves freely with our supervisors and managers, giving our opinions on what we think, thus creating a good working atmosphere.

"We all get along very well and work well together and also mix well socially outside work."


Teksys

Number of IT staff: 22

Annual staff turnover: 0%

IT training budget per head: £2,500

Amount of new development work: 20%

Annual holiday: 25 days

Teksys is an IT services company with a head office in Fleet, Hampshire.

The company has developed close working relationships with key suppliers such as Microsoft and Hewlett-Packard in order to understand technology roadmaps.

Prior to the official launch, the IT team was working with technical specialists within Microsoft's consulting services division to understand the design and implementation ramifications of Exchange 2003.

One employee said, "Teksys has a number of 'technology focus areas', where teams are dedicated to working with and developing specific areas of technology.

Another member of the IT team said, "Teksys is held in high regard by all of the major industry suppliers, which gives us enviable access to insight, resources, equipment and software with which to maintain our skills and learn about new things.

"Teksys has created a culture where personal development is encouraged and we all feel we can make a difference to the overall success of our business."

Head of IT at Teksys, Mark Flynn said, "Teksys actively encourages the development of its staff. Evangelising a philosophy of 'work hard, play hard', we reward Teksys people highly for the input they provide."

IT services sponsor

Computer Futures Solutions is one of Europe's leading IT staffing solutions providers. It places IT staff in permanent and contract roles throughout Europe, and has enjoyed unparalleled success since 1986.

www.computerfutures.co.uk