Go the extra mile
The sports arena is challenging but rewarding and it's where broadcasters and participants demand the benefits of IT. VARs that...
This Article Covers
RELATED TOPICS

Download this free guide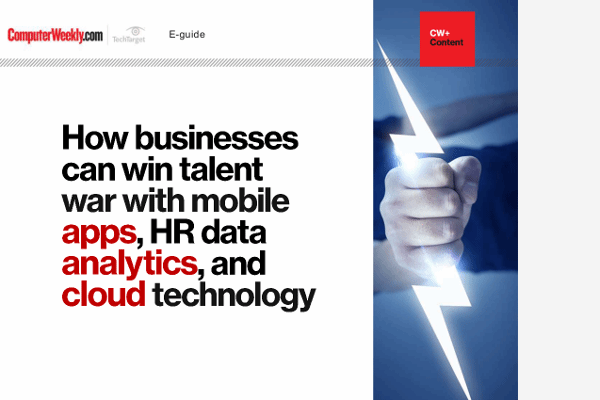 How businesses can win talent war with mobile apps, HR data analytics and cloud technology
Latest articles on HR best practices: mobile apps disrupting the annual staff appraisals; reasons for and against open-source software; and Rolls-Royce case study.
By submitting your email address, you agree to receive emails regarding relevant topic offers from TechTarget and its partners. You can withdraw your consent at any time. Contact TechTarget at 275 Grove Street, Newton, MA.
You also agree that your personal information may be transferred and processed in the United States, and that you have read and agree to the Terms of Use and the Privacy Policy.

The sports arena is challenging but rewarding and it's where broadcasters and participants demand the benefits of IT. VARs that can prove their credibility are in a strong position to win the best contracts.



Although traditionally not tending to employ a massive amount of IT applications, the sports industry is generally believed to hold interesting and unusual opportunities for VARs and solution providers that can go the extra mile in differentiating them-selves with technologies that enhance viewer and participant experience.

The whole sports arena has benefited hugely from evolving technology in the last two years, especially with regards to the Internet where spectators are now able to view clips and analysis at their leisure.

However, the number of actual IT buyers in the sports market is relatively small compared to, say... retail or transport. That said, sport now holds the largest segment of entertainment programming in television, which in itself is a pretty substantial section of the market.

Whet the appetite
The general rule for solution providers to bear in mind is that the broadcast networks with which the sporting organisations undertake their dealings (when looking at the issue from the televised side of things) are always seeking to enhance viewer experience.

Robert Nagle is director of software development at specialist database supplier Intersystems. The company supplies object-based database management systems to specialist application development partners and VARs through the channel to several sporting clients.

"By aiming to improve viewer and participant experience, there is a lot of opportunity for the solution provider able to whet the appetite of the broadcaster who holds the broadcast rights," he says.

It may be these broadcast rights, however, that prove to be the first stumbling block for a solution provider wishing to get into the sports sector, and in this sense says Nagle, selling into the market is often a multi-party event.

"Working through the contract rights that broadcasters may already have in place with existing technology providers could prove the hardest part to starting negotiations," he argues. "There may be old ways of working to break through and new grounds to establish, but if the solution provider has a strong USP which can offer the client an enhanced viewer experience, it is certainly in with a chance."

No real barriers
The good thing, Nagle says, is that preferred supplier arrangements are not often the ideal way of working. "It is the provider with the best product or service to offer that gets in," he claims.

Integrating technologies already employed is also an important aspect when working with sporting clients.

This business is known for its long procurement times, which can typically run anywhere between six months and a year. For this reason, it is important that solution providers are aware that existing technologies need to be continued up until (or sometimes overlap) new ones coming into force.

Nagle points to prototyping applications early on in the procurement process as "a good way of generating enthusiasm among clients who may be dependent on strict cash flows. Start the whole process as early on as possible".

Ian Gibb, CAE systems manager at Basildon-based MsX International, agrees with Nagle that there are no major barriers to prospective solution providers wishing to get into the sports market, providing they can prove their credibility and be persistent in cracking that first deal. "Much of the business of providing IT to sporting clients, like other industries, is done on prior recommendation," he emphasises.

MsX is a service provider for computing hardware and software resources and counts the Jaguar Formula One team among its clientele. Gibb is adamant there are ample reselling opportunities in this high-end 'sexy' section of the motorsport market, where all the Formula One teams are known to have high spending IT departments.

Some vendors have been known to pay £10 million just to put their badge on the wing mirrors of the vehicles, reveals Gibb, but from the motorsport client's point of view, the emphasis is on producing ever more competitive cars. "In this sense, there are always opportunities for resellers to go in with innovative solutions," he claims.

Premier target
IT sales to football teams also holds substantial VAR opportunities, with teams increasingly being run primarily as commercial businesses rather than simple sporting organisations.

Keith Quinn, managing director of solution provider Essential Computing, agrees. Quinn, whose company provides e-mail messaging services to several clients in the sports market, says he is gradually seeing an increase in sporting clients becoming more technologically minded.

Essential is currently in talks with several premier league football teams regarding the management of their fan bases. "Web sites and e-mail communication is an area for which we are currently seeing an increase in demand from football clubs," says Quinn.

"Football has really woken up to the commercial power it has with its fan base over the last few years. To this end, clubs are realising the importance of large IT infrastructures and the revenues they can help to drive in. Local football teams are probably a great starting point for solution providers wishing to get into the sports market."

On the ball
Doug Gardiner is managing director of Avaya's World Cup programme. As a sponsor for the Cup this year, the firm is using channel partners to build large voice and data networks in Japan and Korea.

Gardiner concurs that sport is a booming market for solution providers and also believes local teams may hold more technology opportunities than many realise.

"The opportunities with local football teams are pretty good really, as most have only got the most basic of infrastructure in place at their stadiums," he argues. "If one looks at the kind of wireless technologies we are currently implementing for FIFA at this year's World Cup, you realise there are many similar types of applications that could be implemented on a smaller scale to resellers' local teams."

High-profile market
Doug suggests convergence is a particular area of interest for local clubs, but that other technologies supporting the monitoring of kit, season ticket registration and fan club Web sites are also in demand.

"The great thing is that sport in general is so high-profile to the general public and is therefore great for expanding a solution provider's reach and showcasing solutions," he says. "Many of the decision makers involved in football are high-level executive clients or business partners. To this end, there is always plenty of scope for word-of-mouth references."

www.avaya.com
www.e-msxicompute.com
www.essential.co.uk
www.fifa.com
www.intersystems.com
Read more on Business applications