Financing the future
Don't get a headache working out the best ways to pay for hardware and software. Danny Bradbury offers a user-friendly guide to...
Don't get a headache working out the best ways to pay for hardware and software. Danny Bradbury offers a user-friendly guide to finance deals

Microsoft and Sun Microsystems may compete in many fields, but they think alike on at least one issue: the importance of financing. Sun, which already rents software to customers, is soon to start a financing deal enabling customers to lease its Sunray thin-client hardware too. Microsoft is shortly to start pushing Microsoft Capital in the UK, an initiative offering financing terms for its partners' hardware in addition to its own software.

Why finance your IT resources through leasing or rental rather than buying them outright? The most obvious benefit is that it frees up your IT budget for other projects, because you do not have to pay for everything up front. However, there are other, subtler benefits, says Jeff Smith, vice-president of IBM's global financing division (Northern region).

Download this free guide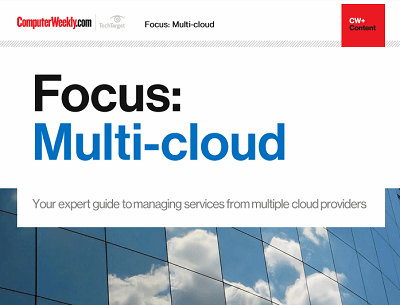 The maturity of the enterprise public cloud
Many IT leaders are increasingly coming round to the idea that sourcing services from one or more providers might be the best way to go. Join us as Computer Weekly takes a closer look at the multi-cloud approach and what providers are doing to capitalise on the trend.
By submitting your personal information, you agree that TechTarget and its partners may contact you regarding relevant content, products and special offers.
You also agree that your personal information may be transferred and processed in the United States, and that you have read and agree to the Terms of Use and the Privacy Policy.
"You can match the payments from the financing structure to the benefits you expect to get from a particular acquisition," he says. You pay for the server as it pays for itself, rather than paying for everything before getting a return on your investment.

Depending on the type of financing agreement you sign, financing can also help reduce the risk of ownership. If you purchase a server outright, as it nears the end of its life you must dispose of it, ideally recouping some of the original purchase price in the process. Under some financing arrangements, the equipment will be disposed of by the lessor, removing the cost of divestment from the customer.

When dealing with hardware, there are two main types of lease: operating and finance. Under an operating or residual value lease, the lessee never owns the equipment outright. Instead, they take on a long-term usage agreement for which a regular fee is paid. At the end of this agreement the equipment is either returned to the manufacturer or the lease renewed. The easiest way to think of an operating lease is as a structured rental agreement.

The alternative to an operating lease is a finance lease, in which regular payments made by the lessee over the lifetime of the lease match the equipment's material value. At the end of a finance lease, the equipment can be retained by the lessee for a token payment. This is known as a peppercorn agreement. The other option is for the customer to sell the equipment. Although it is technically acting as an agent for the lessor, the customer retains 99% of the sale's proceeds.

The other option is lease purchase, which operates in a similar way to hire purchase in the consumer world. Under a lease purchase agreement, the eventual ownership of the equipment is built into the initial contract, obviating the need for peppercorn rental or a final separate payment for ownership.

One way to distinguish between an operating lease and a finance lease is the 90-10 test, says Philip White, sales director at IT financing company Syscap. The total amount a customer repays under an operating lease must be no more than 90% of the equipment's capital cost. This means that the equipment retains at least 10% of its residual value, thus increasing the risk for the lessor, which has to reclaim that value by selling or reusing the equipment at the end of the contract.

Don't be surprised if individual payments on an operating lease are higher than those on a finance lease for the same piece of equipment to reflect this fact. You are paying a premium to let someone else worry about disposing of the equipment when you are finished with it, and you will have the use of the equipment for a shorter time

Software rentals work differently to hardware rentals because a customer rarely buys software - it buys the licence to use the software and therefore does not own it. This, combined with the Inland Revenue's view of software as an intangible asset, makes it difficult to depreciate software as a capital asset. Consequently, it is difficult for companies to provide an operating lease on software, says White. The lessor does not own the software - it is only leasing the licence to use the software. "Unless I have an agreement with the software supplier, I cannot remarket the software and I cannot use it. So I am left holding the baby and a 10% investment," he says.

Nevertheless, 75% of Syscap's revenue comes from software and services rather than hardware. It is still possible for the company to rent software to customers by structuring deals with software suppliers. Software suppliers are increasingly moving to subscription-based models (often called the "software as service" model). Sun, for example, has tried to simplify the pricing structure for its Java Enterprise System open source back-end application stack and complementary Java Desktop System by moving to a per-employee subscription system.

"We charge £53 per employee per year. That is it," says Sun's UK software marketing manager Paul Leonard. Customers renting the Java Enterprise System can take ownership of a perpetual licence after three years for a predefined final price. Because the company charges on a per-employee rather than a per-CPU model, companies can use the system on as many machines as they like.

Microsoft offers its own brand of software financing. Customers can either buy a perpetual licence outright, purchase a subscription or spread payments for the perpetual licence across a number of years.

Spreading payments allows you to purchase the Software Assurance maintenance programme, a three-year deal providing upgrades as new versions of the software emerge. This entails an additional yearly payment of 29% of the base licence fee a year for server software, or 25% for the client. Users can cherry pick the licensing scheme that suits their budget, although Microsoft has come under fire in the past from customers angry about what they saw as punitive terms for those unwilling to upgrade their software.

Analyst firm Gartner believes that perpetual licensing will continue to be the preferred model for software users until 2010 and claims software subscriptions will not fare well. "Generally we find that the customers that are more forward thinking in their strategies would procure their IT assets," says Microsoft UK's licensing marketing manager Mark Buckley. They treat IT components as a business asset and want to have control over them.

Perhaps so, but Gartner believes managed "pay as you go" services will become important in the next few years. Managed services companies were branded application service providers (ASPs) at the turn of the decade and grew rapidly on the back of the dotcom boom, yielding many casualties when the market collapsed. Now, managed services firms are proposing the model as a way to finance business processes, reducing the in-house IT footprint and freeing IT budgets.

Accountancy software firm Coda will be partnering with a hosting company in the first quarter of 2005 to offer its accountancy software as a managed service. Group marketing manager David Turner will price it on a per-user basis. He does not think that pricing managed services on a per-transaction model is intuitive for end-users. "We could charge based on how many lines people entered into the accounts, but that is industry-specific," he says. Different industries make accounting transactions in different volumes depending on whether they are high- or low-value.

Payroll is more suited to per-transaction pricing when offered as a managed service. Multinational managed services firm ADP offers payroll and managed services on a per-transaction basis. Director of marketing and product development Ian D'Cuhna says the company charges its clients per payroll slip entered at the end of the month.

Organisations can make themselves more flexible by considering financing options for their IT software and hardware. On the upside, it frees up cash for new project investments, but on the downside it requires a more structured approach to IT planning, which may not always be possible for smaller companies with more volatile needs.

When entering into a finance agreement, consider issues such as breakpoints in the contract - points at which the lessor agrees to review the contract and make any necessary readjustments. Also, think ahead to the renewal phase, assessing your plans for ongoing ownership of the leased resource or a renewed lease.

Make sure you protect yourself from unrealistic price raises when renewing leases, especially if you are renting software on a subscription model because software is often more vulnerable to supplier lock-in than hardware. Tread carefully and a finance arrangement could deliver positive results and give your finance department the ability to juggle equipment between the balance sheet and the profit and loss report. In accounting, flexibility is never a bad thing.
Before signing a finance agreement...
The top five things to consider when deciding on a finance agreement:
How much of a business asset is the resource in question? Would eventual ownership of that resource be beneficial?
How accurately are you able to plan your IT needs over a three-year period? This will dictate the flexibility you need to have built into the finance agreement.
Does your finance director prefer to have IT assets on the balance sheet, or to treat them as business expenses on the profit and loss account?
What sort of surplus do you have in your IT budget and is it capable of meeting your new project requirements?
How able are you to recognise the residual value of a piece of equipment at the end of its life? For example, can you reuse components and do you have a well-defined policy for reselling equipment?
Finance terms at a glance
Finance lease: A lease where most of the equipment's cost is paid back over the lease period. Often followed by a peppercorn rental, a one-off payment to take ownership of the equipment, or a sale by the customer acting as an agent for the lessor.
Operating lease: A "true" lease where the equipment is returned at the end of the lease period. The lessee repays the cost of the equipment minus the projected residual value at the end of the lease period.
Lease purchase: A lease in which the eventual ownership of the equipment is built into the payment schedule. It is similar to hire purchase in the consumer market.
Short-term rental: Equipment rental for a short-term period is often useful for ad hoc projects. It provides more flexibility, but at a higher cost.
Read more on IT outsourcing