FCoE and IOV: The future of infrastructure
Understanding Fibre Channel over Ethernet (FCoE) and I/O virtualisation solutions will help administrators prepare for the virtual data centre of the future.
Amid all the hype surrounding Fibre Channel over Ethernet (FCoE), one could easily be forgiven for thinking it was revolutionising data centre I/O. In this article, we will explore FCoE and compare it to I/O virtualisation solutions.

Download this free guide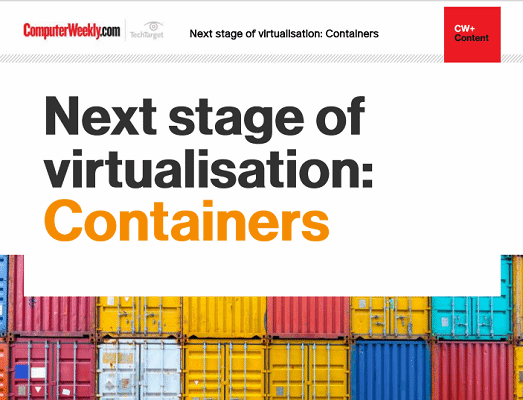 Next stage of virtualisation: Containers
Who doesn't love building blocks? Following the burst of cloud computing, containers are becoming a necessity for all organisational transformation and development. Follow us as we go through the technologies that complement and enhance their use, and outline a first-hand insight into the impact.
By submitting your personal information, you agree that TechTarget and its partners may contact you regarding relevant content, products and special offers.
You also agree that your personal information may be transferred and processed in the United States, and that you have read and agree to the Terms of Use and the Privacy Policy.
What is FCoE?
FCoE is a protocol encapsulation technology that takes FC frames and encapsulates them in jumbo Ethernet frames. The end result is that LAN and SAN traffic can travel on the same infrastructure.
Data centres using FCoE will require fewer cables, I/O adapters and switch ports. That, however, is hardly revolutionising data centre I/O. Where is the improved, more flexible management? What value does this add to virtual server environments?
At the end of the day, FCoE and the Data Centre Bridging Task Group (DCB) provide a new fabric that solves some of the adapter, cable and switch port sprawl we see in modern data centres. It is not, however, a solution to the demands of server virtualisation.
Deploying FCoE
With the FCoE and DCB standards in their current state, the most feasible deployment approach for early adopters is to start within the rack area network (RAN) where the server and network edge exists. Then over time, as the standards and products evolve, slowly move it further into the data centre.
For most people, this staged edge-in approach will work a treat. Who would be willing to deploy any new technology across the entire data centre overnight?
While FCoE standards and products are still relatively new, they are maturing quickly. For example, Converged Network Adapter (CNA) vendors are already shipping second-generation, single-chip, single-driver based products. This means that the many of the products already at market for the server and network edge are not as green as some would have you think.
The question to ask, though, once you have deployed FCoE at the network edge (RAN) is: What have you actually accomplished?
Granted, you have reduced adapter, cable and switch port count. But have you improved I/O management or I/O flexibility? What value have you added to other areas of virtualisation that we are seeing across the data centre?
An interesting approach is to disaggregate the I/O adapters from the physical servers and place them in a Top-of-Rack (ToR) I/O Director.

Nigel Poulton, Freelance enterprise storage and new technology consultant.,
IOV: A solution
In light of the changes that are being driven by server virtualisation technologies, traditional I/O models are struggling. Taking a shiny new CNA and dropping it on to existing models isn't going to help. What is needed is a new architecture that is designed with virtualisation in mind.
An interesting approach is to disaggregate the I/O adapters from the physical servers and place them in a top-of-rack (ToR) I/O director. Your servers then connect to the I/O Directors by either extending the PCIe bus or running InfiniBand within the rack.
Most modern NICs, HBAs and CNAs can be carved into multiple virtual adapters (vNIC and vHBA) that look and feel just like physical adapters. If you leave these physical adapters inside of a physical server chassis, the vNICs and vHBAs can only be utilised by the server they reside in. Once they are in a ToR I/O director, though, they become fluid objects that can be dynamically allocated to any connected server. This flexibility is vital in a virtual data centre where virtual servers are now fluid objects.
Not only can your vNICs and vHBAs follow virtual machines as they move around the virtual data centre, it also becomes possible to have your servers connected to multiple physical networks without the need to run multiple cables to your server. Simply connect each physical NIC in your I/O Director to a different physical network. From these physical NICs, you then create vNICs and present the vNICs to your connected servers. The end result is that any server can connect to any network without requiring as many cables and adapters.
NOTE: IOV technologies also reduce cable, adapter and switch port requirements.
Conclusion
While DCB and FCoE will be crucial components of the virtual data centre, they are not solutions to the demands of virtual server environments. Taking DCB and FCoE and dropping them on top of old designs will do little for I/O management flexibility.
On the other hand, RAN-based IOV technologies are a significant step forward in I/O virtualisation, as they are designed with virtualisation in mind. They change the way in which we manage our virtualisation environments.
With vendors protecting market share and margins, there will be instances where the two technologies overlap and compete with each other. The wise data centre architect, however, will see that each has its place.
It is likely that the virtual data centre of the future will use the two technologies side by side -- IOV technologies in the rack and DCB/FCoE further in to the core.
Nigel Poulton is a freelance enterprise storage and new technology consultant with a wealth of experience contracting for vendors and customers, where he has successfully worked on some cutting-edge projects and deployments. For further detail on any article Nigel writes, or for information regarding availability, Nigel can be contacted at nigel@storage-strategist.com.
Read more on Datacentre systems management