Data deduplication explained
This report provides an extensive overview on data deduplication, the white hot technology storage managers are deploying as we move towards 2008.
data deduplication
, the white hot technology storage managers are deploying as we move towards 2008.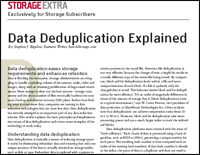 This report is ready to download and print, and is available exclusively and at no cost for Storage magazine subscribers.
Download your free copy today!
** If you are not an active Storage subscriber, the above link will direct you to a form where you can apply for a new free subscription or a subscription renewal.
About this Report
Rather than finding ways to store more data, companies are turning to data reduction technologies that can store less data. This guide from Storage magazine and SearchStorage.com explains the basic principles and implementation issues of data deduplication and covers some examples of the technology at work today.
This report is a free resource for Storage subscribers. If you already have a subscription, simply log in or complete your application to receive a free subscription and this handy reference guide.
About Storage Magazine
Storage is the leading monthly for IT pros focused on building and managing storage networks. This award-winning magazine's editorial team works with the leading storage practitioners to deliver information that can help you plan and complete your storage initiatives – from cutting edge technologies like data deduplication, continuous data protection (CDP) and virtualization to traditional, ongoing challenges like SAN and NAS management and backup and recovery.
Storage magazine subscriptions are free for qualified IT professionals. Complete your subscription application, and gain free instant access to the Data Deduplication Report, plus you'll gain instant access to a full library of archived Storage magazine articles and features going back to 2002.
Subscribe to Storage magazine today and get up to date on all the storage news that matters to you.