Convergence
The integration of voice and data has been a long time coming but now the evidence is that it is finally here. There are...

Download this free guide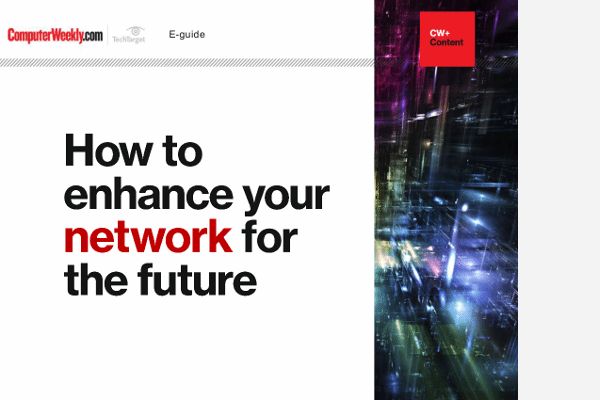 How to enhance your network for the future
Latest on networking developments and directions: NFV, self-optimising networks and IoT enabled smart cities
By submitting your personal information, you agree that TechTarget and its partners may contact you regarding relevant content, products and special offers.
You also agree that your personal information may be transferred and processed in the United States, and that you have read and agree to the Terms of Use and the Privacy Policy.

The integration of voice and data has been a long time coming but now the evidence is that it is finally here. There are significant opportunities for resellers from both sides of the fence but some in the industry believe the advantage is shifting towards the data faction.



There are two likely outcomes when two forces are suddenly brought together. The first is an almighty crash - especially true when the two elements being brought together are inflexible. The other possibility is similar to two tributaries meeting and forming a larger river - this can be described as convergence.

People in the IT industry are familiar with the term because it has been bandied about for the last few years, mainly in relation to the IT and telecommunications spheres (although it has also recently started to occur in the printer sector with the emergence of multifunction devices combining printer, scanner and photocopier).

And while the integration of voice and data has been a long time coming, it is beginning to look like it is on the way. But even at the level of IT and telecommunications, convergence is a broad term taking in two distinct trends: a merger between data network communications and voice through VoIP at the high-end infrastructure level, and a growing closeness between handheld computers and mobile phones at the low-end.

That convergence is upon us is evidenced by the growing interest of traditional data players in the VoIP market. Northamber, for example, has made a multi-million pound investment in the voice and data market with the formation of a specialist convergence business known as NV3. It will initially be based around Avaya's IP office communication platforms for the SME sector: Cajun, IP600 and Wireless network infrastructures.

Andy White, managing director of technology consultancy group Red Electron, advised Northamber on the development and strategy behind NV3 and he's keen to get the message out to data resellers that convergence represents a significant opportunity.

"Over the last few years, the two infrastructures of telecoms and data have been very separate, but over the last two years, call control - effectively the operating system of telephony - has collapsed into the data domain by using VoIP," he says. "All the programming is really simplistic, there's not a great deal of real in-depth knowledge required."

He suggests that with the placing of call control into the data domain, the skills required are around areas such as IP, DHCP and LAN switching, "all things that data people know about. Telecoms resellers know all about call control, now they've got to get up to speed on all the data technologies".

There's no doubting who White thinks should be in the ascendency. "Our message is 'don't worry too much about call control, it's relatively straightforward. IT and data resellers have got the advantage".

That's not to say White is ruling out voice resellers. "We're trying to be an educative distributor: we've got a knowledge base on call control if you know about IP, and if you know about call control, we can help on the IP side."

But he argues the momentum is shifting towards the data side of the equation. "The whole value of convergence is in finance directors looking at communications as a whole. If convergence delivers value for money and return on investment, it is forcing the push towards the IT reseller. The only way the customer is going to be confident is by entrusting it to data resellers."

Data versus voice
Northamber is trying to help traditional voice resellers in areas such as analysis on the LAN, quality of service, network design and other IP aspects. But White stresses that the skills required to implement convergence "are significantly more than standalone voice. The skills upgrade required in the voice reseller is a lot more than in data resellers".

And although the distributor is approaching the world of convergence from the datacoms perspective, White says the irony is that its value to the voice reseller is quite high as a consequence, because of its expertise in the IT side of things. And he claims it's already had positive noises from big resellers in the voice channel.

On the other side of the fence, Simon Longhurst, director of business development at Crane Telecommunications, argues it's not as easy for data resellers as they might think. For example, they need to get to grips with reliability. Customers might tolerate failures in e-mail and other data-related traffic, but not so with the phones. It's a point echoed by Paul Cunningham, ostensibly an advocate for the data channel, given his job as marketing director at Cisco distributor Comstor, but he is still far from certain it will be as easy as some in the IT world seem to think.

"The data guys don't have the experience of the service levels required," he says. "The voice guys we deal with are not small players at all. They have good relations with customers, excellent understanding of the applications area, and strong partnerships with people that go together to make the whole thing. If you've been supporting the telephone systems for banks, insurance companies and healthcare trusts for ten years, you build up a strong degree of trust and you're often looked to to provide the answer about what happens next."

And he believes that whether someone is a data or voice reseller is not going to be seen as a reason for a customer to prefer one over the other when it comes to choosing someone to deliver convergence. "People are still making their initial decisions about IPT in a relatively contained way [usually on a pilot basis]," Cunningham says. He argues that where customers are testing the viability of the technology, they like to go with people they know. "The user is making the pilot decision independently from the long-term view of convergence."

Longhurst believes voice applications and voice features, as well as the expectation of the user, can be a little more complicated than people realise. "There is a lot of deeper functionality in voice that I think data people need to get their heads around." And he stresses that "there are a number of voice-centric applications that voice resellers understand better. They're used to dealing with customers with expectations on issues like reliability."

Data resellers also face a number of other challenges. Chief among these is the fact that voice customers are "unused to paying for services". They also need to understand traditional PBX issues and to convince IT managers of their voice capabilities.

From the voice side, Longhurst identifies a number of issues which telecoms resellers need to address to make it in convergence. Number one on the list is margins. "Voice resellers are used to margins ranging from 30 points to, in some cases, the high 40s. Services revenue has to be maximised. The data people are a lot better at charging for their expertise and their time."

And it has ramifications for Crane too. "Our challenge is to get the products that sit in the middle [of that margin band], but also stay fairly stable as we give resellers 30 days' notice of price changes."

The voice resellers also need to understand how to handle connectivity to existing networks. "Voice resellers need to be capable of understanding the network and whether it is able to support IP telephony. That requires a lot of education in terms of IP network and data training," Longhurst admits.

Like their data rivals, voice resellers also need to gain credibility with IT managers. "Voice resellers are used to dealing with CEOs and CFOs, now they will have to deal a lot more with IT managers. They will need some convincing to put IP telephony on their precious networks. There will be resistance from IT managers to try to keep the networks separate and not to put voice on," he argues.

They also need to provide clearer business reasons for IP telephony: "Voice resellers have to be clear on this and a lot more skilled in talking about applications," Longhurst says. And when it comes to support, telecoms resellers need to provide voice and data technical sales and marketing support across both disciplines.

Unsurprisingly, Longhurst feels Crane is "ideally placed to help voice and data resellers through the convergence period with products, support and value-added services".

Cunningham provides an interesting perspective when he points to Cisco's experience. "Cisco will rightly claim that it has got 80 accredited resellers. But it's fair to say that probably only about 20 are actively engaged in frequently selling the whole range of solutions. The rest have experimented but not made the full transition. Of the 20 that have, you could cut them down the middle between voice and data."

Which suggests the advantage data resellers are expected to enjoy with the growing adoption of VoIP is not as pronounced as some would have us believe.

There are signs that some vendors are trying to get the two sides to work together. Earlier this year, Peter Finter, director of channel strategy and support at Nortel Networks, told MicroScope's sister title, Channel 2002, that it was trying to do just that. "Our partners want to help them to grow their business. We find that by introducing them to each other, both of these aims can be achieved, so we're working on setting out boundaries and frameworks so that companies can work together. We fully anticipate seeing partners translating between different types of partnership in the future."

The challenges facing voice reseller
Simon Longhurst, director of business development at Crane Telecommunications, lists five main challenges facing voice resellers:

Margins - voice resellers are used to margins of 30 points or more
Connectivity to existing networks - voice resellers need to be capable of understanding the network and whether it is capable of supporting IP telephony
Gaining credibility with IT managers - voice resellers are used to dealing with CEOs and CFOs, now they will have to deal a lot more with IT managers
Provide clearer business reasons for IP telephony - voice resellers have to be clear on this and a lot more skilled in talking about applications
Support - provide voice and data technical sales and marketing support across
both disciplines

Forecast for VoIP
Research from Frost & Sullivan published in May claimed the market for voice over Internet protocol (VoIP) in Emea was expected to grow significantly.

It estimated wholesale VoIP traffic in the Emea region could reach 57bn minutes by 2008 with about 1,771bn minutes of retail voice traffic originating in Emea having a VoIP component in some portion of the route.

"Initial growth will primarily be seen in international long-distance VoIP and VoIP wholesale, but gradual migration to entirely IP-based solutions at the enterprise sector will also drive the use of VoIP for domestic traffic," stated Elka Popova, industry analyst at Frost & Sullivan.

In Western Europe, incumbent providers were expected to lead the charge in widening VoIP deployment by exploiting the benefits of packet networks, converging voice and data services.

Frost & Sullivan was optimistic about the long-term growth prospects of IP-based voice services, but several challenges needed to be addressed to fully exploit emerging opportunities, including large installed bases of legacy networks, a slowdown in the use of broadband access networks and issues regarding equipment interoperability.