Commission for Rural Communities rolls out hosted mobile system for field staff
Countryside Agency replacement to provide remote mobile access
Countryside Agency replacement to provide remote mobile access
The Commission for Rural Communities, the replacement for the Countryside Agency, is deploying a hosted system that will give field staff mobile access to key applications.

Download this free guide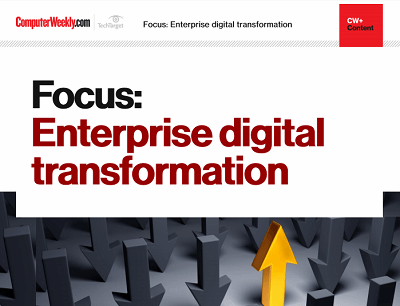 Are you digital to the transformation?
Digital transformation - the buzzword that we can't get away from. Enterprises need to accelerate their digital transformation journeys to avoid being left behind in an increasingly digital world. It's not an easy feat, but one that can be costly to get wrong. Join us as Computer Weekly takes a look at how businesses can stay on track through collaboration, innovation, and listening to user needs.
By submitting your personal information, you agree that TechTarget and its partners may contact you regarding relevant content, products and special offers.
You also agree that your personal information may be transferred and processed in the United States, and that you have read and agree to the Terms of Use and the Privacy Policy.
The commission, which will take over from the Countryside Agency on 1 October 2006, asked its outsourcing supplier, IBM, to carry out a return on investment study for the mobile deployment.
IBM organised a pilot study earlier this year, equipping 15 employees with mobile devices - Sony Ericsson mobile phones, HP iPaqs and Symbol PDAs. It found that each employee saved between four and 12 hours per week.
The commission has been set up to reduce "rural disadvantage" and provide rural communities with expert advice. Its staff will spend a considerable amount of their working week on the road and will also have to travel between the commission's two sites in Cheltenham and London.
Jonathan Ballinger, the Commission for Rural Communities' IT, finance and estates manager, said, "We are going with a Symbian-type device. They proved the most popular in the pilot." Initially 35 employees will be given the mobile devices.
Rather than equip staff with "push" e-mail products, such as Blackberry handhelds, the organisation chose a web-based hosted e-mail system from Sirenic that can be accessed via Wap.
Push e-mail uses a dedicated server to send incoming e-mails to handheld devices immediately. Sirenic's "pull" e-mail functionality requires users to access their e-mails through a browser.
At the commission, this will mean duplicating the contents of its Lotus Notes e-mail application on Sirenic's web pages.
Ballinger said, "You have access to your e-mail systems, your calendar and your tasks, a couple of news feeds and to our customer relationship management database."
The pull e-mail application can also send users SMS messages when it receives e-mails from addresses that are identified as high priority.
Ballinger said, "Sirenic was introduced to us through IBM as a cost-effective way to introduce mobile e-mail."
Read more on Operating systems software