Cold determination
Martin Couzins reports on the action at the second Computastars heat in York
This Article Covers
RELATED TOPICS
Martin Couzins reports on the action at the second Computastars heat in York
The Computastars roadshow rolled into Rydedale Stadium, York on Sunday 11 June.
Some 97 competitors representing 23 teams turned out to battle for a place in the UK final to be held in Hull in July.
The seven events, revealed to competitors on their arrival, were similar to the events in the Crawley heat, but with a few adjustments made by Computastars referee Gordon Cairns.

Download this free guide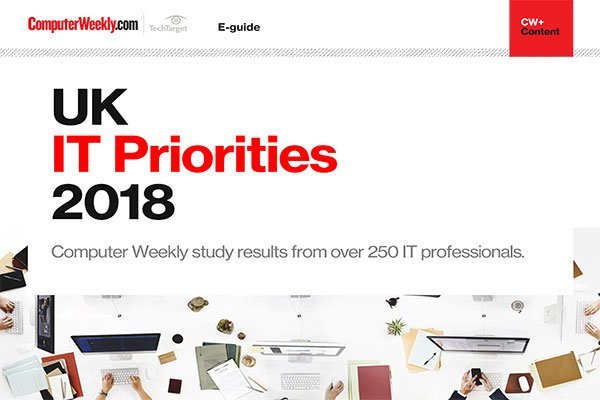 UK IT Priorities 2018 survey results
Download this e-guide to discover the results of our 2018 UK IT Priorities survey, where IT leaders shared with us what they are going to be investing in over the coming 12 months.
By submitting your personal information, you agree that TechTarget and its partners may contact you regarding relevant content, products and special offers.
You also agree that your personal information may be transferred and processed in the United States, and that you have read and agree to the Terms of Use and the Privacy Policy.
There was definitely an element of northern exposure as competitors battled it out in a strong, cold wind. The braver athletes knocked knees in shorts, while others donned woolly hats. Although not ideal conditions, Computer Sciences took top spot in the men's team event, winning by a 10-point margin over second placed PO GP IS & IT Vets. Cap Gemini were a further 11 points behind in third place.
In the women's event, Cap Gemini Redcar took the glory over second placed Halifax 2 and third placed Halifax 1. The gap between first and third place was a mere 11 points - an indication of how closely fought the heat had been.
Consistency over all seven events was the key to victory. The weightlifting caused problems for a lot of the competitors. Grip seemed to be an important issue, with one competitor commenting, "We should have put our hands in the sandpit to get some grip." That said, Computer Sciences in the men's and Cap Gemini Redcar in the women's event showed the most strength, managing to keep the weighted bar above the bench for the longest time, scoring valuable points.
The wind played havoc with the basketball event, in which competitors had to dribble a basketball to a hurdle before putting it down and throwing a golf ball into a net. For many, the wind carried the golf ball way beyond the basket. It also helped take one competitor crashing through the hurdle. Drama is never far away at Computastars.
As the step overs event got into its swing, competitors were treated to a fly past by the Red Arrows. But that didn't stop Cap Gemini and PO Business Systems hot stepping their way to top points in the men's event.
It was Sunday and the event was skiing, but that's where the similarities to Ski Sunday ended. For the ski run, teams had to take turns running with a pair of wooden skis that had been custom-built to fit three pairs of feet. This was followed by teams skiing the designated course.
In the men's event, Leisure Network SU probably would have scored more points had they spent more time skiing and less time posing for the cameras. And Cap Gemini just lost out to Halifax 1 following a tumble.
Despite shouts of, "Into a jog, start jogging come on" from their male counterparts, Lynx Financial Systems women's team foundered, while Halifax 2 skied into top points.
The final, gruelling event was the 400m steeplechase. Competitors ran their hearts out and attempted to jump for their lives to avoid the steeplechase's watery pit. Unfortunately, most of the runners got soaked, but their spirits were lifted as they came down the home straight by the loud and supportive crowd.
Computastars: York heat winners
| | | |
| --- | --- | --- |
| Men's team results | | Score |
| 1 | Computer Sciences | 248 |
| 2 | PO GP IS & IT Vets | 238 |
| 3 | Cap Gemini Redcar | 227 |
| 3 | PO Business Systems | 227 |
| 5 | Halifax 1 | 204 |
| Women's team results | | Score |
| 1 | Cap Gemini Redcar | 101 |
| 2 | Halifax 2 | 94 |
| 3 | Halifax 1 | 90 |
| 4 | Kingston Internet | 75 |
| 5 | Lynx Financial Systems | 60 |
| Men's individual results | | Score |
| 1 | Ian Murdie, Computer Sciences | 83 |
| 2 | Ian Ernshaw, Halifax Vets | 72 |
| 2 | Michael Gardner, Computer Sciences | 72 |
| 4 | Andy Holleran, PO GP IS & IT Vets | 66 |
| 4 | Graig Owen, Leisure Network SU | 66 |
| Women's individual results | | Score |
| 1 | Jen Milsom, Cap Gemini Redcar | 39 |
| 2 | Sue Stredwick, Cap Gemini Redcar | 31 |
| 2 | Gail Hall, Cap Gemini Redcar | 31 |
| 4 | Emma Bates, Halifax 2 | 29 |
| 5 | Soma Ray, Halifax 1 | 27 |
Read more on Data centre hardware