Case Study: Winterm 2315SE Windows-based terminals
Upgrading multiple systems is expensive for any business. For FedEx, thin clients were the answer
Upgrading multiple systems is expensive for any business. For FedEx, thin clients were the answer
Thin-client/server computing is not a revolutionary approach. Its recent popularity owes much to the origin of dumb terminals of the 1970s. Where it improves over its monochrome and green forefathers is in the marriage of a Windows graphical interface with low cost hardware and smart networking protocols.

Download this free guide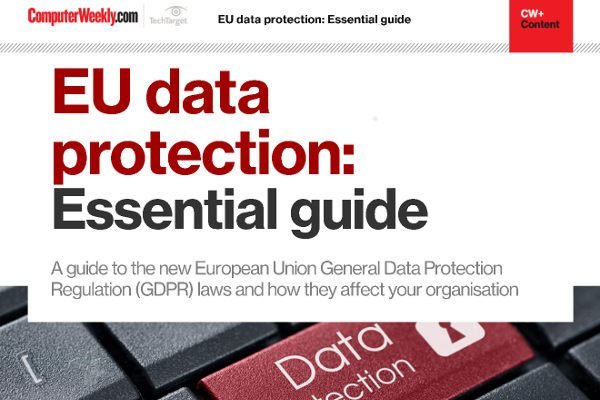 D-Day: 25 May 2018
Prepare your organisation for GDPR: Find out the key actions to take and discover the challenges as well as opportunities
By submitting your personal information, you agree that TechTarget and its partners may contact you regarding relevant content, products and special offers.
You also agree that your personal information may be transferred and processed in the United States, and that you have read and agree to the Terms of Use and the Privacy Policy.

Thin clients are beginning to be seen by large enterprises as a viable alternative to clusters of desktop PCs attached to the company network infrastructure. FedEx is the world's largest express distribution company. It delivers three million packages every day as well as processing over 58 million electronic transmissions. FedEx previously maintained a mainframe computing system with over 3000 text-based terminals. As this system became outdated, FedEx began to consider implementing a distributed client/server solution. FedEx required a solution that would allow rapid deployment of strategic tools for mission-critical operations, respond quickly to changing business requirements, prompt response to performance and capacity issues and eliminate single points of failure. Thin client manufactures emphasise the reduced cost of ownership and ease of deployment as a thin client's biggest advantage. Ancel Hankins, a FedEx desktop engineer says: "Fat clients were not only costing us a lot of money to buy and maintain, they were outdated as soon as they came out of the box." When installing a worldwide network of PCs proved to be prohibitively expensive, FedEx approached Wyse to devise a solution using its Winterm 2315SE Windows-based terminals. These WYSE thin clients combine TN3270 terminal emulation with Windows and Java-based applications. The Winterm model 2315SE is a low cost, modular terminal for users who have limited space. These thin clients have a tiny footprint and can be wall mounted, making them ideal in high-traffic areas such as retail POS and reservations desks. In the home office, they can access remote servers using standard modems. The Winterm 2315SE also comes with fully integrated 16-bit stereo sound capability. FedEx began its installation process by upgrading to a high-speed Frame Relay network. It then set up centralised data centres that housed clusters of Windows NT 4.0 Terminal Server Edition systems; these provide fast access to Windows-based applications. The Windows NT 4.0 Terminal Server consists of four systems: the Windows NT Server multi-user core, the Remote Display Protocol, the Windows-based client software and system administration tools. The multi-user server core provides the ability to host multiple, simultaneous client sessions on Windows NT Server 4.0. Standard Windows-based applications, if properly written, do not need modification to run on the terminal server and all standard Windows NT-based management infrastructure and technologies can be used to manage the client desktops. In this way, corporations like FedEx can take advantage of the rich choice of applications and tools offered in today's Windows-based environment. A key component of the overall solution is the Remote Display Protocol (RDP). This allows a client to communicate with the terminal server over the network. This protocol is based on International Telecommunications Union's (ITU) T.120 protocol, an international conferencing protocol used first in Microsoft NetMeeting conferencing software. RDP is a multichannel protocol tuned for high-bandwidth enterprise environments and also supports three levels of encryption. Several NT 4.0 Server administration tools are used to help manage the network, including Terminal Server License Manager and Terminal Server Client Creator. FedEx also have provision for future integration of its system into non-Windows environments with MetaFrame. Metaframe extends Windows NT Terminal Server 4.0 with additional client and server functionality. While Windows NT 4.0 uses proprietary protocols that only allow Window clients to access applications, MetaFrame provides support for multiple clients and open protocols such as ICA. MetaFrame includes support for heterogeneous environments, enterprise-scale management and desktop integration, while also providing improved management, access, performance and security for business applications. FedEx also took advantage of the built-in security features of the thin client hardware and terminal software. Current data encryption ranges from low level 40-bit data encryption up to 128-bit heavy encryption. The security requirements are all controlled from central administration and can be varied when and if necessary. Centralising corporate information in this way allows the system to be managed by a single, specially trained team of experts. To date, nearly 1,000 Winterm thin clients have been deployed, with a further 5000 being deployed before spring 2000 . The limited roll out of the system will be replaced with an extensive deployment of thin client technology, eventually replacing all text-based terminals and Desktop PCs in the company. "The feedback has been very good," says Jeff Crawley, manager of the Global Resource for Information Decentralization (GRID) Program. "Now we can control the desktop and give employees the tools that they need. Our biggest challenge is to meet demand from the field offices." The choice of thin client has offered many unexpected benefits to FedEx including a more reliable Year 2000 audit procedure and faster installation of new users onto the system. The support for Java also means that future applications can be created independently of individual hardware requirements and distributed across the entire network with ease. Compiled by Rachel Hodgkins ( Wyse Technologies 1
E-Handbook

E-Handbook

E-Zine
Read more on IT for small and medium-sized enterprises (SME)