Case Study: How to lower IT support for non-core systems
IT departments often spend a significant amount of time looking after non-core IT equipment. Is there a better way? Jenny Williams investigates how to reduce the time spent on maintaining meeting-room technology.
IT departments often spend a significant amount of time looking after non-core IT equipment. Is there a better way? Jenny Williams investigates how to reduce the time spent on maintaining meeting-room technology.

Download this free guide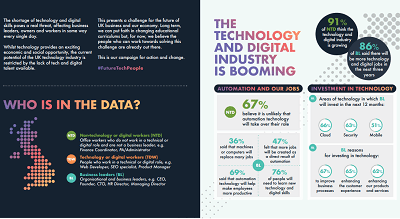 Infographic: Future-proofing UK technology
The shortage of technology and digital skills poses a real threat, affecting business leaders, owners and workers in some way every single day. Whilst technology provides an exciting economic and social opportunity, the current potential of the UK technology industry is restricted by the lack of tech and digital talent available. This presents a challenge for the future of UK business and our economy. Long term, we can put faith in changing educational curriculum but, for now, we believe the people who can work towards solving this challenge are already out there.
By submitting your personal information, you agree that TechTarget and its partners may contact you regarding relevant content, products and special offers.
You also agree that your personal information may be transferred and processed in the United States, and that you have read and agree to the Terms of Use and the Privacy Policy.
Energy and environmental efficiency services company, Cofely-GDF Suez, has slashed meeting room technology support by up to 70% through end-user training and using low-maintenance equipment.
Cofely-GDF Suez's UK IT manager, Daniel Laurenson, has replaced meeting room projectors with Casio Green Slim models, which claim lower maintenance costs due to long lamp life and lack of air filters. When the filter blocks or lamp expires on normal projects, IT people are often called to fix the projector, which is not the best use of their time.
A study by research company Dynamic Markets has reports that large UK businesses are spending over £103m a year maintaining meeting room technology. The study, conducted on behalf of Casio, also found one month per year of an IT manager's time was being lost due to basic meeting room support.
"With telecoms, data networking, projectors and large screen displays, meeting room equipment is difficult to maintain," says Laurenson. "It's a big distraction and one that shouldn't really be there. I have a busy schedule and am moved away from my core objectives of supporting infrastructure, project delivery and maintaining networks and servers."
Laurenson and his team of 30 IT support staff have to manage IT for 2,700 staff across 23 sites and 34 meeting rooms. In the last year approximately 336 hours of the IT department's time was spent addressing problems with meeting rooms, he says. This equates to 29% of his second-line IT support team's daily working time and costs around £5,280 per year in man-hours.
"No matter how far you go there will always be support requests from meeting rooms but it's about bringing support costs down to a manageable level through simplification and standardisation of hardware. By doing this effectively I believe it is possible to reduce the number of meeting room technology support requests by up to 70%."
Common problems
In spite of having to manage IT across the whole company, Laurenson often deals with meeting room technology. "I'm involved in meeting room issues about twice a week."
He says: "The most common problem for IT managers is when users do not know how to use the equipment. They go into a meeting room and try to hook up a projector without telling us. That's when I'll get a knock on my door. Sometimes it's a simple fix but users often make the situation worse by not asking for help in the first instance."
According to the Casio research, 62% of all meeting room technology problems are caused by users being impatient and attempting self-service.
Reactive over pre-emptive
Products with a short shelf life increase cost and frustration. "Time pressures are too great to do pre-emptive maintenance, such as changing projector filters," says Laurenson, "We don't want to spend time maintaining devices."
Laurenson has introduced a fleet of projectors to ensure the devices can support the users' workload. He's also trialling Casio Green Slim projectors, which do not have filters to clean or lamps to replace and so have minimal general maintenance. "To mitigate call-outs resulting from this problem, it is really important to standardise and simplify meeting room hardware as far as possible," he says.
Casio research on meeting room IT maintenance >>
Cofely-GDF Suez's UK IT manager, Daniel Laurenson, explains how to avoid meeting room meltdown
Planning
"Know your user volumes. Know how many people and how often a meeting room is used. When you're setting out your meeting rooms, make sure your equipment is of the right spec to the support users' needs. You also need enough facilities and the infrastructure to support the equipment."
Equipment
"The reality is that IT managers are bogged down far too often supporting projector equipment. When buying new equipment, try to ensure the IT tools are simple as possible to reduce the risk of complications. Users should be involved and key decision-makers; your business needs to be happy with the tools available to them."
Education
"Education is a tough part of IT. IT can be complicated and users not communicating requirements before meetings is a big bug bear of mine. Things are getting better and manufacturers are making equipment easier to use. But it's a tough battle with some of the older technology. The only option is to provide some kind of education and communicate with users."