Can BA slash £45m from its IT budget and keep on flying?
Paul Coby has the task of trying to make IT savings of £45m for "the world's favourite airline". Julia Vowler finds out how he...

Download this free guide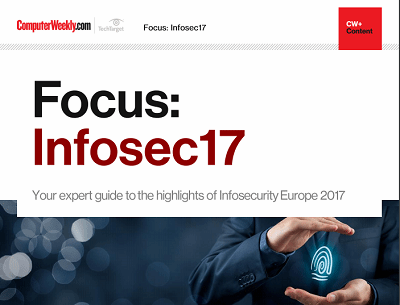 From forensic cyber to encryption: InfoSec17
Security technologist Bruce Schneier's insights and warnings around the regulation of IoT security and forensic cyber psychologist Mary Aiken's comments around the tensions between encryption and state security were the top highlights of the keynote presentations at Infosecurity Europe 2017 in London.

By submitting your personal information, you agree that TechTarget and its partners may contact you regarding relevant content, products and special offers.

You also agree that your personal information may be transferred and processed in the United States, and that you have read and agree to the Terms of Use and the Privacy Policy.

Paul Coby has the task of trying to make IT savings of £45m for "the world's favourite airline". Julia Vowler finds out how he intends to do it without compromising services or demoralising his staff



Although Paul Coby, chief information officer at British Airways, is not alone in having to cut IT costs, there are lessons in the way he is tackling the formidable task of saving £45m - about 20% of BA's IT spend - over the next 18 months.

His key advantage, he says, is that IT is critical to BA, as outlined in the recent "Future Size and Shape" strategy set out by chief executive Rod Eddington.

"IT is at the centre of our business," says Coby, who is on Eddington's chief executive's leadership team. "It is essential to be at that level. Rod has made it clear that IT is part of BA's operational service, along with engineering and flight operations."

With such senior recognition, Coby is able to make major changes, though he is not neglecting cost-savings, large or small, at any level.

"We've found that if you have a crusade you will find some nonsenses, such as underutilised memory or too many printers," says Coby.

Consolidation is another favourite, and BA is streamlining to fewer technology platforms, such as Unix or NT, and reducing the number of suppliers.

The biggest change Coby has made so far is to move BA's computer reservation system off the 30-year old "Babs" system to a third party, Amadeus. This involved migrating 1,500 Gbytes of data about 2.5 million customers, retraining 11,000 users, and a Saturday night go-live last month which shut down nearly 50,000 terminals and 200 system links for four hours.

"The impetus was cost improvement," says Coby. "We have moved from something that had a fixed and growing cost (Babs) to one that is based on per-passenger order charging."

BA's computer reservation costs will now track sales - fewer passengers will mean lower computer reservation costs.

The migration shows that Coby is focusing on business value. IT uniqueness may not contribute to that. Amadeus runs the computer reservation system for 120 airlines, but Coby is content to have the same system as his rivals. "These sorts of systems are community systems," he says. "We will happily share them."

With more users to pay for development, shared systems can be technically better, as well as cheaper per user. "We had 100 developers for Babs - Amadeus has 400," says Coby. "It's self-evident we couldn't keep up."

The business value will come from what use BA makes of the data to increase the efficiency of customer interaction, says Coby.

The migration also shows Coby's determination to move away from BA's traditional DIY culture in IT. "[Our IT] used to be a classic case of early investment, a lot of customisation, and building new systems before finishing the old ones off." Now, Coby rigorously applies Eddington's watchword - "simplification".

"My key criterion for every new project is, 'Will it simplify things?' Any project can make a business case individually, but we have to look at the whole," says Coby.

As with all major change programmes, especially when times are tough, communication is essential. Coby encourages staff to report if they are not kept well-enough informed.

"Our IT staff have a very acute understanding of the airline business - the questions they ask are very well honed," he says.

He also puts a high priority on valuing staff doing the "day jobs", when they are not implementing change programmes but keeping BA's planes in the air. "Business as usual cannot be ignored, even in turbulent times.

"Our first task is to run operations efficiently and effectively. I hope I've got over to them how I value our 24x7 guys," says Coby.

Does it help his aims that staff understand that BA is in a tough spot?

"Everyone is worried and concerned, as we ought to be, but there's really good spirit and determination throughout the airline," says Coby.

Is there more of a "can do" culture now? "Yes, very much so," he says. "We've had no opposition [to our cuts] and we get everyone thinking [how to make savings]. It's our future."

This is despite the fact that IT will have to take its share of the head-count pain. "We're taking the equivalent of a third out of our manpower," says Coby, though he wants that to be through voluntary redundancies. But already, "Nearly all the contractors have gone, and there are heavy cuts on overtime," he says.

Despite cuts, "We're not planning to outsource, but we do want to work closely in partnership with organisations such as Amadeus and IBM, to get their know-how."

BA is working with Amadeus to develop a new generation inventory and departure control system.

"There's no chance we could use our own scarce investment [to develop these in-house]," says Coby. As ever, it comes down to focusing on leveraging the business value of IT, rather than IT for its own sake.

Coby knows he is piloting a long-haul IT voyage with a lot of turbulence ahead, shared with the rest of BA. Determination and optimism have to be sustained over a long period, which in itself is a major management challenge - starting at the top.

"We were in crisis management for two months after 11 September," Coby says. "Now we're in recovery mode."

How to cut costs and maintain services

Be prepared to tackle big issues and make significant changes


Recognise that an IT department is about people and there is no substitute for continual and effective communication


Recognise that you inherit both the good and the bad in legacy systems, and drive for standardisation and simplification - but accept that you cannot achieve it overnight


The most important success factor is to get on and stay on the business agenda - you must promote the recognition that IT serves business needs


Do not neglect "business as usual". You need to be able to demonstrate to your board that you are as cost-effective as they think your peers are - and educate them if their assumptions on that are wrong.
Read more on IT risk management