Caldera® Volution™ - Managing Linux for the enterprise
With Linux-usage on the increase, Butler Group looks at how Caldera International plans to repackage Linux in order to bring it...


Download this free guide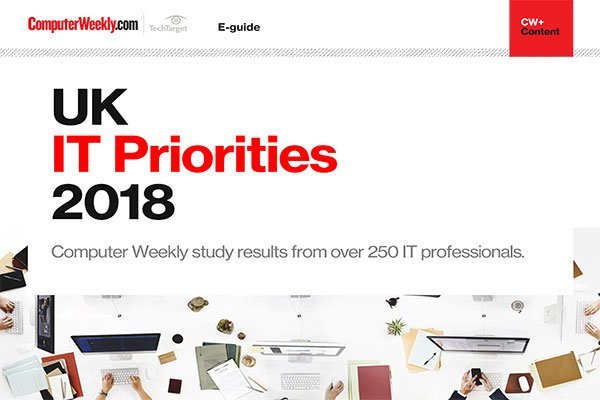 UK IT Priorities 2018 survey results
Download this e-guide to discover the results of our 2018 UK IT Priorities survey, where IT leaders shared with us what they are going to be investing in over the coming 12 months.

By submitting your personal information, you agree that TechTarget and its partners may contact you regarding relevant content, products and special offers.

You also agree that your personal information may be transferred and processed in the United States, and that you have read and agree to the Terms of Use and the Privacy Policy.

With Linux-usage on the increase, Butler Group looks at how Caldera International plans to repackage Linux in order to bring it more in line with business needs



The use of Linux is evolving and the nature of the way the platform is presented by distributors is changing. Its growth in popularity as a reliable and robust operating system for Internet applications has been spectacular and Survey.com reports that Linux is in use in 72% of enterprise businesses throughout the world. Major hardware suppliers are now bundling Linux with their products and all major independent software vendors (ISVs) have announced their Linux strategies.

Rapid growth brings with it the problems of management. Linux platforms can be deployed in many ways. They can be workstations or servers. Servers can be configured as Web servers, database servers, firewalls, routers, e-commerce- or application servers. Linux systems can be located in a Local Area Network (LAN) or spread throughout the world connected through Virtual Private Networks (VPNs) or the Internet.

A company at the forefront of packaging Linux for business is Caldera. It recently completed its acquisition of the Santa Cruz Operation (SCO) server software and professional services divisions.

Caldera's professional services division should add impetus to the wider adoption of Linux and provide Caldera with a competitive advantage over some of its rivals in the Linux market. When making its decision on the acquisition of the SCO divisions, the fact that 80% of the SCO UNIX-installed base was interested in the deployment of Linux must have convinced Caldera of the opportunities
Caldera Volution solves the challenges faced by system administrators in providing options to reduce the management necessary or simplify the management process

Source: Butler Group
that would exist for the expanded organisation.

Caldera International will supply unified UNIX and Linux products on Intel architecture with global sales, services, support and training to enterprises of all sizes. It is committed to open standards and its forthcoming release of Open UNIX 8 will incorporate the Linux Kernel Personality (LKP) technology. This will enable Linux application software to be deployed on top of the powerful and highly scalable UNIX kernel. The Linux applications
Caldera Volution will be welcomed by those who wish to see Linux develop into an enterprise-class platform

Source: Butler Group
will run without modification or recompilation in this environment.

It is Caldera's strategy to unify UNIX with Linux for business. The new company continues with the same three-pronged strategy that Caldera has adopted over the past year:

Develop On, which includes development tools, professional services and a desktop/workstation product targeted at developers, OEMs, and Value Added Resellers (VARs)



Deploy On comprising Open UNIX 8, eServer, Open Server, and clustering solutions



Manage, which currently comprises Caldera Volution. The company intends to broaden its offerings through development and possibly acquisition.


Caldera® Volution™
The growing maturity of the Linux platform brings challenges to management. How can a collection of dispersed and variously configured systems be managed efficiently? The fact that comprehensive management solutions have not been available has meant that enterprises have not adopted Linux on a larger scale.

Caldera believes that its remote management product, Caldera Volution, is the solution that enterprises and service providers are looking for. It is a Linux management product that enables secure, remote management of multiple Linux systems through a browser. By the utilisation of management profiles and policies, workstations and servers can be managed with minimal effort and resources.

System administrators are able to use Caldera Volution to carry out the supervision of hardware and software inventory, software distribution, the health monitoring of systems, and printer configuration. These tasks are carried out through a Web-based interface, so only a simple Internet browser is required:

Hardware Inventory containing details of all elements in the network including drives, video cards, network cards, etc



Software Inventory consisting of details of applications and utilities for all Linux systems



Software Distribution performs the distribution, configuration and installation of software for individual systems, a group of systems, or for the whole systems population



Health Monitoring of single or multiple system processes, which includes applications being run, memory and CPU utilisation, amount of free disk space and memory, number of current users. The administrator sets thresholds for each function and when they are crossed Volution sends proactive alerts (SNMP or SMTP) notifying the administrator of potential problems.



Printer Configuration involves the synchronisation of printcap files on any Linux system.


Volution uses common Internet protocols to distribute alerts and send messages. It can be integrated easily, therefore, with other applications that are standards-based. Administrators are able to use policies to manage all Linux systems on the network or the Internet, without having to monitor each individual system.

It is a comprehensive management solution that reduces the costs involved in the implementation and management of Linux systems, not only in sole Linux environments but also in heterogeneous infrastructures. System administration does not require the same skill levels and fewer people are needed to manage and maintain larger numbers of systems.

Caldera Volution monitors systems at a component level; therefore problems can be detected and corrected before they impact on the service. This results in the higher availability of applications to the enterprise, its partners, and its customers. Security is enhanced and the Total Cost of Ownership (TCO) is further reduced through making the deployment and management of Linux easier. The complex tasks of new installations, system upgrades, software distribution, and print management are simplified by Volution.

Management solutions
Caldera Volution solves the challenges faced by system administrators in providing options to reduce the management necessary or simplify the management process and therefore reduce the costs associated with Linux system deployment.

In order to identify the relationships between servers and workstations, and how they are configured, Volution uses a directory. This describes how the Linux system is identified by other systems and network resources. A directory, such as Netscape iPlanet, Novell eDirectory, or OpenLDAP, establishes a relative identity for a system that can be defined as a peer, a parent, or a child.

These relationships are extremely important in defining how systems interact, one with another. They allow a system's characteristics to be inherited by profiles, policies, or actions created higher up in the directory hierarchy. This means that all systems are uniquely identified by their relative position in the directory and are affected (changed or configured) through directly related or inherited profiles, policies, or actions.

As an example, a profile could be developed for a standard system configuration that includes commonly used software applications and system settings. Systems in the same group, or systems that are subordinate to where the profile has been assigned, would inherit the same profile. All Web servers that are part of a load-balancing server group could be automatically configured through a master Web server profile. Caldera Volution would ensure that all Web servers in the group were running the same version of an application and had the same configuration settings.

The Volution system searches for installed hardware and software components and then logs their details. It identifies memory, disk space, video cards, network adapters and other hardware components, together with software applications to create a detailed and accurate profile of any Linux machine. The hardware and software inventories used in conjunction with the directory, enable Volution to identify the entire Linux infrastructure so that administrators can manage the whole system simply, from anywhere, through a browser.

The configuration of a system means that software utilities, software applications, and files have to be installed or removed. The manual method of carrying out this process on every machine in the infrastructure is labour intensive and boring. It is this tedium that leads to silly mistakes being made, which can turn out to be very expensive. Volution's software distribution facilities enable applications to be installed remotely. It uses RPM Package Manager to automatically install or remove any Linux application on any managed system.

Constant change dictates that system configurations do not remain in their original form. Monitoring systems on a regular basis to a baseline profile is essential and Volution performs periodic inventories and compares them with the baseline information. Changes are logged and dependent on the policies in force, alerts and/or messages can be sent to notify that changes have been made.

The Linux market
Caldera has aimed its Volution management product at a broad market. It is designed to work with all major Linux distributions, including servers and desktops. It can bring benefits to small enterprises with 10 Linux systems as well as to very large companies, Internet Service Providers (ISPs), and Application Service Providers (ASPs).

In small businesses, integrators or administrators can monitor and configure servers and workstations remotely. Large enterprises can manage workstations, configure server farms, and monitor Web and e-commerce systems. ASPs are able to manage their application services and the access to their services by utilising Volution's monitoring and directory facilities.

ISPs can manage their Web servers, their e-mail servers, their news servers, and their database servers through using established profiles for each type of server. They can also monitor their systems for potential malfunctions or outages and therefore prevent them having an impact on their customers. Value Added Resellers (VARs) can utilise Volution for the configuration of systems and for the remote monitoring and management of systems.

Global organisations can manage from any point, through a browser, their geographically dispersed facilities in branch offices. Caldera is also shipping Volution in nine additional languages, including Chinese, both simplified and traditional, French, Italian, German, Spanish, Japanese, Korean, and Portuguese.

Enterprise class management
Caldera Volution brings enterprise class control to Linux populations of servers and workstations. Through the centralised management of multiple systems in diverse locations, significant savings can be made in the cost of ownership. This is increasingly relevant as more and more enterprises look to the global market as their operating environment. The number of people required with scarce and expensive skills, possibly sited in remote locations, is reduced.

Single machines, or groups of machines based locally and remote, can be configured and modified centrally with a simple operation that reduces the likelihood of human error. Policies for printing can be managed centrally so that printing is made simpler for the end-user and the management is made easier for the system administrator.

The monitoring of systems identifies potential problems through alerts. This enables preventative maintenance to be carried out on the offending elements and results in a higher level of system uptime. Volution can use security profiles to maintain and monitor a list of applications that could lead to serious security leaks. It can also be used to check machine configurations against a baseline security configuration to identify offending applications or scripts.

This is Caldera's initial version of its Volution product. It is shipped with a default data store and secure Web server and is ready to use out-of-the-box. Through its standards-based architecture it can interoperate with other management products. It is Caldera's intention to add to Volution's facilities in the future as part of its strategy to combine UNIX and Linux for business.

Butler Group believes that Caldera Volution will be welcomed by those who wish to see Linux develop into an enterprise-class platform. All sizes of enterprise, ISPs, ASPs, and VARs can benefit from the centralised control, and the more effective support that Volution can provide.

Vendor profile
Caldera, was founded in 1994 by Ransom Love and Bryan Sparks and in 1998, Caldera Systems (Nasdaq:CALD), was formed to develop Linux-based business solutions. In March 2001, Caldera acquired the assets of the server software division and the professional services division of the Santa Cruz Operation (SCO) (Nasdaq:SCOC), and a new company, Caldera International, was formed. It is based in Orem, Utah and the company has offices and resellers throughout the world.

Further information:
Caldera International: www.caldera.com.

About Butler Group Research and Advisory Services
This paper is reproduced from Butler Group's Research and Advisory Services. For more information on this and other technology focused services, contact Mike James on +44(0) 1482 586149, e-mail: mike.james@butlergroup.com or visit www.butlergroup.com/company/products.asp
Read more on Open source software