An URL in every portal
Latest e-business fashion demands everyone must have a portal. The stylish Frank Booty assesses this latest fashion.
This Article Covers
RELATED TOPICS

Download this free guide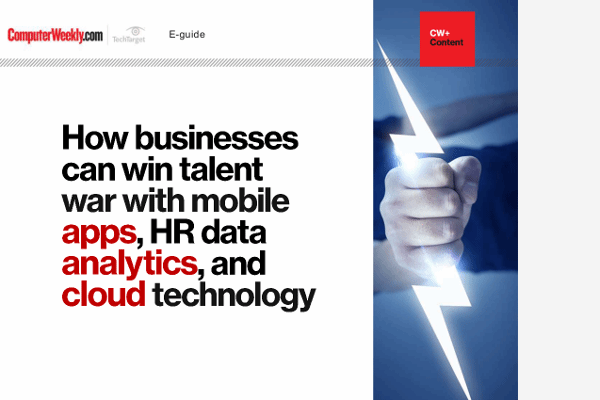 How businesses can win talent war with mobile apps, HR data analytics and cloud technology
Latest articles on HR best practices: mobile apps disrupting the annual staff appraisals; reasons for and against open-source software; and Rolls-Royce case study.
By submitting your email address, you agree to receive emails regarding relevant topic offers from TechTarget and its partners. You can withdraw your consent at any time. Contact TechTarget at 275 Grove Street, Newton, MA.
You also agree that your personal information may be transferred and processed in the United States, and that you have read and agree to the Terms of Use and the Privacy Policy.

Latest e-business fashion demands everyone must have a portal. The stylish Frank Booty assesses this latest fashion.



Portals come in two flavours - corporate and consumer. The focus here is on the former and the advantages they bring to organisations. Examples of the latter include Terra Lycos, Wanadoo, T-Online, Yahoo!, MSN and AOL.

A summer survey by European analyst Butler Group of those suppliers considered first for portal implementation of blue-chip companies who'd just purchased, or were evaluating portal software, put Plumtree as the most favoured corporate portal supplier. The list of suppliers included heavyweights Autonomy, Business Objects, Computer Associates, Hummingbird, IBM, Microsoft, Oracle and SAP - plus the maybe not-so-well-known CoreChange and Active Intranet.

The major reasons corporates are deploying portals are to distribute information more effectively and to encourage collaborative working. Fine, but what exactly is a portal? A corporate portal is a web portal similar to consumer portals found on the internet, but for corporate information and applications. On a single personalised Web page, employees, partners and customers can see all the information relevant to their work, and all the productivity tools and e-business services they use every day. Consequently, corporate portal users are more productive, and management has a consistent way to keep everyone informed about new products and strategies.

Defining characteristics of a corporate portal cover the crucial issues of comprehensiveness, scalability, completeness, and personalisation. Hummingbird's enterprise solutions strategist Gareth Metyard maintains many variations of enterprise information portals (EIPs) exist on the market. 'There are eight building blocks comprising the complete EIP solution,' said Matyard. 'These are single logon, unified search, personalisation, application integration, collaboration, security, scalability and openness.'

Many companies, particularly in the small-to-medium size sector, can be put off deploying portals through ignorance or concern over costs, often perceived as 'unaffordable'.

The costs
Plumtree European md, Charlie Abrahams, said: 'There are many components to a portal. The software itself costs about £250 per user. Then there are hardware costs, implementation services and work from the customer to define their requirements. The total is three to five times the software cost per user. Costs also depend on sophistication - there is a great deal of complexity in our portal for Ford for example.'

The company completed the my.ford.com portal for 200,000 global staff this summer. Estimates show that with employees saving just four minutes search time per week, Ford can save up to $7m annually. Butler's analysis showed 70 per cent of surveyed companies had, or were implementing, a portal.

'It's possible to start with a thin portal, capturing news or stuff from the internet,' said Abrahams. 'Big companies often start with a thin layer including e-mail, news from the internet and messages from the ceo. This is added to with human resources, training and SAP, for example.'

There's no client-side software and no physical installation on users' PCs. Changes are made at the server, which subsequently apply to all end users. If a company is implementing complex technology - customer relationship management (CRM) or enterprise resource planning (ERP), small parts can be selected and made available to the whole population. Deploying client-server to hundreds/thousands of people is expensive. The solution is to pop a small part into a portal layer.

Plumtree's extensible portal platform organises links to different types of corporate documents in a Web directory, and assembles applications and internet services from different systems in a personalised Web page. Services from other systems are embedded in the platform using plug-in components called portal gadgets, which can be developed in many programming environments on different platforms. Many gadgets have been developed by the company and partners, integrating them into the portal application services and content from such suppliers as Business Objects, Documentum, IBM, Microsoft, SAP, and Siebel Systems.

As well as Ford, Plumtree customers include Procter & Gamble, Motorola, BP, Chevron, Staples, and BT Ignite.

Dethroning
According to Active Intranet's chief technology officer Steve Brown: 'Portals have the opportunity of dethroning Microsoft as owner of the desktop, as the industry moves from an application-centric Windows interface into a workspace-centric portal interface paradigm.'

Brown said the future of information access lies in portal functionality, citing analyst Ovum's findings that workspace portals are the interface to IT systems users have always wanted. Workspace portals 'go beyond corporate enterprise portals and specific knowledge portals to provide integrated access to all the key information resources a user might need.'

Active Intranet's response has been to offer an integrated portal solution that presents users with all the information required to carry out their jobs, covering personalisation, collaboration, infrastructure, content management and advanced knowledge management. From a standard browser interface, users can execute tasks without having to go to the IT department or develop special tools.

One company choosing the Active Intranet philosophy was speciality chemicals supplier Croda International which implemented a global portal solution, capable of being accessed and updated by staff in all 30 operating countries. Customers, partners and suppliers also get access, which has improved supply chain management. Other customers include Scottish Power, Invensys, Cussons International, Cambridge University, Salford University and Liverpool Victoria Friendly Society. While keen to fly the flag for all things portal, Brown pointed out they still don't solve the mounting problem of 'global infoglut'. 'This is where 2nd generation knowledge management technology comes in, focusing beyond smart search and delivery, on the full knowledge life cycle,' said Brown. Without getting bogged down in Brown's talk of 're-contextualisation' suffice it to say that by harnessing this 2nd generation stuff we're expected to be able to produce smart portals that make better use of how we think, learn and work to make better decisions faster. OK?

Now, what about DIY? Attachmate's business development executive Kevin Brown reckons that rather than employing a provider of portals, companies can benefit by creating a portal internally through web-to-host software. This way, there's less jeopardy with regard to security of sensitive information, in-house control, and updating information is much easier. Of course it won't suit everyone, but it is an option.

Portals in action

Summer saw the Highways Agency (executive agency of the Department of Transport Local Government Regions - DTLR) select Plumtree's corporate portal to give its 2,500 users distributed access across 11 agency sites and partners' offices, as well as users working from home. Known internally as the HA Intranet, the portal provides a single desktop to real-time traffic management data and enterprise applications, and is part of the agency's 3Net initiative. Under this scheme, the intranet, extranet and internet sites are being integrated into a single consistent and up-to-date information source for members of staff and other authorised users. The 'substantial value' contract also includes the input of Web cam pictures to the portal.



Carlsberg Sweden AB has transformed customer service levels at its Pripps-branded business by implementing a web based business-to-employee portal to create an integrated supply chain in which information is seamless and transparent to everyone in the organisation. Supplied by Intentia, the portal is the interface between Pripps' enterprise, sales, CRM and logistics systems - and it's being used at the Stockholm telesales centre where a 50-strong team handles 18,000 regular customers monthly (over 700,000 orders representing 550 million litres of beer and non-alcoholic beverages). Pripps' project manager Jan Ulrich says: 'Before the portal, we kept manual records and had difficulty keeping them accurate and up-to-date. Portal technology has enabled us to reorganise our infrastructure, create new operating procedures and introduce new levels of customer service.' Now obtainable are customer buying patterns, how often 100 per cent order fulfilment is achieved, etc.



Butler Group is hosting a conference and exhibition on corporate portals in London 21-22 November 2001, cost £895. More at www.butlergroup.com
Read more on Business applications