AIX users unruffled by SCO lawsuit
Users of AIX, IBM's version of Unix, say the company's dispute with SCO is having little impact on their AIX purchasing plans,...
Users of AIX, IBM's version of Unix, say the company's dispute with SCO is having little impact on their AIX purchasing plans, despite SCO's declaration that merely using AIX is now an infringement of its rights.

Download this free guide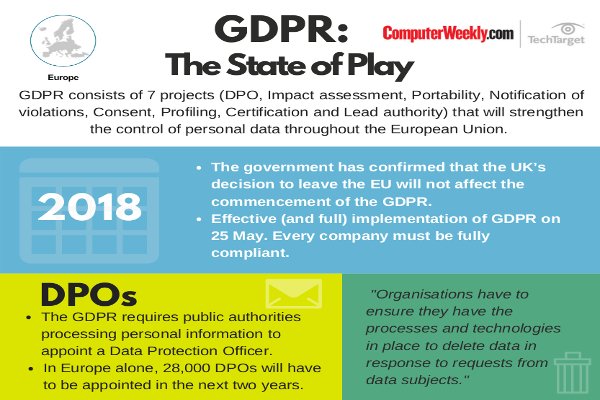 Infographic: GDPR - The State of Play
Get the latest information on how GDPR is going to affect your business and how to avoid any unwanted fines with this simple infographic.
By submitting your personal information, you agree that TechTarget and its partners may contact you regarding relevant content, products and special offers.
You also agree that your personal information may be transferred and processed in the United States, and that you have read and agree to the Terms of Use and the Privacy Policy.
SCO filed suit with IBM in March, claiming it had destroyed the economic value of Unix by contributing work derived from SCO's Unix software to the Linux community.
Customers unconcerned
AIX customers, however, seemed unconcerned. "It's not my fight. It's IBM's fight with SCO," said Jason Katz, the chief executive of PalTalk.com, an instant messaging service that uses IBM's pSeries servers running AIX to run its messaging infrastructure.
Katz plans to purchase more servers running AIX from IBM and said that SCO's decision to revoke the AIX licence is unlikely to change things. "I don't see it really impacting me either way," he said.
Another user was similarly unconcerned. "At the end of the day, I'm not sure if people really consider what SCO says to have any merit," said Dan Raju, an AIX user with a large US retailer.
The lawsuit has had no impact on his company's AIX purchasing plans, Raju said.
Jeffrey Neuburger, a technology lawyer following the case, said, "I don't think there's any reason for them to be panicking.
"The strength of SCO's claims are questionable in the first place. Even in the unlikely event that the claims were successful, I don't think that the users would ultimately have any liability," he said.
Indemnity
IBM has stopped short of saying that it will indemnify customers for any liability that they might have in this dispute, but the company has made it clear that does not believe they should be concerned.
"We are going to stand by our customers in every possible way, as we have all along," an IBM spokeswoman said.
SCO was seeking more than $1bn (£600m) in damages for misappropriation of trade secrets, tortious interference, unfair competition and breach of contract. It has amended its complaint, increasing the amount of damages to more than $3bn.
It also announced that it had revoked IBM's Unix licence, and warned AIX customers to that they no longer had the legal right to use the software.
SCO pulls IBM's AIX licence in Unix dispute >>
Read more on IT legislation and regulation