VMware Europe 2010 User Awards preview
In preparation for VMworld Europe 2010 in Copenhagen, virtualisation experts and award judges Mike Laverick and Gabrie van Zanten discuss the show's winning projects.
With VMworld Europe 2010 right around the corner, IT managers and users everywhere are preparing themselves for the latest and greatest in new virtualisation technologies from industry leaders like VMware and Citrix.

Accompanying all the hubbub, however, is SearchVirtualDataCentre.co.UK's first annual Best of VMworld Europe 2010 User Awards, which will be presented at the show. In preparation for the awards ceremony, we sat down with Mike Laverick and Gabrie van Zanten, virtualisation experts and User Awards judges, to discuss what characteristics they looked for in the winning projects.

Download this free guide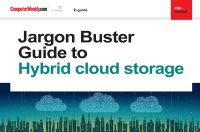 Jargon Buster: Hybrid Cloud
In this Jargon Buster guide we bring you definitions for the key concepts in hybrid cloud storage plus in-depth articles on hybrid cloud file and object storage, how to use the cloud as a storage tier and the key decision points when it comes to private cloud vs hybrid cloud.
Check out all of our VMworld Europe 2010 conference coverage here.
Read more on Cloud computing services