Insolvencies at IT firms continue to rise
Information and communication companies are still suffering from rising levels of insolvencies, according to new data
Information and communications companies are still suffering from rising levels of insolvencies, according to new data. And IT consultancies, in particular, are collapsing in increasing numbers.
But figures from the Exaro Insolvency Index, which tracks company failures across the UK, do contain a ray of hope for the sector overall.
The number of information and communications companies that filed one or more insolvency notices in February rose by just over a fifth compared with the same month a year before, from 179 to 216. It is also up on the previous month's figure of 144.
Companies that categorise themselves as IT consultancies have suffered especially badly. In February, 91 such companies filed one or more insolvency notices – up from 53 for the same month in 2013.
But the one good sign in the data is that fewer companies in the sector went into administration or receivership in February, falling to eight from 15 in the same month last year.
However, at the same time, winding-up petitions rose by 17%, from 35 to 41. Orders or resolutions to wind up increased by nearly a third from 120 to 157, while appointments of liquidators rose by a slightly higher proportion from 108 to 146.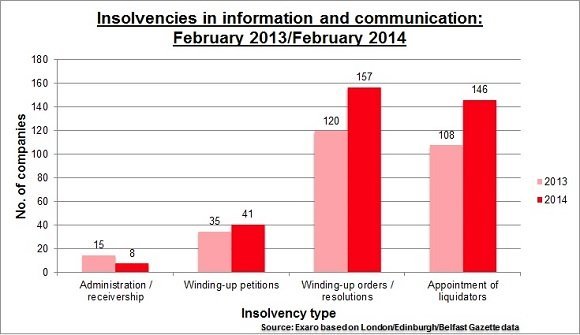 Last month, the Exaro Insolvency Index showed that insolvencies among information and communication companies were rising more strongly than across the UK economy as a whole.
Figures for the quarter to February, compared with the same period last year, also show the rising trend in the sector. They show that 29 companies entered administration or receivership in the three months to February, up by two from last year.
Winding-up petitions fell by one to 85. Orders or resolutions to wind up were up by more than a fifth, from 331 to 399, and appointments of liquidators rose from 326 to 387 – an increase of just under 19%.
Economic growth not all rosy
As chancellor George Osborne celebrated improved economic indicators in his budget speech last week, the UK economy as a whole is seeing insolvencies rise strongly again, according to the latest data.
But specialists suggest that the early stages of economic recovery are typically accompanied by such "growing pains", as reflected in the latest insolvency figures.
Clive Lewis, head of enterprise at the Institute of Chartered Accountants in England and Wales, said: "Often, when an economy starts to expand and there are the kinds of growth rates that we see reported in the UK for 2014, this can cause problems.
It is common in economic cycles that the weaker players flounder as they try to ride the upturn

Clive Lewis, Institute of Chartered Accountants
"It is common in economic cycles that the weaker players flounder as they try to ride the upturn. Under-capitalisation, coupled with an inability to raise finance as a company attempts to expand and meet orders, can – and does – result in insolvency."
He said another potential factor was a tendency by banks to push "zombie" companies – those able to pay the interest on their debt but not the capital – into liquidation after the end of the calendar year "to clean up their balance sheets".
Phillip Sykes, deputy vice-president of R3, also known as the Association of Business Recovery Professionals, echoed those comments: "The early stages of an economic recovery are generally tougher times for businesses than most people would expect.
"The first few months of the new year can also be tricky for businesses, especially those that are consumer-facing."
One of the large IT companies that appointed liquidators last month was Vdotcom, which provided IT systems to organisations of all sizes across the UK.
The joint liquidator, David Robson, of accountants Armstrong Watson, said Vdotcom once employed 25 people, but suffered cash flow problems. It failed with debts of around £400,000.
"The directors' report stated that one of the causes of failure was the fact that the company employed specialist staff for a large contract that was in two phases," he said. "The first phase went well. But during the second phase, there were delays, and the company was unable to cover its costs."
The Exaro Insolvency Index draws on insolvency notices as published in the London, Belfast and Edinburgh Gazettes, along with information from Companies House. In the source data, a small proportion of the insolvencies is not ascribed to a specific sector.