Indian CIOs must prepare to take advantage of cloud M&A
CIOs must take advantage of the current trend of IT suppliers acquiring SaaS firms to transform if they are to successfully manage a move to IT as a service
Indian CIOs must take advantage of the current trend of IT suppliers acquiring software as a service (SaaS) firms to transform if they are to successfully manage a move to IT as a service.

Download this free guide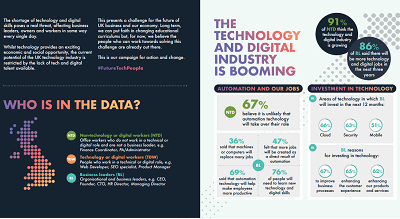 Infographic: Future-proofing UK technology
The current potential of the UK technology industry is restricted by the lack of tech and digital talent available. Read through this challenge for the future of UK business and our economy.
By submitting your personal information, you agree that TechTarget and its partners may contact you regarding relevant content, products and special offers.
You also agree that your personal information may be transferred and processed in the United States, and that you have read and agree to the Terms of Use and the Privacy Policy.
IT leaders must be able to handle increased sales pressure from large software suppliers, they need to understand what existing service agreements are delivering, and they need to help individual business units understand their IT consumption.
According to Forrester Research, there was merger and acquisition (M&A) activity from 28 software/SaaS firms globally in the past 12 months, compared with 13 IT services/business process outsourcing (BPO) firms.
Read more about cloud computing
"Anticipating the market's growing shift to the cloud, large enterprise software players such as Oracle and SAP are acquiring SaaS-based products," said Forrester.
The analyst company also revealed that 67% of business decision-makers in India plan to increase their department's spending on SaaS and other as-a-service offerings in 2013 through the IT organization.
CIOs must prepare for move to cloud
CIOs should do three things to ready themselves for transformation to cloud-based IT, according to Manish Bahl, country manager at Forrester India.
He said CIOs must develop a strategy to ensure they can cope with pressure from large enterprise software firms' sales teams, and feed back more information to the different business units about their IT consumption, known as showback.
The transformational strategies of the large enterprise software players will have an effect on CIOs, for which they need to prepare.
Forrester found that Indian organisations are already doing this, with a recent survey revealing that 45% of organizations in India have either hired or plan to hire consultants to help with the integration/deployment/migration strategy of SaaS offerings.
If the business better understands its consumption of IT, CIOs will be in a stronger position to educate decision-makers on the benefits of offerings such as public cloud services
"As enterprise software vendors get more aggressive in their SaaS strategy, CIOs should expect heavy sales pressure to adopt their SaaS solutions. CIOs should prepare for this pressure by investing time to assess the value of SaaS offerings of their software suppliers and consider moving business functions (HR, procurement, sales, finance, travel, etc) to SaaS to leverage vendor-managed software updates and infrastructure services," said Bahl.
Reassess current service provision
CIOs also need to ensure they understand what they get from existing IT services relationships and should revisit existing service provider relationships.
"It's important for CIOs to take a fresh look at their relationships with their IT service providers in terms of the business outcome that those providers are delivering through assets and platforms," said Bahl.
If the business better understands its consumption of IT, CIOs will be in a stronger position to educate decision-makers on the benefits of offerings such as public cloud services.
"The majority of Indian CIOs are heavily focused on uptime and on-time solution implementation-type performance metrics, and fewer than 10% of them currently follow a showback model to feed IT consumption information back to the business," he said.
"CIOs should embrace the showback approach, starting with increased support for public cloud services, to begin evolving towards a well-managed IT as a service model, while addressing change management-related issues within," Bahl added.