NHS invites software developers to create healthcare apps
The Department of Health is calling on software developers to create apps for use by the NHS.
The Department of Health is calling on software developers to create apps for use by the NHS.
Health secretary Andrew Lansley wants medical professionals and software developers to come up with ideas for "apps and maps" that would "help patients make informed decisions about their care."
A website has been launched to gather ideas and invite people to name their favourite health apps, and a judging panel put together to choose the best apps, which will be demonstrated at a showcase event in the autumn.
The government recently made a range of NHS data available to the public as part of its open data initiative to make public sector information more widely available and usable by software and web developers.
"We want to give people better access to information that will put them in control of their health and help make informed choices about their healthcare," said Lansley.
"Over the next six weeks, we want to hear from patients, health professionals and budding app developers on their ideal new app. This is a unique opportunity for the NHS and those who develop apps to not only showcase their work but bring to life new ideas and realise true innovation in healthcare."
The NHs is particularly interested in apps that cover the following areas of healthcare, according to the Maps and Apps website:
Personalisation and choice of care and support - for example, an app that allows people to search for health information online;
Better health and care outcomes - for example, an app that allows a patient to manage their health condition;
Autonomy and accountability - for example, an app that allows patients to rate and review their local health services;
Improving public health - for example, an app that tracks your levels of exercise;
Improving long-term care and support - for example, an app that helps patients plan their own care.
Some NHS trusts are already making use of apps.
"Our staff are already realising the benefits of medical apps and have developed a number of these which are proving popular with the medical community," said Dr Ian Abbs, medical director at Guy's and St Thomas' NHS Foundation Trust.
"Some of our apps are already European best sellers, and provide instant access to the most up-to-date guidance on topics including patient safety, thrombosis and paediatric drug calculations - all at the touch of a button," he said.
"The possibility of apps helping to improve patient care is enormous and we are already seeing examples of their success in, for example, emergency situations, where clinicians can now quickly and accurately double check complex drug dose calculations."
Health secretary Andrew Lansley talks about the Maps and Apps project:
Judging panel member Dr Shaibal Roy from the NHS Future Forum talks about apps and how developers can get involved:
Content Continues Below

Download this free guide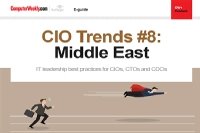 CIO Trends #8: Middle East
Join us as we take a look at Bahrain and its efforts to make itself the go to fintech hub of the Middle East, the rapid progress being made in Dubai as the government strives to make the city smart and how the region is reacting to the implementation of 5G.