CIO Council report reveals government IT spending
The government spent a total of £12.4bn on IT in the financial year ending April 2006.
The government spent a total of £12.4bn on IT in the financial year ending April 2006.
Latest figures from the government's CIO Council show that local government was the highest spending sector within the public sector, with £3.3bn spent on IT in 2005/2006.

Download this free guide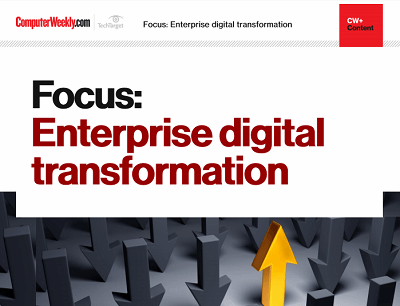 Are you digital to the transformation?
Digital transformation - the buzzword that we can't get away from. Enterprises need to accelerate their digital transformation journeys to avoid being left behind in an increasingly digital world. It's not an easy feat, but one that can be costly to get wrong. Join us as Computer Weekly takes a look at how businesses can stay on track through collaboration, innovation, and listening to user needs.
By submitting your personal information, you agree that TechTarget and its partners may contact you regarding relevant content, products and special offers.
You also agree that your personal information may be transferred and processed in the United States, and that you have read and agree to the Terms of Use and the Privacy Policy.
In second place was the health sector, with the NHS spending £1.4bn and NHS Connecting for Health, an agency of the Department of Health charged with delivering the National Programme for IT in the NHS, spending £1.1bn.
Other government big spenders include the Department for Work and Pensions, with £1.1bn and Her Majesty's Revenue and Customs, with £989m.
Within local government, IT spending breaks down into 46% spent on staff, 12% software, contracts for services at 11%, 11% on hardware, 9% on data and voice services, 3% consultancy, and 8% on other services.
The CIO Council produced a report on its activities as part of the Transformation Government Strategy.
"It is amazing to think that we operate in over 140 countries, run some of Europe's and indeed the world's largest computer systems, and process tens of millions of transactions every single day of the year," said government CIO John Suffolk.
"The IT profession within the public sector has an estimated 50,000 dedicated people. Every day their dedication and hard work support those who keep the traffic flowing, who ensure that benefits are being paid, who save lives, who educate our children and who prevent crime."
Comment on this article: computer.weekly@rbi.co.uk