Wireless Christmas hamper
Why go wired when you can be un-wired? Because it's hard! But not to worry, our Christmas hamper of wireless guides will help you through.
Why waste mammoth amounts of time laying down wires and cables for your network, when you can broadcast through the air? Because it can be a real pain in the posterior! Well here's a bunch of guides to help.

Download this free guide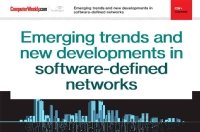 How to implement an effective software-defined networking training strategy
In this e-guide we sit down with CIMI's Tom Knolle to explore some of the emerging SDN service models and how adopting SDN can help to monetise the enterprise network and improve business outcomes.
Wireless Christmas hamper
Enjoy your holidays, readers. We hope you enjoyed TechTarget ANZ in 2007.
- The TechTarget ANZ team
Read more on Wireless networking