Nominet members can stop government interference
Nominet, the UK's top-level domain name registry, is fighting to preserve its right to self-regulation following government concern over its ability to...
Nominet, the UK's top-level domain name registry, is fighting to preserve its right to self-regulation following government concern over its ability to manage its affairs in the public interest.

Download this free guide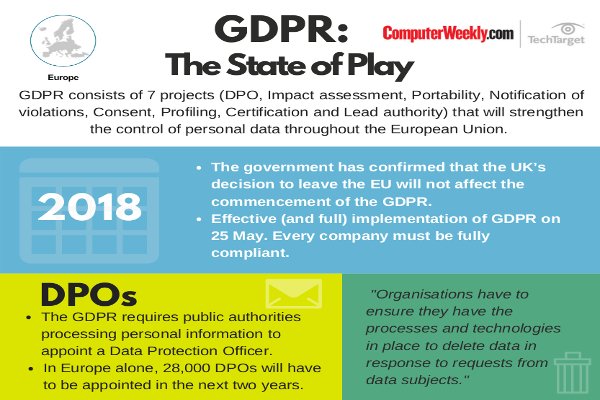 Infographic: GDPR - The State of Play
Get the latest information on how GDPR is going to affect your business and how to avoid any unwanted fines with this simple infographic.
By submitting your personal information, you agree that TechTarget and its partners may contact you regarding relevant content, products and special offers.
You also agree that your personal information may be transferred and processed in the United States, and that you have read and agree to the Terms of Use and the Privacy Policy.
It is asking its members to ratify a new constitution that will limit the ability of small groups to take over Nominet's board of directors and to run the non-profit organisation in their own interests.
Nominet chairman Bob Gilbert said the appeal to members comes in the wake of a letter from the Department for Business, Enterprise and Regulatory Reform (BERR) which questioned whether Nominet's constitution and management structure were adequate to deal with its role as the UK's top-level domain registry.
Following a report back from Nominet, BERR said that if Nominet's members implement the proposed changes in full, it would take no further action.
"We are confident that Nominet will remain a beacon of industry self-regulation, protecting the wider public interest, without the need for intervention by government," it said.
Gilbert said the Nominet board had hired a consultant, Bob Garratt, to investigate the organisation's constitution and to recommend changes if needed. Nominet sent Garratt's report, delivered three weeks ago, to BERR, along with a strongly worded argument to retain its independence.
Gilbert said Nominet's 3,000 members now have to ratify the changes suggested in Garratt's report. These would make Nominet more democratic and modernise its management structures.
He said the present constitution was too inflexible for a modern corporation. If members accepted the proposed changes, it would probably head off government action to reduce Nominet's independence.
If the government took control, it would reduce Nominet's ability to respond quickly to technological change and to develop structures, such as its dispute resolution system, that were the envy and model for the rest of the world's domain registrars, he said. It was also likely to introduce more red tape and raise the cost of being in the internet business.
Gilbert said the rapid technological change experienced by the internet meant that governance, especially technological management, needed to take place as close to the operations as possible.
He said government had a legitimate interest in the internet. This was because the internet was part of the national critical national infrastructure. It was also a conduit for lawbreakers. But these issues were separate from day-to-day management of domain names and servers, which, experience showed, were better left in expert private hands.
Read more on IT legislation and regulation