ID Cards roll-out to start this year - problem for the Tories?
The Government is to start rolling out ID Cards this year - and applicants could have their fingerprints and digital photos taken at Post Office and at other High Street retailers which may become biometric enrolment centres.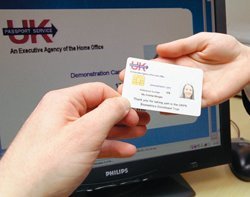 The Government is to start rolling out ID Cards this year - and applicants could have their fingerprints and digital photos taken at Post Office and at other High Street retailers which may become biometric enrolment centres.

Download this free guide


How to improve your cyber security with security analytics
Download this e-guide to read how many firms are looking to security analytics to keep abreast of the ever-evolving world of cyber threats. With traditional approaches to cyber security proving less effective against increasingly sophisticated and automated cyber-attacks, security analytics may well be your knight in shining armour.
The plan will make it harder for the Conservatives to cancel ID Cards if they win next year's General Election. Cancelling the scheme could take business away from post offices which could deepen uncertainties over their future.
It will also be harder to cancel the scheme when thousands of people in Greater Manchester have taken up the Government's offer of a £30 ID Card. The Home Secretary Jacqui Smith announced today that people in Greater Manchester will be the first to be able to apply for ID Cards, from late 2009. Some retailers in Manchester will acquire chip and pin ID Card readers.
Computer Weekly revealed last month that even if the Conservatives cancel the ID Cards scheme the Oracle-based IT infrastructure will remain largely intact because it supports the issuing of biometric passports.
Much of the central costs of issuing ID Cards are factored into the fees for new and replacement passports. Today's maximum cost of a standard passport is £114.
People can register their interest in buying an ID Card on the Directgov website which will tell them when the cards are likely to be available in their area. From 2010 young people can apply for an ID Card, and they will be available to the general population from 2012. By November 2009, 75,000 foreign nationals will already have an ID Card.
The plan is for UK citizens to have their fingerprints and photos stored on the National Identity Register, which is being built on the Customer Information System run by the Department for Work and Pensions.
Some biometric information will also be held on a chip in passports and on the ID Card.
The Home Office says the National Identity Service will ensure that take-up of the card and technological capabilities "build up side by side". In its "cost report" published today the total cost of the ID Cards scheme over 10 years is put at £4.95m, a rise of nearly £200m, over the previous 10-year estimate.
The technology infrastructure will comprise 16% of the total costs. IBM and CSC have won the main IT contracts to be awarded so far.
A Government "impact assessment" of the National Identity Scheme, which is also published today, claims that ID Cards will bring economic benefits of "up to £6bn over 30 years", which is £200m a year.
Pharmacists may compete with the Post Offices to take fingerprints and photos for applicants who apply for ID Cards, a passport or biometric visa. Representatives of the Photo Marketing Association International, which represents most suppliers of portrait photos for all types of identity cards including passports, is also talking to the Government about offering a biometrics service to applicants for ID Cards.
Officials are marketing ID Cards as a means of people providing proof of identity without having to reveal the address on their driving licence or passport; and the card will be valid for travel in Europe. Jacqui Smith claims that "private companies will clearly benefit from the increased footfall" of offering an ID Cards read service.
Last month Computer Weekly revealed that the maximum cost of a passport may rise to £200 to pay for ID Cards.
The Conservatives said the idea of trialling the scheme in one city was "nonsensical". The Shadow Home Secretary Chris Grayling said: "The government is split down the middle on ID cards but it looks as if Jacqui Smith is carrying on regardless."
Ross Anderson, Professor of Security Engineering at Cambridge University Computer Laboratory, says the government has underestimated the costs of ID Cards. The latest official estimates are "an order of magnitude out".
Jacqui Smith may lose her job within weeks, says The Sun today.
CSC to take over up to 350 IT passports staff
Are passport fees paying for ID Cards?
Read more on IT risk management