IT overhaul saves Waltham Forest Council £2m a year
Waltham Forest Council is saving £2m a year after completing a three-year project to overhaul its IT and replace legacy systems with SAP...
Waltham Forest Council is saving £2m a year after completing a three-year project to overhaul its IT and replace legacy systems with SAP software.

Download this free guide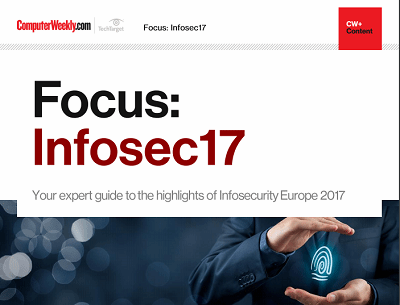 From forensic cyber to encryption: InfoSec17
Security technologist Bruce Schneier's insights and warnings around the regulation of IoT security and forensic cyber psychologist Mary Aiken's comments around the tensions between encryption and state security were the top highlights of the keynote presentations at Infosecurity Europe 2017 in London.
By submitting your personal information, you agree that TechTarget and its partners may contact you regarding relevant content, products and special offers.
You also agree that your personal information may be transferred and processed in the United States, and that you have read and agree to the Terms of Use and the Privacy Policy.
The project has helped the council improve from having no stars under the Audit Commission's Comprehensive Performance Assessment to a three-star rating in the space of three years.
"The challenge was to migrate the entire council from federated infrastructure and local desktops to a single standard network, desktop and operating system," said David Wilde CIO and head of information and customer services at the council.
Waltham Forest saved £1m by replacing 21 systems, including customer relationship management and human resources software and local databases.
It is now using business information systems, including SAP Business Information Warehouse and Experian's Mosaic, to prioritise spending and collect demographic data.
Further savings of £250,000 were made by replacing a mixed portfolio of desktops with standard machines supplied by Dell.
Before the changes, Waltham Forest Council ran a bespoke finance system, a mainframe-based HR system and a Teleware call centre system.
Building on the IT overhaul, Wilde is considering virtualisation and an electronic document management system. He is also deciding whether to stay with a Novell operating system, or move to either Microsoft or open source.
"Changing operating system is incredibly difficult. Open source seems a lot cheaper because you do not have to buy licences, but you do have to invest in a lot of experts and pay people to put it in. You do not have the support network that you would with either Microsoft or Novell," said Wilde.
Waltham Forest Council's IT savings
e_SBlt• Replacement of CRM, HR and local database systems with SAP saved £1m
•• Switching procurement of desktop computers from online catalogue to managed service from Dell saved £250,000
e_SBlt• Dell managed service reduced 1,000 printers to 300, saving £200,000
e_SBlt• 23 Staff redundancies, including 12 from the IT department, saved £300,000
e_SBlt• IP telephony using Nortel's Succession and Symposium suite saved £100,000
e_SBlt• Number of servers cut from 350 to 240, saving £250,000.
Read more on IT risk management