IT Developers Diary
A round-up of key conferences and events.
SEPTEMBER
8-10 Oxford
Safety & Security in a Networked World
Three day Oxford Internet Institute Conference
www.oii.ox.ac.uk

13-14 Dublin
InfoIreland 2005
AIIM Enterprise Content Management Association Conference
www.infoireland.net

13-15 London Olympia
Mobile Content World
www.mobilecontentworld.biz

14-15 London
Gartner IT Security Summit
Two day conference
www.gartner.com/2_events/conferences/sec6i.jsp

18-20 Northamptonshire
The Triple i Convention
IT Directors conference
www.iiicon.com

19-22 Cambridge
Smart Labels Europe 2005
International conference on RFID Applications
www.smartlabelseurope.com


23 London
Byte Night Charity Sleepover
www.bytenight.org.uk


26-27 Paris
The European IT Forum 2005
Two Day IDC Conference
www.idc.com/events/emea/emea_itf05_venue.jsp


Download this free guide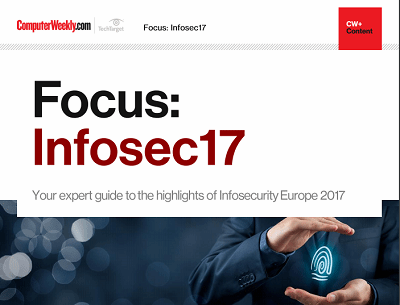 From forensic cyber to encryption: InfoSec17
Security technologist Bruce Schneier's insights and warnings around the regulation of IoT security and forensic cyber psychologist Mary Aiken's comments around the tensions between encryption and state security were the top highlights of the keynote presentations at Infosecurity Europe 2017 in London.
By submitting your personal information, you agree that TechTarget and its partners may contact you regarding relevant content, products and special offers.
You also agree that your personal information may be transferred and processed in the United States, and that you have read and agree to the Terms of Use and the Privacy Policy.
OCTOBER
3-6 Madrid
Broadband World Forum Europe
Conference & Exhibition
www.iec.org


5-6 London
LinuxWorld Conference & Expo 2005
International conference on OpenSOurce products and services
www.linuxworldexpo.com
12-13 London Olympia
Storage Expo 2005
Data Storage Exhibition & Conference
www.storage-expo.com


17-19 Vienna
RSA Conference 2005
European IT Security Conference
http://2005.rsaconference.com/europe

18 London
Perspectives on Risk
Safety-Critical Systems Club Seminar
www.safety-club.org.uk/

19-21 London
Biometrics 2005
Conference and Exhibition
www.biometrics.elsevier.com

25-26 London
AIIM Europe Conference & Expo
Enterprise Content Management Association Conference
www.aiimexpo.org.uk

26-27 London
Message05
Conference on secure email, IM and mobile messaging
www.message05.co.uk

31 Oct-2 Nov Birmingham
UKOUG 2005 Conference & Exhibition
Oracle User Group Annual Conference
www.ukoug.org/calendar

NOVEMBER
7-8 Amsterdam
Knowledge, Content & Collaboration Europe 2005
International Conference and expo
www.kcceurope.com

7-10 London
Data Management and Information Quality Conferences
Four day conference
www.irmuk.co.uk/dm2005

7-11 Cannes
Gartner Symposium ITExpo 2005
Gartner group's major Annual European Conference
www.gartner.com/2_events/symposium/2005/
DECEMBER
1 London
Safety Challenges at the Interface
www.safety-club.org.uk/
8 London
Safety-Critical Systems Club Seminar
www.safety-club.org.uk/
Read more on IT risk management