Hyperion launches compliance software
Hyperion has launched software to organisations match internal controls data with financial data to meet compliance regulations...
Hyperion has launched software to help organisations match internal controls data with financial data to meet compliance regulations such as Sarbanes-Oxley.

Download this free guide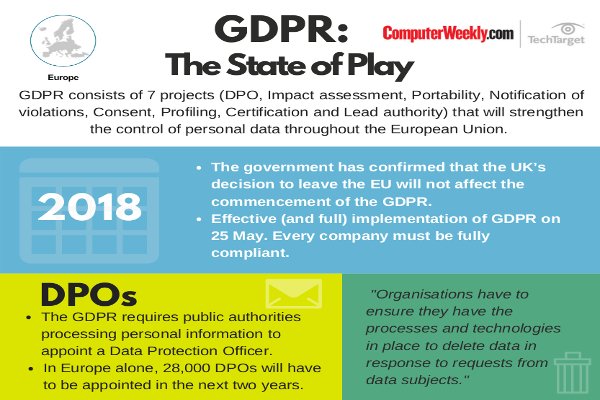 Infographic: GDPR - The State of Play
Get the latest information on how GDPR is going to affect your business and how to avoid any unwanted fines with this simple infographic.
By submitting your personal information, you agree that TechTarget and its partners may contact you regarding relevant content, products and special offers.
You also agree that your personal information may be transferred and processed in the United States, and that you have read and agree to the Terms of Use and the Privacy Policy.
The product, called Hyperion Compliance Management Dashboard, will give finance directors a clear view of their companies' compliance status and potential risks, according to Hyperion.
It will also improve reporting accuracy and confidence in financial statements and disclosures, Hyperion added.
"Now that most companies have passed the first critical deadline for Section 404 of Sarbanes-Oxley compliance, progressive organisations are focused on ensuring sustainable compliance and achieving value from compliance investments," said Kathleen Wilhide, an analyst at IDC.
"Hyperion's Compliance Management Dashboard integrates the monitoring of ongoing compliance controls with financial reporting and analysis, providing the basis for good governance as well as business performance management," she said.
Although the Dashboard is pre-configured to provide views on an organisation's progress into Sarbanes-Oxley compliance, it can also be customised for specific industry or business standards, as well as international financial reporting standards (IFRS).
Analyst firms believe there is a significant demand for software to help companies meet regulations. According to AMR Research, companies will spend more than £45bn on compliance-related work between 2005 and 2009.
"With a wide range of directives - such as HIPAA, SEC rulings, Basel II, IFRS, and others - leading companies are connecting the dots between overall compliance requirements and their own enterprise performance management activities," said AMR.
Read more on IT legislation and regulation