Oxfam looks to IT firms to aid disaster response
Oxfam is looking to tap the IT skills of multinational companies in the aftermath of the Boxing Day tsunami disaster.
Oxfam is looking to tap the IT skills of multinational companies in the aftermath of the Boxing Day tsunami disaster.

The charity wants to set up long-term relationships with companies that have IT staff and resources around the world that they can make available in the immediate aftermath of a disaster.

Oxfam also wants to be able to tap into the skills of UK-based IT professionals to fill any gaps in its own IT operations caused by key members of its IT department travelling to disaster zones to provide on-the-spot IT support to survivors and aid workers.

"We have been particularly struck by the offers of help from individuals and companies in the IT sector, where there is an overwhelming sense of wanting to do something to make a difference," said Simon Jennings, Oxfam's head of information services.

Jennings, who co-ordinated Oxfam's IT-based relief after the tsunami, is trying to establish a structure that will get the most from the offers of help that always follow tragedies.

His initial aim is to develop relationships with companies rather than with individual volunteers who, he said, might best channel their skills through the IT4Communities initiative.

"One of the most complex IT issues in humanitarian response is fielding experienced staff, as these inevitably stop other work to attend the disaster site. This then leads to 'backfill' requirements, typically in our country offices around the world," said Jennings.

"This is an area where we might further develop relationships with companies that want to help Oxfam, both in the short term and in preparing for future responses."

Businesses interested in getting involved should contact Oxfam's corporate partnerships team

Tel: 01865-312 012

E-mail: companies@oxfam.org.uk

Information for individuals wishing to volunteer their IT skills for charity

Download this free guide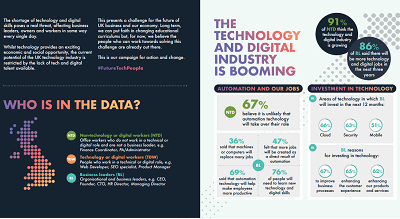 Infographic: Future-proofing UK technology
The current potential of the UK technology industry is restricted by the lack of tech and digital talent available. Read through this challenge for the future of UK business and our economy.
By submitting your personal information, you agree that TechTarget and its partners may contact you regarding relevant content, products and special offers.
You also agree that your personal information may be transferred and processed in the United States, and that you have read and agree to the Terms of Use and the Privacy Policy.