FCC bans mobile phone spam
The US Federal Communications Commission (FCC) has voted to outlaw all unauthorised text messages to mobile phones and pagers...
The US Federal Communications Commission (FCC) has voted to outlaw all unauthorised text messages to mobile phones and pagers unless the owner has given permission.

Download this free guide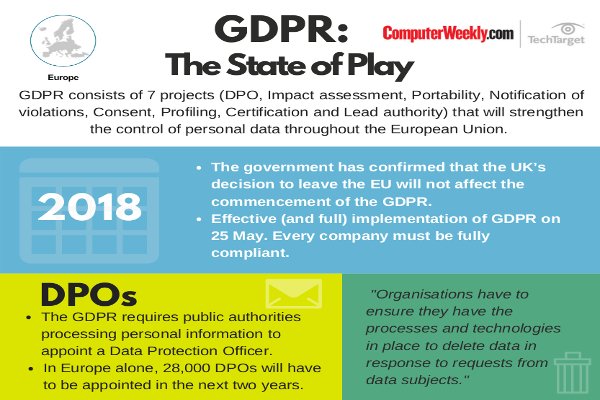 Infographic: GDPR - The State of Play
Get the latest information on how GDPR is going to affect your business and how to avoid any unwanted fines with this simple infographic.
By submitting your personal information, you agree that TechTarget and its partners may contact you regarding relevant content, products and special offers.
You also agree that your personal information may be transferred and processed in the United States, and that you have read and agree to the Terms of Use and the Privacy Policy.
The FCC's mobile phone and pager spam rules will be tougher on spam than the law that gave the FCC authority to act.
The US Congress required the FCC to adopt rules for mobile phone spam when passing the Controlling the Assault of Non-Solicited Pornography and Marketing (Can-Spam) Act of 2003.
Can-Spam allows spammers to send unsolicited commercial e-mail to computer e-mail accounts until the recipient opts out of receiving e-mail from that sender, but the FCC's action requires that commercial entities sending text messages to mobile phones and pagers get customers' opt-in permission before sending messages.
Commissioners argued mobile phone spam is particularly harmful to consumers because they often have to pay for the time it takes to delete the message.
Violators of the FCC regulations would be subject to penalties under Can-Spam, which allows fines of up to $6m (£3.3) and up to a year in jail for some spamming activities.
To help the senders of mobile-phone and pager messages identify subscribers of their services, the FCC required that service providers submit those domain names to the FCC to be included on a list that will be made publicly available. No individual subscriber addresses will be collected or included on the list.
FCC chairman Michael Powell, in voting to approve the restrictions, called spam "the plague of the information age".
CTIA-The Wireless Association praised the FCC action, calling it a "consumer-friendly decision".
MessageCast, a firm which sells software that allows commercial messages to be sent to mobile phones and other devices, also praised the FCC. MessageCast's software requires opt-in permission from consumers before sending messages, noted Royal Farros, the company's chief executive officer.
"Every mobile phone owner is in support of that action," Farros said. "It's a good thing for consumers. I think there would be revolts in the streets if it didn't happen."
Grant Gross writes for IDG News Service
Read more on IT legislation and regulation