Homeland security escapes US IT budget cuts
The White House's proposed US IT budget for 2005 is showing signs of increased strain amid a ballooning national deficit, the...
The White House's proposed US IT budget for 2005 is showing signs of increased strain amid a ballooning national deficit, the continued war on terrorism and the urgent demands of homeland security.

Download this free guide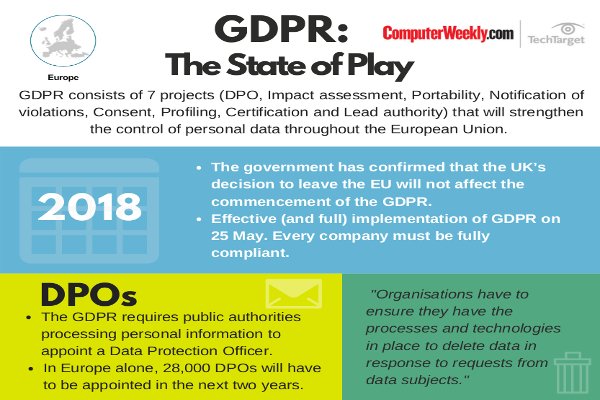 Infographic: GDPR - The State of Play
Get the latest information on how GDPR is going to affect your business and how to avoid any unwanted fines with this simple infographic.
By submitting your personal information, you agree that TechTarget and its partners may contact you regarding relevant content, products and special offers.
You also agree that your personal information may be transferred and processed in the United States, and that you have read and agree to the Terms of Use and the Privacy Policy.
The George W Bush administration requested $59.8bn for its governmentwide IT budget - a trivial increase from its $59.1bn IT budget.
The paltry increase apparently stems from the administration's desire to rein in spending and deliver on its promise to halve the national deficit during the next five years. That, in turn, has forced the White House to take a close look at all federal IT programmes to ensure that they are based on a sound business case and support the president's management agenda, which covers areas such as human capital management, financial management and support for e-government initiatives.
According to the budget, "agencies must remediate the shortfalls identified in their business cases or the administration will not support the expenditures until agencies have demonstrated their ability to address the weaknesses".
Homeland security remains a growth area in this year's budget. While civilian agency IT spending increased by only 1% and defence IT spending by 2% compared with this year, the Department of Homeland Security's proposed IT budget grew by more than 8%.
"The statement of this budget is clear. Protecting the homeland continues to be a critical priority for this administration," said secretary of homeland security Tom Ridge.
IT security vulnerability research, sponsored by the Infrastructure Assurance and Infrastructure Protection directorate at the DHS, would get $16m for the financial year beginning 1 October. Other IAIP directorate programmes received significant funding increases, including incident handling and response, red-teaming activities to uncover vulnerabilities in both physical and cyber infrastructures and support for a distributed network of homeland security operations centres.
Customs and border protection, as well as initiatives aimed at port, transportation and immigration security, remain driving forces behind the DHS IT budget increase.
Dan Verton writes for Computerworld
Read more on IT legislation and regulation