IBM lets polymers assemble nanoscale structures
IBM has come up with a method of letting molecules assemble themselves inside chip structures to form nanoscale structures that...
IBM has come up with a method of letting molecules assemble themselves inside chip structures to form nanoscale structures that add redundancy and performance improvements to chips.

Download this free guide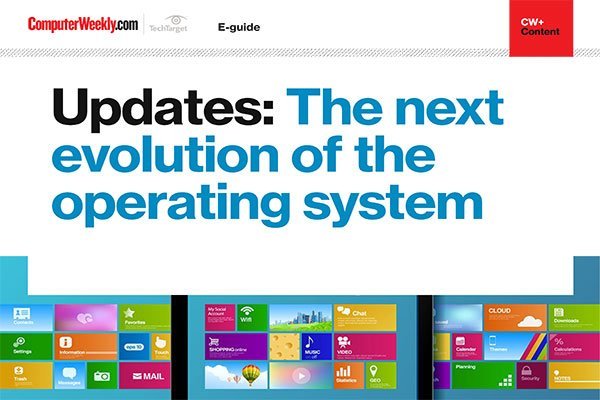 Software Updates: Our latest e-guide is available for your device. Download now?
See how operating systems are evolving with the help of continuous updates and learn about how the Spectre and Meltdown microprocessor flaws have led to improved, more secure processors being released and how Microsoft is evolving its Windows desktop operating system.
By submitting your personal information, you agree that TechTarget and its partners may contact you regarding relevant content, products and special offers.
You also agree that your personal information may be transferred and processed in the United States, and that you have read and agree to the Terms of Use and the Privacy Policy.
A common industrial polymer is applied to a conventional silicon wafer and then heated to produce a crystalline structure that can store information, said IBM Research staff member Chuck Black.
The group used a material known as a diblock copolymer molecule in its research. This material is actually two molecules that naturally seek to repel each other under certain conditions. When a silicon wafer is heated, the polymer naturally forms crystal structures about 20 nanometers wide that can be used to store information within transistors.
Chip makers have been building smaller and smaller transistors for years, but transistor sizes are approaching a critical limit in the next decade when the transistor's floating gate will become too small to hold a charge and, therefore, store information, Black said. This technique provides a way to replace the floating gate with several nanocrystals allowed to self-assemble inside a transistor.
Theoretically, the method could be used to build structures even smaller than 20 nanometers by using a smaller polymer, although nothing has been demonstrated as yet.
In order to use this technique to build smaller integrated circuits, researchers will also need to discover a way to position the crystals to carry out specified functions, but for now, the nanocrystals can be used as memory devices, and IBM is working on methods to build circuits using self-assembly techniques.
The primary benefit of this method is that the nanocrystal structures can be built using existing lithography methods and tools, without having to invest in costly new methods of production, Black said. IBM constructed the crystals on 200mm wafers using existing process technologies.
Tom Krazit writes for IDG News Service