Infonet and Boingo form global Wi-Fi partnership
Corporate customers of Infonet Services will be able to access more than 5,000 broadband wireless hotspots managed globally by...
Corporate customers of Infonet Services will be able to access more than 5,000 broadband wireless hotspots managed globally by Boingo Wireless, under an agreement announced at the Telecom World 2003 conference and exhibition in Geneva.

Download this free guide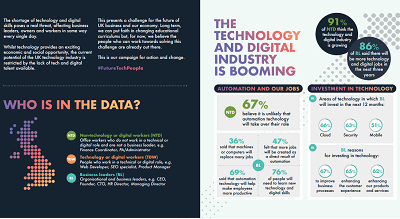 Infographic: How to future-proof UK technology
There is no doubt that the technology industry is booming right now, bringing with it exciting social and economic opportunities. However, there is a real fear that the UK industry may be stunted due to the lack of talent available. This e-guide helps to break down the future fears and expectations of dozens of business leaders and tech workers.
The partnership extends the coverage of Infonet's wireless MobileXpress service, which is largely based on the Wi-Fi footprint of TOGEWAnet.
Infonet provides communication services to more than 2.5 million users, according to Marc Patterson, vice-president of the mobile workforce solutions group for Infonet.
Under the agreement, Infonet and Boingo will incorporate TOGEWANet's hotspots and security technology using Sim (subscriber identification module) technology in client software, which will be available in early 2004.
The software will also include remote authentication dial-in user service (Radius), a security technology used by Boingo, an aggregator of Wi-Fi hotspots.
The client software, which will carry the Infonet brand name, will include Boingo's hotspot location and directory functions.
Early next year, Boingo intends to offer users packet-switched mobile services, such as GPRS, in addition to Wi-Fi capability.
The company is already working on the technology for one of its large US customers, T-Mobile USA.
"It's all about wireless broadband roaming," Patterson said. "We have a lot of customers, particularly in Europe, telling us they want to be able to roam onto a mobile data network where they don't have Wi-Fi access."
Boingo also announced three network sharing agreements, one of which is with Telecom Italia. Under the deal, Boingo will integrate the Italian operator's hotspots, which will include more than 200 by the end of 2003 and 1,000 in 2004, enabling Telecom Italia customers to access Boingo's global Wi-Fi network.
The other deals include one with PicoPoint, an Amsterdam-based Wi-Fi hotspot operator, which operates 75 hotspots in Europe, the Middle East and Africa, and another with The Cloud network, launched by several partners including Inspired Broadband Networks. The network has more than 2,500 hotspots mostly in pubs, clubs, licensed betting halls and casinos.
John Blau writes for IDG News Service