Atos Origin to buy Schlumberger Sema for $1.5bn
IT services firm Atos Origin has signed a binding agreement to buy the majority of rival SchlumbergerSema's businesses from...
IT services firm Atos Origin has signed a binding agreement to buy the majority of rival SchlumbergerSema's businesses from parent company Schlumberger Limited for around $1.5bn.
The deal, which is expected to close in January, comes as Schlumberger Sema emerged as favourite to run the e-booking systems at the heart of the National Programme for IT in the NHS, after the programme dropped Fujistu from the running.
Richard Holway, chief executive at analyst firm Ovum Holway, warned that integrating Sema and Atos Origin's systems and processes will be complex.
"Last month, we said that you shouldn't acquire any company greater than 50% of your own size," he said. "It doesn't take a genius to work out that this deal spectacularly fails this test. Computer Sciences was the front runner to buy SS but couldn't agree on price - but this would have made much more sense."
Andrew Gould, chairman and chief executive officer at Schlumberger Sema, said, "The global IT services industry is going through an important phase of consolidation, and the combination of the SchlumbergerSema IT businesses with Atos Origin will create a leading European IT services company with broad presence and competence across the world.
"Schlumberger will retain a number of specific SchlumbergerSema businesses which include Business Continuity, Infodata – a Swedish database company – and all software products related to the SchlumbergerSema telecommunications activity. These, together with smartcards, point-of-sale terminals, payment systems, eCity terminals and payphones are being considered for divestiture or IPO."
The deal is subject to Atos Origin shareholder approval, customary regulatory approvals, and the employee information and consultation process.
SchlumbergerSema is heavily involved in bidding for work in the £2.3bn NHS IT modernisation and its clients include the Metropolitan Police. It also operates a standalone telecoms billing systems business, which operates globally with customers such as BT and Vodafone.
Content Continues Below

Download this free guide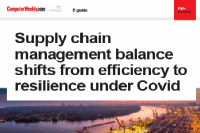 Supply chain management balance shifts from efficiency to resilience under Covid
This e-guide explores these matters, beginning with a comprehensive article that ranges over supply chain management, from a macro level through how trading platforms have been flexed to switch suppliers rapidly down to how robots have been quickly deployed to solve problems of scale.
Read more on IT supplier relationship management