Hitachi to ship 2Gbytes and 4Gbytes Microdrives
Hitachi will sell 2Gbyte and 4Gbyte versions of its Microdrive miniature hard disc drive later this year.
Hitachi will sell 2Gbyte and 4Gbyte versions of its Microdrive miniature hard disc drive later this year.
The drives, which like previous models fit inside a type II Compact Flash case, double and quadruple the data storage capacity possible with a Microdrive compared with the existing highest capacity model.

Download this free guide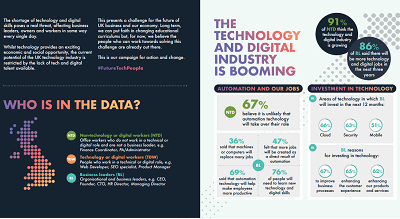 Infographic: How to future-proof UK technology
There is no doubt that the technology industry is booming right now, bringing with it exciting social and economic opportunities. However, there is a real fear that the UK industry may be stunted due to the lack of talent available. This e-guide helps to break down the future fears and expectations of dozens of business leaders and tech workers.
Samples of the 4Gbyte drive are in the hands of a number of companies including some of the major digital camera manufacturers. Hitachi hopes to begin commercial shipping of the drive in November and will be priced at $500 (£320).
Hitachi's announcement comes less than a month after Lexar Media said it has begun shipping a 4Gbyte Compact Flash memory card and after SanDisk said it would ship a similar card in the fourth quarter of this year.
Based on solid state memory rather than hard drive technology, the memory cards offer some advantages over Microdrive such as faster data access and lower power consumption, although they cost substantially more.
Lexar's card costs $1,500, or three times that of the Microdrive, while the SanDisk card is expected to cost $1,000.
The Microdrive is based on a FAT32 file system. This is because the FAT16 file system in common use on memory cards and portable storage at present has a limit of 2Gbytes.
By moving to FAT32, more storage space can be accessed, although devices such as digital cameras must support the newer file system. At present only a handful of devices support FAT32, although this is expected to increase in the future as larger capacity memory cards become more common.
Microdrive technology was originally developed by IBM but was acquired by Hitachi when it bought IBM's storage activities and formed Hitachi Global Storage Technologies.
Martyn Williams writes for IDG News Service