Orange joins Euro alliance and prepares for 3G
Mobile operator Orange is to join an alliance of Telecom Italia Mobile, Telefónica Móviles of Spain and T-Mobile International of...
Mobile operator Orange is to join an alliance of Telecom Italia Mobile, Telefónica Móviles of Spain and T-Mobile International of Germany, in a move that should allow it to offer customers a uniform set of voice, data and mobile internet services across several European markets.

Download this free guide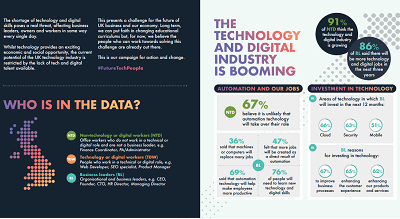 Infographic: Future-proofing UK technology
The current potential of the UK technology industry is restricted by the lack of tech and digital talent available. Read through this challenge for the future of UK business and our economy.
By submitting your personal information, you agree that TechTarget and its partners may contact you regarding relevant content, products and special offers.
You also agree that your personal information may be transferred and processed in the United States, and that you have read and agree to the Terms of Use and the Privacy Policy.
Orange will also launch third-generation wireless services in the UK next year, and in France in two to three years' time, said Sanjiv Ahuja, Orange's chief operating officer. Orange has acquired 4,500 3G sites across the two countries and wants to roll out service as soon as possible.
The network technology required for 3G, which promises much faster data transfer rates, is not yet ready for widescale deployment, according to Ahuja, and the right handsets and services to support the services are not yet available. But by the end of 2004 Orange plans to offer 3G services to 40% of the UK population.
The moves are part of a plan outlined today to help Orange boost its revenue and profits. The plan also involves a tighter focus on key customer groups, and boosting the amount spent by each customer by offering services they want, said Orange chief executive officer Solomon Trujillo.
"We are on track for 5% revenue growth this year and we intend to grow more rapidly in 2004 and 2005, with earnings before interest, taxes, depreciation and amortisation of between 15% and 17%," he added.
The company is also merging its IT systems across its business units, from billing to CRM (customer relationship management), data warehousing and analysis, to increase efficiencies and create a more consistent customer experience.
"This is the hardest challenge that faces us. Two months ago when I joined there were a dozen platforms. We've looked at the best, combined them, and we're now on the path to having the best integrated system possible," he said.
The new IT infrastructure builds on top of Orange's existing IT systems rather than replacing them, Ahuja said. "Orange has invested billions in this and isn't going to abandon it."
Orange will also focus on moving "intelligence" from handsets to the network, as it has begun to do with its Orange Backup and Update services. Essentially, customers' data and services are stored on the network, rather than on their phones.
"The wirefree vision is that you can get your services anywhere, on whatever device you want. We're building a network that will morph to suit customer's needs," Ahuja said.
Gillian Law writes for IDG News Service