IBM unites enterprise development
IBM has developed support for mission-critical legacy technologies, such as Cobol and PL/1, together with tools that support web...
IBM has developed support for mission-critical legacy technologies, such as Cobol and PL/1, together with tools that support web technologies.
Developers will be able to maintain existing legacy assets easily using WSED 5.0 (WebSphere Studio Enterprise Developer 5.0), which can also be extended and transformed into new or improved applications by blending legacy assets with web-related technologies.

Download this free guide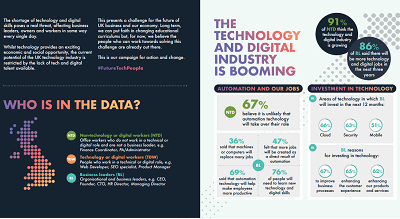 Infographic: How to future-proof UK technology
There is no doubt that the technology industry is booming right now, bringing with it exciting social and economic opportunities. However, there is a real fear that the UK industry may be stunted due to the lack of talent available. This e-guide helps to break down the future fears and expectations of dozens of business leaders and tech workers.
Furthermore, it will save companies the expense of purchasing multiple development tools to support legacy, Java, and web technologies.
WSED is a superset of WSAD (WebSphere Studio Application Developer), the IBM IDE that supports Java/J2EE, web applications, XML and web services development.
While WSED, priced at $7,500 (£4,543) per processor, adds support for mainframe assets, WSAD is a solid IDE for organisations that do not need to include mainframe support, and is priced at $3,499 (£2,120)
IBM also supplies a superset version of WSAD that supports its iSeries (AS/400) platform. The WSDC (WebSphere Development Studio Client for iSeries) supports both existing midrange assets, such as RPG (Report Program Generator) code, as well as web technologies.
WSED can work on Windows NT, Windows 2000 and Windows XP. Although other versions of the WebSphere Studio IDE, including WSAD, run on Linux and other platforms, WSED does not yet support platforms beyond Windows.
IBM has indicated that it expects to expand WSED's platform reach in the near future.
The WSED IDE is highly configurable to the needs of a variety of enterprise developers. The default perspectives enable developers to work in the role of legacy developer or J2EE, Java, XML, or web services practitioner.
However, developers can customise a particular perspective to meet the demands of application integration when legacy and web technologies are involved.
Companies that depend on legacy assets and leading technologies, such as J2EE and web services, should consider deploying WSED as a way to gain the best of both worlds while minimising costs.
Maggie Biggs writes for InfoWorld