Apple extends enterprise reach
Apple Computer has spread its net wider with the launch of Xserve and Xserve Raid, its first storage product. With an aggressive...
Apple Computer has spread its net wider with the launch of Xserve and Xserve Raid, its first storage product. With an aggressive combination of pricing, performance, and services, the company is openly targeting edge-server rivals Sun Microsystems, IBM and Dell.

Download this free guide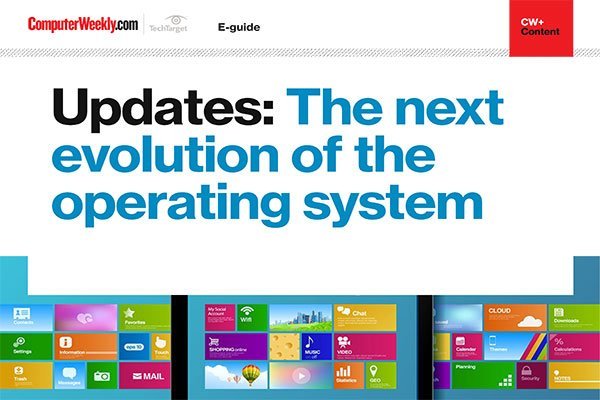 Software Updates: Our latest e-guide is available for your device. Download now?
See how operating systems are evolving with the help of continuous updates and learn about how the Spectre and Meltdown microprocessor flaws have led to improved, more secure processors being released and how Microsoft is evolving its Windows desktop operating system.
By submitting your personal information, you agree that TechTarget and its partners may contact you regarding relevant content, products and special offers.
You also agree that your personal information may be transferred and processed in the United States, and that you have read and agree to the Terms of Use and the Privacy Policy.
Available in March, the servers and the accompanying Server Admin and Java-based Raid Admin tools exploit Apple's open-standards strategy. "We want to be at the portable fast end of the spectrum with an open-source model but also have all those benefits that you [expect from] Sun," said Apple senior vice-president of worldwide marketing Phil Schiller.
"Ultimately, Apple needs to do something like this [because] desktops are getting so commoditised and so much of the intelligence is moving into the network and server," illuminata analyst Gordon Haff said.
"The role for a consumer-friendly, special desktop environment [such as Apple's Mac OS] … has to decrease as you move to thinner [mobile] computers."
Arriving six months after the first Xserve, the latest 1U server will ship with a single 1.3 3 GHz G4 processor , 2MB of L3 cache per processor, and 256MB of DDR RAM for $2,799 (.
A dual-processor version with two 1.3 3 GHz G4 CPUs and 512MB of DDR RAM is priced at $3,799 (£1,718). Both configurations ship with an unlimited-user licence agreement. Xserve also f eatures a 167MHz system bus , two FireWire 800 peripheral ports , 60Gbytes ATA/133 Apple Drive Modules, and dual Gigabit Ethernet .
Meanwhile, Apple's Xserve Raid storage system features as much as 2.52Tbytes of storage in a rack-mounted system. The system features a 3U rack enclosure with ATA drive modules, each with 180Gbytes of storage capacity. As many as 14 drives can be installed. A 720GB configuration, with four drives, costs $5,999. The 2.52TB version is listed at $10,999, less than half the cost of the closest competitor, the 2.1TB Dell EMC CX200 at $27,999.
The Fibre Channel-based Raid system features dual-control centres, dedicated memory cache per engine, and dual power supplies and fans. Xserve RAID connects to Xserve via a $499 Fibre Channel PCI card to be made available in March .
The AppleCare premium server and support plan, priced at $950 per server for a three-year contract, will also be part of the rollout. The service offers four hours of onsite response in most cities and e-mail- and phone-based support.