RFID sparks legal fears
Companies planning to implement Radio Frequency Identification technology need to address the legal implications, lawyers warned...

Download this free guide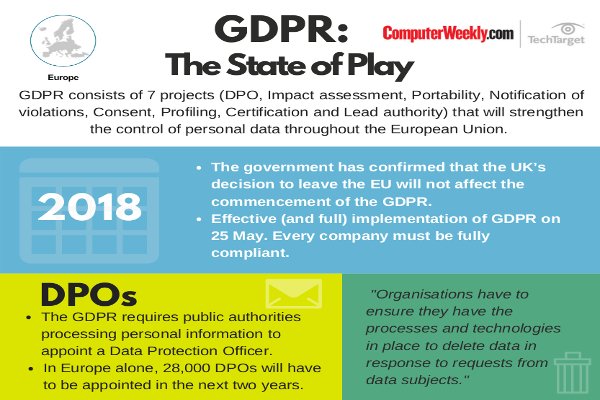 Infographic: GDPR - The State of Play
Get the latest information on how GDPR is going to affect your business and how to avoid any unwanted fines with this simple infographic.

By submitting your personal information, you agree that TechTarget and its partners may contact you regarding relevant content, products and special offers.

You also agree that your personal information may be transferred and processed in the United States, and that you have read and agree to the Terms of Use and the Privacy Policy.

Companies planning to implement Radio Frequency Identification technology need to address the legal implications, lawyers warned this week.



RFID tags, which allow goods to be electronically tracked along the supply chain, are beginning to be used by UK retailers and manufacturers. They may eventually replace barcode systems.

Last week, personal hygiene products manufacturer Gillette said it was planning to purchase 500 million RFID tags for stores in the UK and US. Tesco is the company's first UK retail partner, tagging Gillette's Mach 3 razor blades during a trial in its Cambridge store.

Although the tags will let companies cut operational costs, improve stock control and cut theft-related losses, Laetitia Muir, partner at law firm Tarlo Lyons, identified three problems to be overcome before their use could become widespread:

How is the privacy of the shopper affected?


Will the information required to effect the transaction be sufficiently secure for consumers to rely on it?


If there is some sort of fault with the equipment during the transaction, how will the transaction be concluded with any certainty?


With regards to privacy, Muir said retailers would have to gain consent from consumers for tags to be placed on products or ensure they were disabled once the product was paid for.

"The tags will make it very easy for retailers to track an individual, which has lots of privacy implications," she said. "Privacy laws have been tightened recently and retailers will have to take these steps to ensure they do not fall foul of the regulations."

When retailers are processing data that will enable them to identify a customer, it is key they ensure all the data is kept secure, Muir said. "It is vital that retailers ensure their databases are secure before they start picking up more personal data."

How the contract is concluded is a legal grey area that has caused much confusion for online merchants, and it is one retailers need to address before rolling out RFID tags, Muir said.

"If there is a fault with the system, who is liable? When retailers are negotiating, they have to ensure the responsibility is put in the right place. They should also take any legal requirements to the manufacturer and ensure all these details are ironed out."
Read more on Identity and access management products