Economic recovery fails to boost IT spending
Expectations of a modest worldwide economic recovery by the end of 2002 are failing to bolster IT spending, according to a survey...

Download this free guide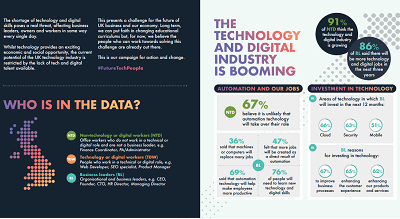 Infographic: How to future-proof UK technology
There is no doubt that the technology industry is booming right now, bringing with it exciting social and economic opportunities. However, there is a real fear that the UK industry may be stunted due to the lack of talent available. This e-guide helps to break down the future fears and expectations of dozens of business leaders and tech workers.

Expectations of a modest worldwide economic recovery by the end of 2002 are failing to bolster IT spending, according to a survey released by analyst group Gartner and investment bank Goldman Sachs.



Conducted in early May at Gartner's Symposium/ITxpo in San Diego, USA, the IT Spending Confidence Survey polled 369 of the conference's 1,800 attendees on their technology budgets. While 89% of respondents predicted a slight pickup in the world economy by the end of the year, the majority of respondents said that even an immediate change would not influence their planned IT spending.

The technology budgets controlled by IT departments for United States businesses will drop 0.4% for 2002, the survey found. A previous Gartner IT spending survey, conducted in late 2001, predicted a 1.5% rise in IT spending in 2002. Gartner said it still expects that 1.5% growth, driven by spending on capital assets in the fourth quarter.

At the end of the year, companies are likely to start purchasing computers and peripherals, with a fuller replacement cycle beginning in 2003, Gartner analyst Al Case said.

Sales of handhelds, wireless devices, storage products and application integration software are up across the board, while other pockets of spending growth are very industry-specific, he said. Although desktop PC sales are down industry-wide, sales are up in the government, petroleum, media and primary and secondary education sectors.

The survey recorded unexpectedly strong interest in voice-data convergence and voice-over-Internet Protocol technology, Case said. Fifteen percent of respondents said they are currently implementing projects using such technology, while an additional 21% indicated they are evaluating vendors for future projects.

Anticipated cost savings are one likely driver of the trend, but Case noted that increased attention to VoIP also ties into industry-wide growth in spending on wireless products.

Buyers feel that for the moment they have the upper hand on product pricing: 50% of those polled said their ability to negotiate favourable pricing has increased, with only 9% reporting a decline.

Gartner is currently examining the survey results by industry, and plans to release further data and analysis next week.