Bluetooth ready to hit the big time
Bluetooth wireless technology is ready to enter large-scale deployment in a variety of products, according to an executive of the...

Download this free guide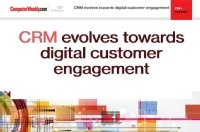 Why customer relationship management is turning to AI for assistance
In this e-guide, we look at how AI is powering retail customer experience, why SAP Hybris could paint the future of commerce and how Ulster bank is faring after adopting a full-scale Salesforce Einstein CRM.

Bluetooth wireless technology is ready to enter large-scale deployment in a variety of products, according to an executive of the Bluetooth Special Interest Group (SIG).



Simon Ellis, chairman of Bluetooth SIG marketing, told developers at the group's conference in San Francisco that Bluetooth had passed a difficult period of inflated expectations and standards development.

"I believe we are coming out of the trough," he said, pointing to a chart that showed a huge spike in expectations for Bluetooth in 2000, followed by a "trough of disillusionment" in 2001.

Bluetooth is a short-range, low-speed wireless network technology that aims to link portable devices in a "personal area network". So far, the technology has been used mostly to connect mobile phones to wireless headsets and other portable devices.

The Bluetooth 1.1 specification was completed in March. The focus of the SIG is now to establish interoperability among Bluetooth implementations and help vendors get products on the market. "We actually believe it's stable enough to get products out there," Ellis said.

Ellis defended the SIG's interoperability programme, which some analysts and developers have questioned.

There are some 15 Bluetooth Qualification Boards (BQBs) worldwide doing baseline testing to make sure products comply with the Bluetooth specification, and voluntary SIG-sponsored "unplug fests", where vendors test their products for interoperability.

Some vendors are extending the capabilities of Bluetooth beyond the specification to cover new uses, usually through software modifications.

But the SIG cannot test all software and applications that are implemented with Bluetooth, and there is ample incentive for vendors to make sure their own products interoperate with a variety of other offerings in the market, Ellis said.

"As you drill down into a particular market segment, there's going to be plenty of testing. It's not the responsibility of the Bluetooth SIG as you get into some of these extreme levels [far removed from the basic requirements of Bluetooth]," he added.

Evolving from a standard on paper to fully interoperable products with no glitches is a standard development cycle that probably will take two or three more years, Ellis said. Early adopters of any technology are willing to undergo some difficulties to get the benefits of a new technology.
Read more on Business applications