Schroders gives staff social media services to increase productivity
The asset management and private banking company Schroders is turning to social media to help its staff communicate more effectively and to cut spiralling volumes of e-mail.
The asset management and private banking company Schroders is turning to social media to help its staff communicate more effectively and to cut spiralling volumes of e-mail.

Download this free guide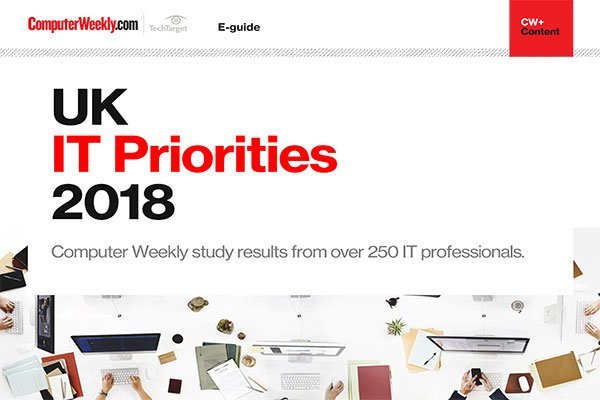 UK IT Priorities 2018 survey results
Download this e-guide to discover the results of our 2018 UK IT Priorities survey, where IT leaders shared with us what they are going to be investing in over the coming 12 months.
By submitting your personal information, you agree that TechTarget and its partners may contact you regarding relevant content, products and special offers.
You also agree that your personal information may be transferred and processed in the United States, and that you have read and agree to the Terms of Use and the Privacy Policy.
Schroders, which manages assets worth £167.9bn worldwide, plans to replicate external services, such as Twitter and Facebook, on its internal networks.
James Duffy, head of intranet at Schroders, said the project will help employees to work more efficiently.
"We are planning to introduce social media features commonly used on the internet and to use those to enhance our communication. Our profile pages on the directory will be much more social, have a Facebook feel, right up to being able to provide an update through a microblogging facility," he said.
The financial services company plans to roll out social networking tools by using collaboration tools that came bundled with Schroders' content management system Vignette.
"We don't have to go out and buy any new technology. We have re-purposed our existing technology," said Duffy.
Schroders plans to roll out a search tool that will enable employees to locate other staff members with the expertise and information they need in their work. The tool will feature a tag cloud, making it easier for people to locate and network with other employees with the right skills.
Another plan is to encourage staff to use instant messaging to cut down on e-mail traffic. About 80% of e-mails in Schroders need to be answered there and then, said Duffy.
"Using instant messaging I know the person I want to communicate with is there," he said. "If I want to share a file, it will be better to share that on my personal space on the intranet, rather than by e-mail."
It will encourage employees to use micro-blogging internally to respond to queries and give updates on their status and activities.
---
BT to roll out Facebook-style social networking
Sign-up to Computer Weekly to download a detailed case study of BT plans to roll out social networking tools.
The case study focuses on how BT is using Microsoft's Sharepoint 2010 to improve collaboration and communication between employees.
It includes:
BT's plans to roll out of Windows 7
How Office 2010 will allow BT staff to collaborate more effectively
Why BT has dropped bespoke IT systems in favour of standardising on Microsoft software
Links to three free Forrester reports on the business case for SharePoint 2010 and Office 2010
Sign up to download BT case study.
---
Schroders is a member of the Intranet Benchmarking Forum, which provides consultants to benchmark the performance and usability of Schroders' intranet.
"I know there are some parts of the intranet I need not be too concerned about because IBF is going to look after that. We are measured on usability and design, layout and accessibility," he said.
Duffy said it made no sense for employees to be able to use social networking tools out of work, but then be prevented from using them inside work.
"It's about being able to communicate and collaborate more effectively. Most organisations are using a very limited tool set to communicate and collaborate - face to face and e-mail. But externally on the web a whole suite of tools have been made available to communicate. That's the idea, simply taking the benefit from the web and bringing it internal," he said.
"People are used to using tools such as Facebook and Twitter externally. They are coming into the workplace and finding the only tools they have to communicate are face to face, telephone and e-mail," he said. "There is a clear requirement that we use social media internally."
Read more on Operating systems software