MEPs reject Acta online anti-piracy deal
Negotiators who are thrashing out a secret...
Negotiators who are thrashing out a secret international anti-counterfeiting agreement (Acta) may have to revise their strategy following a 663 to 13 vote against it in the European Parliament.

Download this free guide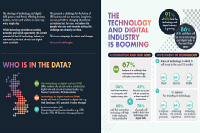 Infographic: How to future-proof UK technology
There is no doubt that the technology industry is booming right now, bringing with it exciting social and economic opportunities. However, there is a real fear that the UK industry may be stunted due to the lack of talent available. This e-guide helps to break down the future fears and expectations of dozens of business leaders and tech workers.
Arguing against the measure, MEP Stavros Lambrinidis said, "This parliament will not sit back silently while the fundamental rights of millions of citizens are being negotiated away behind closed doors.
"We oppose any 'legislation laundering' on an international level of what would be very difficult to get through most national legislatures or the European Parliament."
Letters between a US senator and the US trade representative revealed that the US is trying to get language from the controversial US Digital Millennium Copyright Act written into Acta.
This would place extra burdens on internet service providers to police illegal filesharers. It would also allow persistent offenders to be disconnected under a "three strikes" rule.
In a statement issued after the vote, MEPs said they wanted to ensure that the agreement makes the three-strikes procedure impossible. "People should not lose their internet access as penalty for three infringements of online copyright, when downloading music, films or any other intellectual product," it said.
MEPs also called for an assessment of Acta's impact on fundamental rights and data protection. They demanded that no personal searches be conducted at EU borders in following any Acta deal.
The European members also asked for "full clarification of any clauses that would allow for warrantless searches and confiscation of information storage devices such as laptops, cell phones and MP3 players by border and customs authorities".
Read more on IT legislation and regulation