Legal firm encrypts e-mail to secure communications
UK legal firm Browne Jacobson is to encrypt all e-mails to ensure secure communications.
UK legal firm Browne Jacobson is to encrypt all e-mails to ensure secure communications.
The firm recognised the need to increase the security of its messaging systems after a review of its existing security strategy.
The review was conducted in the light of Ponemon Institute research showing 70% of UK organisations suffered a data breach in the past year.
The firm was further prompted by clients' policies requiring the secure transmission of sensitive information to third parties.
Peter Birley, IT director at Browne Jacobson, said the Universal Gateway E-mail system from PGP will enable the firm to comply with all client and regulatory requirements as well as the ISO 27001 standard for security management.

Download this free guide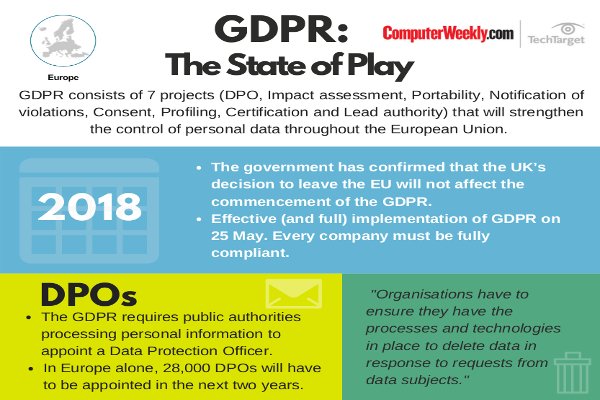 Infographic: GDPR - The State of Play
Get the latest information on how GDPR is going to affect your business and how to avoid any unwanted fines with this simple infographic.
By submitting your personal information, you agree that TechTarget and its partners may contact you regarding relevant content, products and special offers.
You also agree that your personal information may be transferred and processed in the United States, and that you have read and agree to the Terms of Use and the Privacy Policy.
The system, chosen for PGP's experience in the legal sector, will enable Brown Jacobson to secure communications with clients using gateway-to-gateway encryption, Peter Birley said.
The firm can secure e-mail communication with large groups of customers, partners, experts and witnesses using clientless e-mail encryption provided by PGP's Universal Web Messenger software.
The firm plans to extend the system across other applications.
"We see our work with PGP as an investment not just in our communications strategy, but also in our overall IT security infrastructure, said Birley.
Read more on IT legislation and regulation